Mayor Hu praises transfer of Shuinan Airport to Taichung City Government
Taichung Mayor Jason Hu (胡志強) yesterday lauded the transfer of jurisdiction over the defunct Shuinan Airport (水湳機場) from the military to the Taichung City Government, saying it would "drive the development of the city."
"Taichung residents' dream has come true. They will always appreciate the president's benevolent policy in this regard," Hu said during the handover ceremony, which was also attended Vice President Annette Lu (呂秀蓮) and Minister of Defense Lee Tien-yu (李天羽).
Shuinan Airport was built as a military airport during the Japanese colonial period.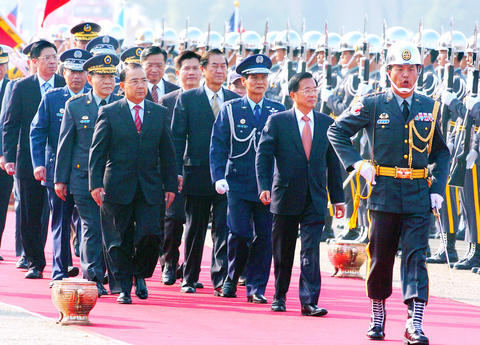 President Chen Shui-bian, second right, inspects the honor guard at Shuinan Airport in Taichung during a ceremony yesterday to mark the transfer of the now defunct airport to the Taichung City Government.
PHOTO: LIAO CHEN-HUEI, TAIPEI TIMES
The Air Force took over the management of the airport after World War II, establishing a logistic command center and an aviation industrial development center at the site. However, the airport's major facilities were moved to the Chingchuankang Airport (清泉崗機場) in March 2004, leaving approximately 250 hectares of land unused, which was often cited as a hindrance to the city's land transport and urban development.
President Chen Shui-bian (陳水扁) promised Hu in June that the military would complete the removal of the remaining facilities by the end of this year and give the city government jurisdiction over the land's development.
Hu said that since 2004, the city government has drafted plans to develop it into a modern urban center that will house a university, a trade exhibition center, an exclusive residential district and a forest park.
In a separate setting, Chen urged the legislature to pass three amendments that would lead to the merger of Taichung County and Taichung City and promote Taichung into a special municipality that would be entitled to additional resources, budget and personnel.
Taichung residents would be able to elect the first mayor of the municipality of Taichung in 2009 if the legislature passes the administrative zoning law (行政區劃法) and amend the Law Governing the Allocation of Government Revenues and Expenditures (財政收支劃分法) and the Local Government Act (地方制度法) as soon as possible, Chen said.
Comments will be moderated. Keep comments relevant to the article. Remarks containing abusive and obscene language, personal attacks of any kind or promotion will be removed and the user banned. Final decision will be at the discretion of the Taipei Times.