`Ambassadors of Peace' honored
He is perhaps the only ambassador who conducts "diplomacy" and fosters a positive image of his nation by jogging for 111 days across the Sahara Desert.
When Kevin Lin (林義傑), 31, completed his epic 7,500km "ultramarathon" for charity in February, he was called the pride of Taiwan and a "cultural ambassador" -- a shining example of how a country's "soft power" comes from the altruism and achievements of individuals.
It should come as no surprise then that the nation's most vocal proponent of soft power -- Vice President Annette Lu (呂秀蓮) -- conferred an "Ambassador of Peace" title on Lin, as well as other outstanding locals, yesterday at a ceremony hosted by the Taiwan chapter of the Universal Peace Federation, a UN-affiliated nongovernmental organization (NGO).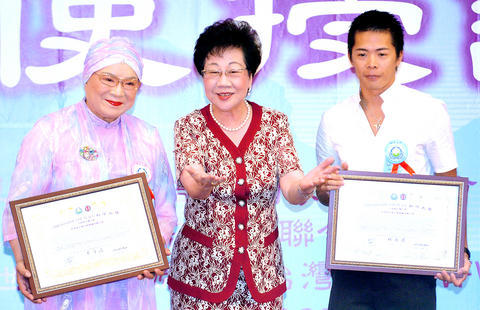 Vice President Annette Lu is flanked by Tsai Hsueh-ni, head of the Kon Wen Cultural Foundation, and ultramarathon runner Kevin Lin at a ceremony yesterday where Lu conferred the title of ``Ambassador of Peace'' on Tsai, Lin and others.
PHOTO: LIAO CHEN-HUEI, TAIPEI TIMES
"In an age of increasing troubles and conflict, ambassadors of peace, such as those feted here today, are as important to us as ever," Lu said in a keynote speech at the ceremony.
As of yesterday, there were some 145 newly inaugurated Taiwanese Ambassadors of Peace in a global organization boasting 250,000 such "ambassadors," said Chang Bo-ya (張博雅), chairwoman of the Women's Federation for World Peace, Taiwan -- an NGO with close ties to the Universal Peace Federation.
"If more people from more countries join [the Universal Peace Federation]," Chang told the audience, "we could make further strides in preventing war and conflict."
Established in 1999 as an NGO with "special consultative status" to the UN's Economic and Social Council, the Universal Peace Federation's primary function is to provide conflict resolution services.
Boasting thousands of politically influential supporters and "ambassadors" worldwide, the federation has been especially active in global hotspots like the Middle East, mobilizing members to facilitate dialogue between Israel and its enemies, said Chang Ching-yu (張京育), the federation's chairman in Taiwan.
"This is both a global and local movement," he said.
"Any global movement needs to be strong at the local level," he said. "We need to start by fostering harmonious individuals, harmonious families."
Aside from Lin, scores of doctors, goodwill volunteers and civil service workers were also feted as Ambassadors of Peace yesterday for their altruistic work at the grassroots level.
They included Chiayi City Councilor Lin Sheng-fen (林聖芬), an ardent supporter of the rights of the disabled since 2003, when a woman tried to commit suicide by jumping 20 stories off a building, but landed on Lin Sheng-fen, who was passing by.
She broke the girl's fall and saved her, but suffered severe paralysis on her left side -- a lifelong injury for which Lin Sheng-fen forgave the jumper and which has spurred her to focus on protecting the rights and needs of her disabled constituents.
"I didn't die," she said as she joined the league of "peace ambassadors."
"I want to dedicate my life to bettering society," she said.
Comments will be moderated. Keep comments relevant to the article. Remarks containing abusive and obscene language, personal attacks of any kind or promotion will be removed and the user banned. Final decision will be at the discretion of the Taipei Times.