Hau guarantees the safety of Maokong service after lightning strike shutdown
ASSURANCE The system, which runs from the Taipei City Zoo to Muzha's tea-growing tourist attractions, broke down and did not resume until five hours later
Taipei Mayor Hau Lung-bin (郝龍斌) yesterday guaranteed that it was safe to use the Maokong cable car despite the new system having sustained a mechanical failure after being hit by lightning the previous day.
Hau gave assurances after presiding over a city administrative meeting. He said the lightning, triggered by a thunderstorm, destroyed two control circuit boards, leading to a breakdown of the tourism-oriented skyrail system, which only began operation six days ago.
The transportation system, which connects the Taipei City Zoo and Muzha's Maokong tea-growing district tourist attractions, broke down at 1:45pm and did not resume operations until 7pm, according to the gondola's operator, Taipei Rapid Transit Corp (TRTC).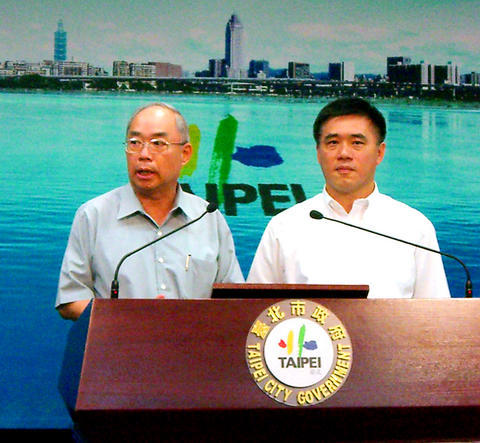 Taipei Mayor Hau Lung-bin, right, and deputy mayor Lin Chun-yi say yesterday in Taipei that there were no more safety problems with the Maokong cable car. The cable car was stopped on Monday because of a lightning strike.
PHOTO: CNA
It took TRTC engineers more than five hours to repair the system.
The gondola for the first time activated its "rescue mode" soon after it was struck by lightning and transported passengers to a nearby station using back-up power. As a result, no passengers were trapped during the incident, TRTC officials said.
Deputy Mayor Lin Chung-yi (林崇一) said that the cable car system stops running as soon as it detects lighting. Moreover, he said, the system is equipped with a lightning prediction device, which is able to detect lightning 5km from the system.
Lin also explained that while the system's lightning conductor is designed to guide electricity from lightning to the ground, the lightning strike was too strong and burned out the circuit boards as it passed through the cable car's electronic systems.
The skyrail's builder, the French company POMA, has been informed of the failure and asked to improve the lightning avoidance system to reduce the risk of future mechanical failures, Lin added.
As for complaints by visitors about illegal street vendors and excessively high food and beverage prices, Lin said a task force of officials responsible for health, environmental protection and law enforcement affairs has been organized to crack down on the unfairness and offenses.
The law will be strictly enforced to ensure fair markets and environmental protection in tourist locations, Lin said.
Also see story:
Managing a project is as crucial as building
Comments will be moderated. Keep comments relevant to the article. Remarks containing abusive and obscene language, personal attacks of any kind or promotion will be removed and the user banned. Final decision will be at the discretion of the Taipei Times.