Newsmaker: EPA chief Chang Kow-lung goes out fighting
Chang Kow-lung (張國龍) has never ceased to be an educator and an environmentalist, despite officially stepping down as Environmental Protection Administration (EPA) minister.
In a 20-minute address to his staff at a farewell party yesterday morning, Chang talked about his vision for the future of the EPA and the nation as a whole. He said he hoped the nation would produce more Nobel Prize winners and encouraged EPA officials to be more creative in coming up with solutions that use minimal resources to generate maximum utility.
But the pithiest part of his speech came when he explained his resignation.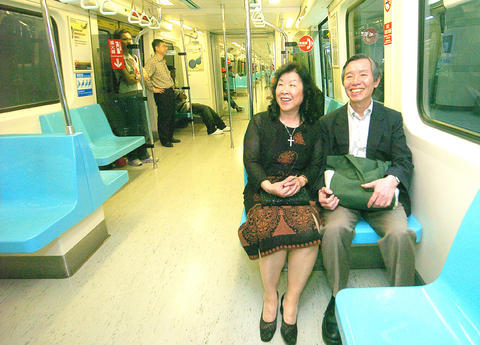 Former Environmental Protection Administration minister Chang Kow-lung, right, accompanied by his wife Hsieh Bai-he, rides the Taipei MRT home after his last day at the agency yesterday.
PHOTO: WANG MIN-WEI, TAIPEI TIMES
"I am not suited to being a member of the new [EPA] team. In addition to handling environmental protection affairs, the new team will also have to boost the prospects of the ruling party in next year's presidential election by creating the impression that the government's performance has been blemish-free," he said.
Chang's wife Hsieh Bai-he (謝百合), who was at the farewell party, was even blunter about the conundrum her husband faced.
"President Chen [Shui-bian (陳水扁)] has already said that concern for the environment cannot become a hurdle for economic development. This made it impossible for my husband to continue to serve in his present capacity," she said.
"Chang is a man of action and does not covet high office. He will not sacrifice his beliefs for the sake of economic development," she said.
A caricature displayed at the farewell party captured Chang's character. Fittingly, the former EPA chief was depicted as a gallant knight.
During his tenure, Chang was entrusted with resolving conflicts surrounding several projects, including a Formosa Group steel plant, a CPC Corp petrochemical plant and the Suhua Freeway.
Hsieh said that now Chang has resigned, these projects would likely proceed unchecked.
Nevertheless, Chang said it was "necessary and normal" that he step down.
"I came [into the job] to generate some ideas. The administration needs to bring in people with better ideas," he said.
Chang earned his doctorate degree in physics from Yale University in 1968.
Before he was recruited by former premier Frank Hsieh (謝長廷), Chang was a professor at National Taiwan University and was involved in environmental campaigns launched by non-governmental groups in the 1980s.
Well known for his opposition to the construction of the Forth Nuclear Power Plant, in 1986 Chang founded New Environment magazine.
Two years later, he formed the Taiwan Environmental Protection Union, one of the active environmental groups in the country.
Chang presided over several initiatives during his term as EPA minister, including suspending the use of disposable utensils in government and school cafeterias and securing initial legislative approval for the greenhouse gas emissions reduction bill this year.
"Environmental protection is his faith and he [Chang Kow-lung] practiced it with the passion of a religious follower," EPA Deputy Minister Chang Tzi-chin (張子敬) said.
"He has to work extremely hard to work under this administrative framework, but he had fought the good fight," Chang Tzi-chin said.
When asked what her husband would do in his retirement, Hsieh said the couple planned to travel around the world and to teach physics in developing countries as a volunteer.
Comments will be moderated. Keep comments relevant to the article. Remarks containing abusive and obscene language, personal attacks of any kind or promotion will be removed and the user banned. Final decision will be at the discretion of the Taipei Times.