Fans queue from 3am for manga festival in Taipei
People waited in line from 3am for an animation and manga festival that opened at the National Taiwan University stadium in Taipei yesterday, organizers said.
The two-day event, in its ninth year, is organized every year by a magazine that specializes in Japanese animation and manga (Japanese comics).
More than 20,000 visitors attended the first day of the festival, event spokeswoman Su Wei-tung (蘇微東) said.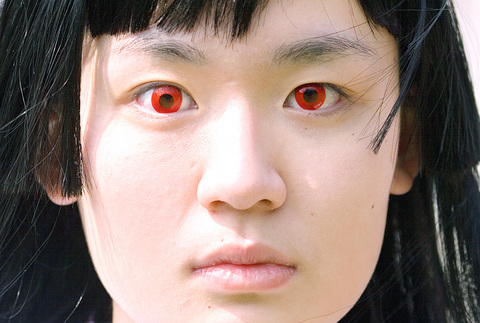 A young woman wears red contact lenses for dramatic effect during an animation and manga festival in Taipei yesterday. Cosplay is a Japanese subculture with adherents in Taiwan centered on dressing as characters from manga, anime, video games and fantasy movies.
PHOTO: AP
"Some people were waiting in line since three or four in the morning," she added.
With their unique styles and storylines, Japanese animation and manga are becoming increasingly popular in Taiwan.
"I like the drawing style and the themes [of manga]," a 20-year-old student and a fan of Japanese comics said.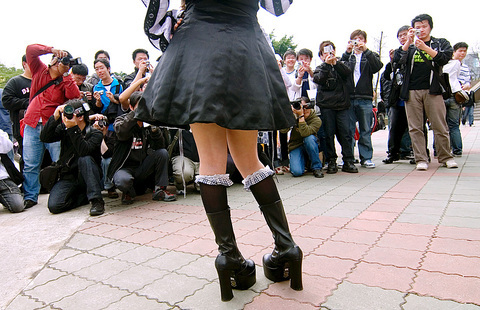 Amateur photographers take pictures of a woman dressed in costume at a cosplay convention in Taipei yesterday.
PHOTO: AP
The festival features 400 stalls displaying manga and related merchandise each day, organizers said.
Among the stallholders are manga publishers from Taiwan, Hong Kong and Japan, as well as amateur cartoonists.
"These amateur cartoonists usually create their own short manga in their spare time and publish their works on their own," Su said. "So we wanted to provide an opportunity for them to showcase and sell their work."
In addition to publishers and manga creators, cosplayers are another element of the festival.
The term "cosplay" is a combination of the English words "costume" and "play." It refers to a Japanese subculture in which people dress as their favorite manga or animation characters.
The second day of the event will feature two seiyuu, or voice actresses, from Japan.
"Since characters in animation films are not real people, it is the voice actors who give soul to each character," Su said.
Voice actors in Japan have to go through strict training programs, and good voice actors can become very popular in Japan.
"Some even sing their show's theme song and hold concerts of their own," Su said,
"We're expecting the two-day event to attract more than 50,000 people altogether," she added.
The festival closes at 4pm today.
Comments will be moderated. Keep comments relevant to the article. Remarks containing abusive and obscene language, personal attacks of any kind or promotion will be removed and the user banned. Final decision will be at the discretion of the Taipei Times.