Ma attends gay rights event
The LGBT Civil Rights Movement, Taipei 2006, began an annual gay rights-awareness event yesterday in front of Taipei City Hall.
Taipei Mayor Ma Ying-jeou attended and spoke about the importance of tolerance, while Chinese Nationalist Party (KMT)City Councilor Lin Yi-hua (林奕華) and People First Party City Councilor Dai Hsi-chin (戴錫欽) shook their pompoms with the crowd in a "rainbow wave" dance.
Ma, Lin and Dai are not gay, but attended to show their support for tolerance and respect.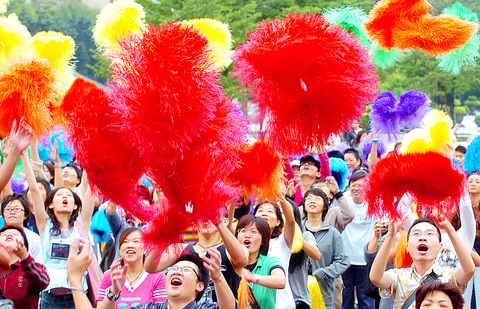 Participants in the seventh annual homosexual rights-awareness event shake pompoms in a ``rainbow wave'' dance in front of Taipei City Hall yesterday.
PHOTO: SUNG CHIH-HSIUNG, TAIPEI TIMES
"Tolerance is a necessary virtue for any world-class city," Ma said. "Homosexuality is a natural phenomenon that cannot be suppressed away nor spread beyond its natural bounds. Gay rights are a part of human rights. We want Taipei to be a multifaceted city filled with love, peace and tolerance,"
Ma also credited gay rights with providing common ground between him and mayors in other cities.
"Two years ago, I went to the Love Parade in Berlin. The mayor there, Klaus Wowereit is gay. He wasn't going to see me, but I got to talk to him for 10 minutes at the parade. Also, this year in San Francisco, I met mayor Gavin Newsom. We talked about gay issues and municipal Wi-Fi."
Newsom sent a congratulatory statement to today's event.
Taipei City's funding to support gay pride events are being cut. Ma said the budget cannot afford the added outlay next year.
Ma provided a rainbow flag, which was raised on the flagpole in front of Taipei City Hall. The crowds danced, waving rainbow-colored pompoms in a routine set to Go West by the Village People.
Comments will be moderated. Keep comments relevant to the article. Remarks containing abusive and obscene language, personal attacks of any kind or promotion will be removed and the user banned. Final decision will be at the discretion of the Taipei Times.