US Congress members defend Chen
FRIENDS OF TAIWAN Certain members of the Congress felt that the US administration's recent treatment of President Chen Shui-bian was shameful
Numerous members of the US Congress came to the defense of President Chen Shui-bian (陳水扁) and Taiwan on Wednesday as US Deputy Secretary of State Robert Zoellick testified before a hearing of the House International Relations Committee on US policy toward China.
The issue of the response to Chen's request for transit stops in the US during his recent trip to Costa Rica and Paraguay played a surprisingly large role in the two-and-a-half-hour hearing, which was called to deal primarily with China's role as a rising power in Asia and the US response to it.
In answers to questions about Chen, Zoellick seemed to say that the limits placed on the president -- he was offered stopovers only in Anchorage, Alaska, or Honoloulu, Hawaii -- were in retaliation for what the US administration considers Chen's reneging on the so-called "five-noes" promises he made in his two inauguration addresses, along with his efforts to fight Washington's "one-China" policy.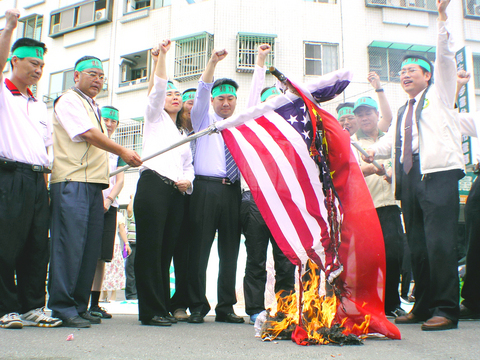 A group of people unhappy with the pressure exerted on President Chen Shui-bian during his visit to Central and South America burn US and Chinese flags yesterday as a protest against the US' treatment of Chen and Chinese interference.
PHOTO: HUANG PO-LANG, TAIPEI TIMES
Cross-strait war
At another point, as Zoellick was giving an animated defense of the US transit action, he seemed to link it with the fear that Chen's recent actions could provoke a war in the Taiwan Strait between the US and China.
"There are big stakes here where lives could be lost," he said.
"This is the balance ... we want to be supportive of Taiwan while not encouraging those that try to move toward independence. Because let me be very clear: independence means war. And that means American soldiers ..." he said before being interrupted by a questioner.
Zoellick had harsh words for Chen's decision to mothball the National Unification Council and guidelines without warning Washington beforehand.
"What President Chen has said to us is that his word is good, and that the things he has committed to the United States he has followed up on," Zoellick said.
"But in the business that I'm in, it's very important, if people do give their word, that they keep it," he said.
"What is going on is an effort to kind of erode [Chen's promises], and -- sort of at the edge -- sand it off. And frankly, I think it's a good thing for US diplomacy to hold people to their terms and words."
Following up, Zoellick said that while the US supports Taiwan's participation in the global system, "if it keeps trying to revisit the question that the United States made in the late 1970s about a one-China policy, I think it's going to keep hitting into a wall."
"We're not going to change that 30-year-old [`one-China'] system," he said.
Dana Rohrabacher, a co-chairperson of the Congressional Taiwan Caucus and a member of a six-member congressional delegation that met Chen in Costa Rica, slammed the administration for its "disgraceful" treatment of Chen.
"For us to throw ourselves on the ground in order to curry favor with a dictatorship [China] by mistreating a democratically elected leader doesn't lend itself to the type of respect from the dictatorship that will lead us to ... positive things," Rohrabacher said.
Another delegation member, Diane Watson, said that the delegation's leader, Dan Burton, planned to ask the Bush administration to make an apology to Chen for "not treating him with the proper protocol." Watson said Chen said he felt that Taiwan was disrespected and that he was personally hurt by the refusal of an overnight transit stop.
Thomas Tancredo, a leading congressional supporter of Taiwan, pointed out that Congress some years ago enacted a law that explicitly authorizes Chen and other high-ranking Taiwanese leaders to visit the US, and that subsequent resolutions supported that position.
He said the administration should have used that law in explaining to Beijing why it offered a better transit arrangement to Chen.
Tancredo accused the administration of "snubbing" Chen by first not granting him a transit visa until the last minute and then limiting him to a brief stopover in Anchorage or Honolulu.
He also said that Chen's "five-noes" pledge was predicated on China's not using force "or the threat of force" against Taiwan.
"And then China passed the `Anti-Secession' Law, which did exactly that: it said that it would use force," Tancredo said, defending the reasoning behind Chen's decision on the National Unification Council.
Interpretation
In response, Zoellick said that he interpreted Chen's inaugural pledge as meaning that the "five noes" would apply as long as China "doesn't use force to attack," adding that "China hasn't used force to attack."
He downplayed the effect of the Anti-Secession Law, saying only that it was "not a wise step."
At one point during the hearing, Zoellick said that a "colleague" of his met with Chen in Costa Rica just as the president was leaving and "talked about how we [the US] can continue to have a strong and good relationship with Taiwan."
The State Department refused to identify the "colleague."
In Taipei, legislators across party lines reacted strongly yesterday to Zoellick's remark that "Taiwanese independence means war."
Chinese Nationalist Party (KMT) Legislator John Chiang (蔣孝嚴) said the government had to face up squarely to what Zoellick had said.
Chiang urged the government to consider Zoellick's remarks as a stringent caution for advancing Taiwanese independence and to take them seriously.
Democratic Progressive Party (DPP) Legislator Lin Cho-shui (林濁水) demanded Chen should earnestly review the matter of the transit arrangements after his return.
Lin said Chen's past rash advances in pushing the issue of Taiwanese independence had made the goal of "de jure independence" even more difficult to achieve.
Meanwhile, Ministry of Foreign Affairs Spokesman Michel Lu (呂慶龍) declined to comment on Zoellick's remarks.
He also would not comment on what was said by American Institute in Taiwan Director Stephen Young in a speech to the American Chamber of Commerce in Taipei, during which Young quoted Zoellick's remarks about the dangers of Taiwanese independence.
Additional reporting by Shih Hsiu-chuan
Comments will be moderated. Keep comments relevant to the article. Remarks containing abusive and obscene language, personal attacks of any kind or promotion will be removed and the user banned. Final decision will be at the discretion of the Taipei Times.