Probe of alleged Chinese organ harvesting urged
UNWILLING DONORS? Fifty legislators backed a resolution urging an inquiry into the alleged murder of Falun Gong prisoners for their parts
The legislature yesterday passed a provisional resolution calling on international human-rights organizations to investigate what it said was China's "monstrous crime" of harvesting the organs of Falun Gong practitioners.
"We urged that the United Nations and other international human-rights organizations send their observers to China to inspect the situation and demand that the Chinese authorities tell the truch about this matter," the resolution states.
The draft resolution, backed by about 50 lawmakers from across party lines, came in the wake of an appeal by a group of Taiwanese Falun Gong practitioners.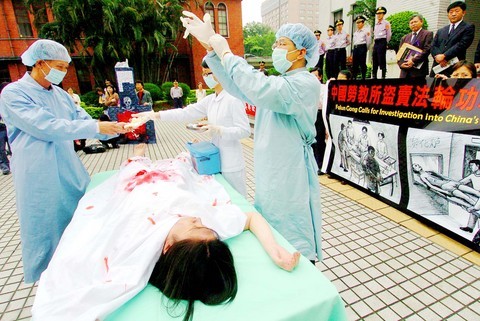 A group of Falun Gong practitioners perform a skit outside the Legislative Yuan yesterday to highlight their allegations that China is murdering Falun Gong prisoners to harvest their organs. Taiwanese Falun Gong practitioners have called on the government to support a demand for an international investigation into their allegations.
PHOTO: LO PEI-DER, TAIPEI TIMES
The group performed a play showing how organs were harvested from living bodies at a press conference in front of the Legislative Yuan yesterday.
"There has been speculation that more than 10,000 Falun Gong practitioners kept in China's concentration camps might have been killed so that their organs could be harvested," said Chang Ching-hsi (張清溪), the leader of Falun Gong's Taiwan branch.
Chang made the remarks based on a report released by Voice of Hope Broadcast, a media outlet linked to the Falun Gong, in which doctors in China's transplant centers in Hubei, Shanghai, Beijing, Shaanxi and Liaoning said there would be many organs available for transplant by the end of this month.
"I bet you that the organs will be very fresh and most of them will be from young people aged 20-30 years old. If you want [an organ transplant], you had better come before May 1," one doctor said in the report.
In response to a reporter's question, the doctor confirmed that the livers or kidneys were coming from labor camps where many Falun Gong practitioners are kept.
"Yeah, but what we care about is the quality, not the source," the doctor said.
Chang showed the taped interview with the doctor at the press conference.
He accused the Chinese authorities covering up evidence that Falun Gong practitioners are being killed to develop the organ transplant industry.
The Falun Gong-lined Epoch Times Web site reported on March 9 that organs were being harvested from Falun Gong practitioners in Sujiatun District, Shenyang City.
"We know that there are about 36 other labor camps in China similar to the one in the Sujiatun. We called on the international community to force the Chinese authorities to say how many camps they have, how many people have been executed and how many organs have been harvested," the provisional resolution states.
Democratic Progressive Party (DPP) Legislator William Lai (賴清德), who initiated the provisional resolution, said every government should boycott harvested organs from China by barring their citizens from having transplant surgery in China.
He said an official resolution will soon be approved by the legislature in order to make it more effective.
Comments will be moderated. Keep comments relevant to the article. Remarks containing abusive and obscene language, personal attacks of any kind or promotion will be removed and the user banned. Final decision will be at the discretion of the Taipei Times.