Earthquake causes panic in Taitung
A powerful earthquake, measuring 6.4 on the Richter scale, rocked Taiwan yesterday, sending panicked residents rushing out into the streets, but there was no immediate report of serious injury.
The quake struck at 6:02pm, with its epicenter 10km underground near Taitung City, the Seismological Observation Center said.
"It is a relatively shallow quake, making the impact even more obvious," a center spokeswoman said.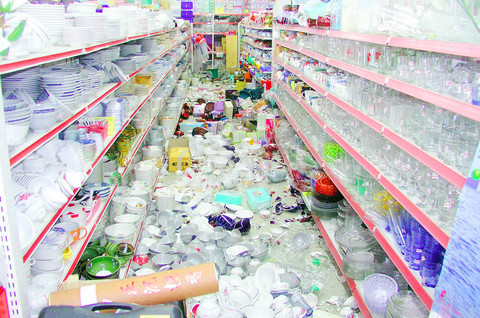 The floor of Chengyi Hardware and Department Store at the intersection of Chuankuang Rd and Kengsheng Rd in Taitung is strewn with broken goods that fell off the shelves during yesterday's earthquake. The earthquake struck at 6:02pm and measured 6.4 on the Richter scale.
PHOTO: HUANG MING-TANG, TAIPEI TIMES
The powerful quake was felt in most parts of the country, with skyscrapers in Taipei shaking in a slow up-and-down movement.
At press time the quake had been followed by four aftershocks in excess of 4 on the Richter scale, the first just three minutes later and measuring 4.7, and the second 30 minutes later at 4.8. The third aftershock measuring 4.2 took place at 7:53pm, followed by another 4.2 temblor at 8.56pm.
The center warned of more aftershocks over the next two weeks.
Television stations reported electricity failures and fires breaking out in Taitung, which prompted residents to rush out of their homes.
Many jittery people were seen on TV footage rushing from homes into the open streets. Telephone services were also disrupted in the southeast.
Fallen and smashed goods were strewn along the aisles of convenience stores in the Taitung area.
Three people were slightly wounded by falling objects during the tremor, the Taitung Fire Department said.
High-rise buildings in Taipei swayed, and scattered incidents such as gas leaks, collapsed walls and people being trapped in elevators were reported around the country.
Police said there was no report of casualties so far, but Formosa TV reported a fire apparently caused by the earthquake in Taichung County.
Comments will be moderated. Keep comments relevant to the article. Remarks containing abusive and obscene language, personal attacks of any kind or promotion will be removed and the user banned. Final decision will be at the discretion of the Taipei Times.