DPP lawmaker quits, denounces partisan politics
EVERYBODY QUIT Saying that Taiwanese politics is full of hatred, DPP Legislator Lin Wuei-chou left the party, and urged the general public to follow his lead
To highlight his disappointment with what he called the ongoing political confrontation within the Democratic Progressive Party (DPP) and its all-round degeneration, DPP Legislator Lin Wuei-chou (林為洲) yesterday quit the party, urging voters to quit political parties, become neutral and avoid getting caught up in the "partisan squabbles" provoked by politicians.
Lin, who joined the party in 2000, released a three-page statement yesterday announcing his decision to quit.
In the statement, Lin said he was loath to see both the pan-green and pan-blue camps take advantage of people's passions to mobilize them to join large-scale parades and rallies that actually serve no concrete purpose whatsoever.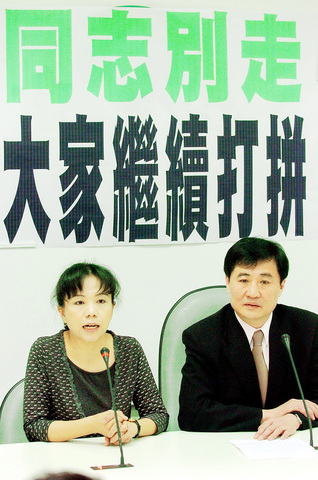 Democratic Progressive Party caucus whips Yeh Yi-jin, left, and Chen Chin-jun hold a press conference yesterday to call on their comrades to remain in the party and continue to work together after DPP Legislator Lin Wuei-chou's announcement that he was renouncing his party membership.
PHOTO: WANG MIN-WEI, TAIPEI TIMES
`Fed on ecstasy'
"They feed their supporters on ecstasy and mesmerize them with political slogans to attain their political goals. But in the end they are ashamed to admit that they actually cannot help people achieve their expectations," he said.
"Although the three big rallies held in March happened at the same time and in the same location, our political parties and voters seem to have different dreams, speak different languages and live in different worlds," Lin said.
Lin added that people used to say President Chen Shui-bian (陳水扁) was the chief culprit when it came to whipping up political fervor, but Chinese Nationalist Party (KMT) Chairman Ma Ying-jeou (馬英九) was now following in his footsteps.
"The whole country is polarized and people who have different political perspectives resent each other," Lin said.
"There are no standards of what is right and wrong. Only political pronouncements are heard," he added.
Lin said that he will not join any other political party.
"I intend to launch a campaign to call on the people of Taiwan to quit political parties and remain neutral. People have to demonstrate their own power and stop politicians and parties from abusing their power," Lin said.
Prior to being elected as a legislator in 2004, Lin served as a city councilor in Hsinchu County Council for eight years.
No longer the largest
Lin's departure means the DPP, with 87 seats, is no longer the largest party in the Legislative Yuan. The KMT is now the largest party with 88 seats.
DPP Chairman Yu Shyi-kun yesterday said he hoped that Lin would continue to work with the DPP.
DPP caucus whip Ker Chien-ming (柯建銘) said he was disappointed with Lin's decision and now the DPP has a problem -- a reduction in the number of its legislative seats.
"The DPP remains devoted to Taiwan's democratic development and it is true that the DPP has slumped to its lowest point," DPP caucus whip Chen Chin-jun (陳景峻) said.
"But just as people get sick, any political party will face problems. However, I don't think it is a good idea for people to abandon sick family members when they are in their hour of need as the situation will only get worse," he said.
Comments will be moderated. Keep comments relevant to the article. Remarks containing abusive and obscene language, personal attacks of any kind or promotion will be removed and the user banned. Final decision will be at the discretion of the Taipei Times.