Sacrificial swine prompt backlash
BIG PIGS It's widespread practice to raise obese pigs for ritual sacrifice, but animal-rights groups say cruelty toward the animals needs to be stamped out
The belief that "the bigger the sacrificed pig, the more luck a person will have for the rest of the year" has resulted in a lifetime of agony for hundreds of pigs, bred by farmers to become abnormally overweight before slaughter, animal-rights activists said yesterday.
Dozens of activists from several animal-rights groups yesterday gathered in front of the Council of Agriculture (COA) to protest traditional pig contests, saying the government has failed to regulate abusive practices toward animals.
Showing a documentary about pigs selected for the contest, activists said that 15 to 18 months before the overweight pigs are killed as sacrificial offerings, they are deprived of fluids, exercise and even turning over freely. The pigs undergo these cruel farming practices until their weight reaches upwards of five to six times their normal weight, activists said.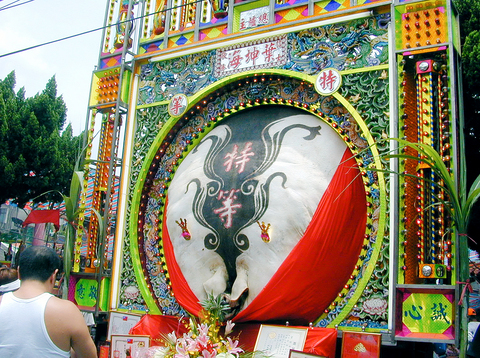 This year's prize-winning sacrificial pig, with the words ``special prize'' painted on its skin, is displayed in Hsinchu County yesterday. The last 20 years have seen the sacrificial pig industry go from strength to strength in the county, and the size of the pigs has increased year by year.
PHOTO: LIANG HSIU-HSIEN, TAIPEI TIMES
According to a recent survey by the Environment and Animal Society of Taiwan (EAST), the price for a 600kg pig is about NT$200,000 (US$6,228). And the price goes up with the weight. A 900kg pig costs about NT$3.5 million.
EAST director Chen Yu-min (陳玉敏) said the profitable business encourages farmers to use cruel practices to increase the weight of their pigs. If pigs refuse to open their mouths, they will be forced to eat fodder poured through tubes after being beaten about the face.
"The obesity even leaves pigs paralyzed. On hot summer days, some even die of [heat-related] sickness," Chen said.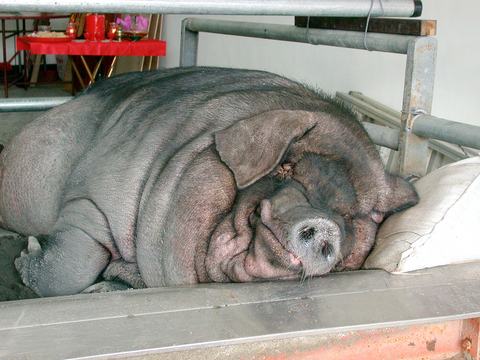 Sacrificial pigs are fattened up until their weight reaches up to five or six times their normal weight.
PHOTO COURTESY OF THE ENVIRONMENT AND ANIMAL SOCIETY OF TAIWAN
The survey suggests that there are about 80 farms that raise an average of 650 pigs for such contests, and more than half of them are in Taoyuan County. In 2003, more than 30 deaths of overweight pigs in Taoyuan were reported.
Chen said some farmers even pour metal into their pigs before a contest in order to increase the swine's weight, which is why contest holders have to use metal detectors to check overweight pigs.
Chen said that pigs with thick fat are slaughtered publicly without being stunned. Butchers usually cut the throats of pigs as they are suspended upside down with their legs tightly bound. The process is often accompanied by the pigs' bloodcurdling screams. According to the Husbandry Law (畜牧法), pigs cannot be slaughtered without being stunned in advance, Chen said. However, violations of the law have been neglected by the government for a long time, he said.
In recent years, activists have launched a campaign against the pig contests. A few temples or religious groups have used "alternative pigs," which are made from flowers, fruit, rice cakes or other environmentally friendly materials.
Activists said that traditional briefs leading to animal abuse violate existing laws, but the government has rarely taken action against offenders.
Accompanied by Democratic Progressive Party Legislator Tien Chiu-chin (田秋堇), the activists were met by COA Deputy Minister Hu Fu-hsiung (胡富雄), who promised to order local authorities to try to persuade farmers to abandon cruel farming practices.
"If they keep violating the Animal Protection Law [動物保護法], the pigs will be confiscated," Hu said.
Comments will be moderated. Keep comments relevant to the article. Remarks containing abusive and obscene language, personal attacks of any kind or promotion will be removed and the user banned. Final decision will be at the discretion of the Taipei Times.