A legacy of faith finds a voice in Taiwanese imam
Taipei Grand Mosque Imam Ma Shiao-chi (馬孝棋) was one of five Taiwanese students who flew to Libya in 1977 to join a language exchange program to study Arabic.
Born to Muslim parents that came to Taiwan from Nanjing with the Chinese Nationalist Party (KMT) government in 1949, Ma grew up in Kaohsiung and worshipped in a mosque in the city once or twice a year when he was young.
Ma's ancestors had been Muslims for hundreds of years. They were believed to be nomads who moved from Central Asia to China. For several centuries, they lived their lives according to the Muslim tradition.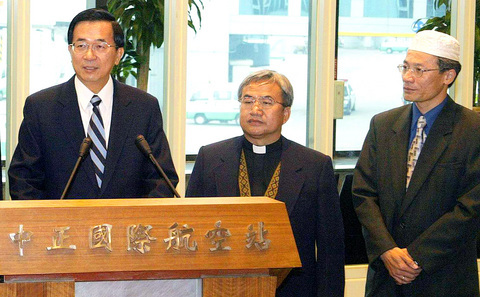 President Chen Shui-bian, left, together with Father Hsin Chao-ming, center, and Taipei Grand Mosque Imam Ma Shiao-chi, right, at CKS International Airport prior to attending the funeral of Pope John Paul II.
FILE PHOTO, TAIPEI TIMES
As a teenager, Ma knew he could not eat pork and there were no photos of his ancestors hanging in the house. His family does not worship idols, as most Taiwanese people do.
Ma's parents prepared lunchboxes for him and his sisters when they went to school. While Ma's friends ate in restaurants, Ma would eat his lunchbox, to keep from accidentally eating pork or anything cooked in lard.
But at the time, Ma did not quite understand why he lived that way.
"As we grew up, we gradually had some idea of our religion. But our idea of Islam remained rather unclear," he said.
In his first year in high school, Ma was told that Libya, then still a diplomatic ally of Taiwan, offered a scholarship program for five Taiwanese students to study Arabic in the country.
Ma decided to give it a shot. He passed exams for the program. In November 1977, he and the other four students arrived in Libya.
"The night after our arrival, I laid in my bed and stared at the ceiling. I had seen many interesting things on my journey there and did not feel sad at all. But at the quiet of the night, I began to miss my parents. Home was so far from me," Ma said.
Phones were not widely available in Libya in 1977. Ma spent his first night there writing a letter to his parents. He knew that for the exchange program, he probably had to spend the next 10 years in the North African country.
During a summer vacation in 1982, Ma decided to take a trip around Italy, as it is geographically close to Libya. He spent 28 days traveling around Italy and also visited the Vatican.
Earlier this month, President Chen Shui-bian (陳水扁) invited Ma to join his delegation to attend Pope John Paul II's funeral in the Holy See.
"When I went to the Vatican in 1982, the Pope was there. This time I went there to join his funeral. It is such a coincidence. This is destiny. Nobody knows the times for things," he said.
The imam said he did not follow the rituals in the Pope's funeral. He attended the mass, he added, to express his respect and give a blessing to the late pontiff.
"We need interactions between different religions so that we can seek harmony out of our differences," he said.
To make pocket money in Libya, Ma looked for part-time jobs during vacations.
"The first job I had was to be a shepherd. I had no idea about how to be a shepherd," Ma said.
As Ma drove his herd out into the field, he had to watch for wolves or foxes and cast stones at them if they attempted to approach his sheep.
Many important religious figures are depicted as shepherds, Ma said.
"Jesus, Moses and Mohammad were all shepherds. It is a holy job. My first job was being a shepherd. Looking back at my life, I knew the job had deep meaning," he said.
"We can learn a lot of things from shepherding. We can learn how to minister to people from the experience of leading a herd of sheep. Today, my job is like being a shepherd. I have the responsibility of leading people," he said.
Before Ma became the imam of the Taipei Grand Mosque in 1999, he visited many Muslim families. The experience, he said, brought him a lot of frustrations and disappointments.
"Society has affected Muslims. When I visited Muslim families, they were not always willing to receive us or share with us matters of faith. I thought we ought to be able to talk more," Ma said.
The imam has tried to organize social activities for young Muslims so that they can make friends with each other. His job, he said, is to lead these people back and help them restore the Muslim way of life.
Comments will be moderated. Keep comments relevant to the article. Remarks containing abusive and obscene language, personal attacks of any kind or promotion will be removed and the user banned. Final decision will be at the discretion of the Taipei Times.