Hospital's tiny operation sets record
A 35-week-old baby, Lee Yi-hsuan (李易宣), became the country's lightest and youngest baby to have successfully undergone cardiac surgery, setting a record for treating heart disease in premature babies.
Doctors from the National Taiwan University Hospital carried out the procedures and published the news yesterday. When Yi-husan was transferred to the hospital eight months ago, she was diagnosed with congenital heart disease. The condition causes pulmonary veins to drain oxygenated blood from the lungs to right atrium instead of left atrium. As such, blood simply circles to and from the lungs and never gets out to the body. To re-circulate the blood, the surgeons opened the 23-day-old's egg-sized heart, channeled all her blood to a machine, severed and then rebuilt a membrane to correct the baby's blood flow, and then pumped all her blood back into her body.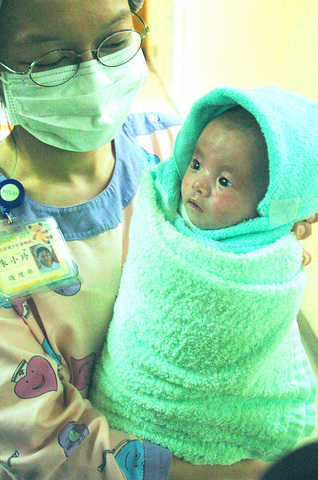 A medical worker at National Taiwan University Hospital yesterday carefully holds Lee Yi-hsuan, a 35-week-old baby who is the country's lightest and youngest premature baby to have successfully undergone cardiac surgery.
PHOTO: SEAN CHAO, TAIPEI TIMES
During the 40-minute operation, the baby's heart stopped pumping and her body was devoid of blood. Surgeons called it "death for 40 minutes."
The major challenge is to stitch and mend the heart within 40 minutes, since her brain would have been permanently damaged if it had been deprived of oxygen for longer than 40 minutes.
"To avoid massive hemorrhaging during the surgery, we drained all of her blood, 100cc, into a machine and cooled her down to 15?C degrees. But we had to be quick. At low temperatures -- ?from 15?C to 20?C -- the brain can only endure an operation lasting from 40 minutes to an hour," said Chang Chung-I (張重義), the surgeon who treated Yi-hsuan.
In Yi-husan's case, as the baby weighed only 1.3 kg, surgeons had no time to lose.
"Every second is a matter of life and death," Chang said.
Concerning of the risks involved, doctors are still closely monitoring the baby's health.
Although the death rate for babies undergoing heart surgery has declined sharply over the past decade, 5 percent of newborns still fails to survive this type of operation, according to the hospital's data.
"The survival rate of babies above 2kg is much higher than those under 2kg. This why Yi-hsuan has broken the record," Chang said.
The hospital's medical team has had success in two similar surgery cases as well, including a 36-week-old boy who weighed 1940g in 1997, and another 36-week-old baby who weighed 1780g last year. The boy from 1997, now eight years old, is healthy and attending elementary school.
Comments will be moderated. Keep comments relevant to the article. Remarks containing abusive and obscene language, personal attacks of any kind or promotion will be removed and the user banned. Final decision will be at the discretion of the Taipei Times.