Cabinet questions visa refusal for Ma
TAIWAN-HONG KONG RELATIONS Authorities owe an explanation to Taipei City Mayor Ma Ying-jeou for not issuing a visa, as Ma wishes to visit the land of his birth
Hong Kong should offer the Taiwanese people a reasonable explanation as to why it refused to issue a visa to Taipei City Mayor Ma Ying-jeou (馬英九), or face vehement protests, the Executive Yuan said yesterday. \n"We feel sorry about what happened to Mayor Ma and would like to point out that the incident clearly signifies the deterioration of Taiwan-Hong Kong relations and that the Hong Kong government should be held fully responsible for it," Cabinet Spokesman Chen Chi-mai (陳其邁) told a press conference held after the weekly Cabinet meeting yesterday morning. \nWhile it remained unclear as to why the government of the Hong Kong Special Administrative Region rejected Ma's visa application, speculation was rife that it was related to Ma's recent criticism of the "anti-secession law" the Chinese government is drafting. \nMa said that he himself did not know why the Hong Kong government rejected his visa application and that it would be a very "unwise decision" if it was because of his criticism of the "anti-secession law." \n"Maybe the Hong Kong government doesn't want me to go because it's too cold," he said jokingly. \n"If it had something to do my remark about the law, it would run counter to the Chinese government's intention to convince the Taiwanese people to trust the `one China, two systems' model," he said. \nWhen asked whether he considered the incident to be suppression by the Chinese government, Ma said that he did not think so, but "it sure feels upsetting to be black-listed" by the Hong Kong government. \n"Honestly speaking, I'm very much shocked by the fact that I cannot go back to my birthplace to attend a cultural activity related to city affairs," he said. \nHong Kong's Ming Pao Daily News quoted unidentified government officials as saying that Ma's visa was denied because he recently criticized China's proposed anti-secession law. \nThe paper added that the timing of Ma's visit would be too sensitive as China's legislature prepares to vote on the law in March. \nTaiwan contends that the measure could be used as a pretext for an attack. \nMa has visited Hong Kong twice since the former British colony returned to Chinese rule in 1997. The politician is popular in Hong Kong because he was born there. \nMa favors eventual unification with China, and has been critical of President Chen Shui-bian's (陳水扁) efforts to create a new Taiwanese identity separate from China's. Chen is reviled by Chinese leaders. \nTimothy Wong, a researcher at the Institute of Asia-Pacific Studies at Chinese University of Hong Kong, said Ma's visa was rejected because Chinese authorities want to stamp out any ``inappropriate'' remarks on the planned anti-secession law. \n"Beijing is escalating its pressure to the utmost level. There is no gray area," he said. \nHe added that China rejected Ma's visit to make clear that tensions across the Taiwan Strait remain serious. \n"They don't want to send the message to the outside world that the severe situation of cross-straits relations has improved," he told a radio talk show yesterday. \nAccording to a CNA story last night, Hong Kong's Constitutional Affairs Bureau director Stephen Lam (林瑞麟), while refraining from commenting on whether the denial of Ma's visa has anything to do with Ma's remarks on China's "anti-secession law," said yesterday that Ma was not black-listed by Hong Kong authorities.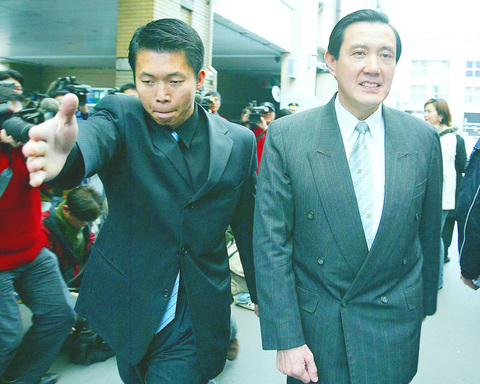 Taipei Mayor Ma Ying-jeou, right, walks out of the Executive Yuan after a meeting yesterday. Ma told reporters that he regretted being denied a Hong Kong visa for his opposition to China's proposed ''anti-secession law.'' Hong Kong's Constitutional Affairs Bureau director Stephen Lam said Ma was not being black-listed by Hong Kong authorities.
PHOTO: CNA
Comments will be moderated. Keep comments relevant to the article. Remarks containing abusive and obscene language, personal attacks of any kind or promotion will be removed and the user banned. Final decision will be at the discretion of the Taipei Times.