Kaohsiung City's future looks bright
AIMING HIGH With many improvements taking place, Kaohsiung is on its way to becoming an international city to be reckoned with, Mayor Frank Hsieh says
Playing the lilting and melodious notes on their ocarinas, a total of 11,551 Kaohsiung citizens last Saturday successfully set a new Guinness World Record. With Kaohsiung City Mayor Frank Hsieh (謝長廷) at the helm, Kaohsiung City once again showed itself to be a dynamic city and an example for the rest of the country. \n"This is the moment that shows the determination of Kaohsiung City and the consolidation of Kaohsiung citizens," Hsieh said on Saturday, when signing the certificate of the new Guinness World Record. \nWith colorful confetti flying through the air, the participants celebrated their accomplishment after the event's sponsor announced that 11,551 ocarinas players arranged in the shape of Taiwan set a new Guinness World Record by playing two songs for seven consecutive minutes without stopping. \nMost of the ocarinas players were elementary schools and junior high school students, but a number of disabled people also joined in the event. Hsieh, who promoted and popularized this small instrument in southern Taiwan, took part in the activity with his wife Yu Fang-chih (游芳枝). \n"This year is Kaohsiung City's 80th birthday. I think this new record could be the best gift to the citizens and I anticipate that we could establish more records, which will help thrust Kaohsiung City onto the world stage," Hsieh said. \nIn fact, Hsieh is not only good at orchestrating record-setting ensembles, he also excels in coordinating people of different groups and political parties. With his diplomatic and flexible character, Hsieh facilitated a series of municipal construction and revamping works which surprised visitors to the city and also make the locals proud. \nIn the last five years, visible improvements have been made to Kaohsiung City, including the cleanup of the notorious Ai River and the Chienchen River, the beginning of construction of an MRT system and sports stadium, the purification of local tap water and the construction of a Wireless Internet infrastructure. \nWith a belief in the importance of giving Kaohsiung City its own identity, Hsieh launched a clean-up campaign for the Ai River and turned it into a popular scenic spot for tourists. The river will now become an art and cultural activities area that is modeled after the Seine River in Paris. People will soon be able to take boat rides on the Ai River, stroll along the bank or have an afternoon tea or coffee at a nearby shop. \n"It's amazing how much Kaohsiung City has been made over since Hsieh took over as mayor. Whenever my friends visit Kaohsiung, I would take them to the Ai River or Kaohsiung Art Museum or the No. 10 Dock to enjoy the nice atmosphere that Kaohsiung City has," said 27-year-old Cheng Su-ling (鄭素玲), a staff member of Taiwan Heart's office in the city. Cheng is also a political science professor of National Chungshan University. \n"Many Kaohsiung residents told me that they now have more places to spend their holiday and leisure time," Cheng said. "I think that Hsieh has made Kaohsiung an `ocean city' and turned it into a city that is gradually catching up with other major international cities." \n"Sometimes I relax at the Ocean Park in front of Chungshan University and gaze at the Chichin Harbor. The scene always reminds me of Manhattan," she said. \nHsieh has successfully transformed Kaohsiung City from its "lower harbor" reputation into a progressive city that compares to Taipei City in some ways, Cheng added. \nMeanwhile, as the young generation is also enjoying the city's revival and progress, older people show their satisfaction with Hsieh's performance with their votes come election time. \nThe result of the legislative elections a week and a half ago indicated that nine out of 10 candidates nominated by the Democratic Progressive Party (DPP) and Taiwan Solidarity Union (TSU) were elected -- largely because of Hsieh's endorsements. One of those elected to the legislature, Kuan Pi-ling (管碧玲), served as the chief of the city's Cultural Affairs Bureau. \nThe pan-green camp's victory in Kaohsiung City was predictable, given the turnout at the massive DPP-organized march on Dec. 9 to commemorate the Kaohsiung Incident in 1979. The event attracted at least 50,000 people. One participant, a 58-year-old drug-store owner surnamed Wang, joined in the march and said he would vote for the DPP in the legislative elections because "Hsieh made Kaohsiung residents feel it is an honor to live in Kaohsiung." \n"I recognize what Hsieh has done for Kaohsiung City," Wang said. \nApart from politics, Hsieh also aimed to give Kaohsiung residents a wide variety of culture and art. When Kuan served as the Cultural Affairs bureau chief, she extended cultural facilities and art programs and turned many historical sites into museums or libraries, which gradually wiped out Kaohsiung's reputation as a cultural desert. \nWong Ching-ting (翁靜婷), 29, a Kaohsiung-based TV director who also works in Taipei and Taichung, said she was surprised that cultural activities in Kaohsiung City had mushroomed in recent years. She added that she could see that Kaohsiung City officials were trying hard to turn the city into one of the best in Taiwan. \n"I wish it could hold onto its true colors, and not just replicate Taipei City," Wong said of Kao-hsiung's development.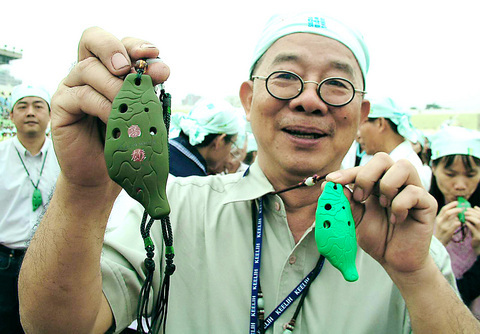 Kuo Ching-rong holds up a Taiwan-shaped ocarina last Saturday. Kuo, who developed the uniquely shaped ocarina, also orchestrated a performance where some 11,551 Kaohsiung residents played ocarinas together for seven minutes straight, setting a new Guinness World Record.
PHOTO: HUANG SHOU-CHI, TAIPEI TIMES
Comments will be moderated. Keep comments relevant to the article. Remarks containing abusive and obscene language, personal attacks of any kind or promotion will be removed and the user banned. Final decision will be at the discretion of the Taipei Times.