Foreign minister slams Singapore
HARSH LANGUAGE Mark Chen used a rude colloquialism to blast his Singaporean counterpart for criticizing Taiwan
Minister of Foreign Affairs Mark Chen (陳唐山) yesterday blasted Singapore Foreign Minister George Yeo (楊榮文) for telling the UN that actions by Taiwan's independence groups could lead to war with China.
"Singapore holds China's lan pa (卵葩, LP) with its hands, if I may use these ugly words," a fuming Chen said.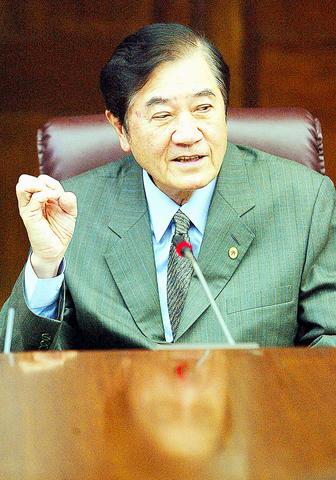 Minister of Foreign Affairs Mark Chen gestures while discussing Singapore during a meeting with a pro-independence group yesterday.
PHOTO: CNA
In the Hoklo language (also known as Taiwanese), lan pa means "testicles"; saying that someone holds another's lan pa means that he is fawning over that person.
Chen was speaking during a meeting with a pro-independence group which had requested that the Ministry of Foreign Affairs change the name of Taiwan's representative office in Japan to better express Taiwan's sovereignty.
Chen lamented Taiwan's status in the international community, saying "even a tiny garden country like Singapore, which only has 3 million people, can criticize us."
"Singapore is a country only as big as a piece of snot," he added.
The minister, who returned from the US yesterday, was clearly irritated by Yeo's speech in the 59th session of the UN General Assembly in New York last Friday.
Yeo told the General Assembly that "the push towards independence by certain groups in Taiwan is most dangerous because it will lead to war with mainland China and drag in other countries ... At stake is the stability of the entire Asia-Pacific region."
Taiwan's 12th bid to join the UN failed earlier this month.
Quoting Yeo's statement to the pro-independence group yesterday, Chen said people in Taiwan need to persevere if they want to survive.
"Where is justice in the world? This world has no justice," Chen said. "When [Singaporean Prime Minister] Lee Hsien Loong (李顯龍) visited us two months ago, we treated him very well. He came under tremendous pressure [from China] after the trip."
China's pressure influenced Singapore to make the speech in the UN, but "Yeo's remarks went too far," the minister complained.
But Chen said Yeo had done at least one good thing by delivering the UN speech.
"Yeo mentioned that some people in Taiwan want independence," Chen said. "Many countries probably didn't know there are people in Taiwan desiring independence before Yeo talked about it."
Thanks to Yeo's statement, these countries would now "realize our ambition" to achieve independence, he said.
The independence group had appealed to Chen to change the name of the Taipei Economic and Cultural Representative Office in Japan by replacing the word "Taipei" with "Taiwan." The group said the name downgraded the country's status as a state. It asked the ministry to negotiate with the Japanese government about the name change as soon as possible.
"I think the group made the right appeal," Chen said. "Many of us are not clear what our national title is. Even I, as foreign minister, often forget the names of our overseas representative offices. This is ridiculous."
Chen was referring to the various names Taiwan's overseas representative offices have been forced to adopt to prevent political pressure from China being applied on those countries.
Meanwhile, the minister also said that the arrest of Donald Keyser, the former US deputy assistant secretary for East Asian and Pacific affairs, would not affect Taipei-Washington relations. Chen stressed that Taiwan wanted to maintain good ties with the US.
"Taiwan has no reason to steal classified information from the US," he said.
Comments will be moderated. Keep comments relevant to the article. Remarks containing abusive and obscene language, personal attacks of any kind or promotion will be removed and the user banned. Final decision will be at the discretion of the Taipei Times.