Foreign affairs training to get boost from institute
DIPLOMACY Taiwan's new Foreign Service Institute, although smaller than comparable institutes, is set to provide a wide range of training to diplomatic recruits
In his inauguration speech in May 2000, President Chen Shui-bian (陳水扁) unveiled a plan to establish a Foreign Affairs Institute in a foreign policy white paper. \nOn June 9 this year, the president saw half of his vision realized when he presided over the opening ceremony of an 11-storey building bordering Taipei's Dunhua-Renai intersection. \nThe building, with one of its walls made completely of glass, is currently home to the Ministry of Foreign Affairs' (MOFA) Foreign Service Institute, which provides training programs for new foreign service recruits from the ministry. \nThe Foreign Service Institute will formally become the Foreign Affairs Institute once the Statute of the Foreign Affairs Institute is adopted by the legislature. \nMany hurdles, however, need to be cleared before the Foreign Affairs Institute can begin operation. \nPresently, the Foreign Service Institute only has 14 staff. In contrast, its South Korean counterpart, the Ministry of Foreign Affairs and Trade's Institute of Foreign Affairs and National Security, has 98. \nChina, Taiwan's biggest diplomatic rival, meanwhile has a 400-strong faculty and staff at its Foreign Affairs College, among whom 170 or so are licensed full-time instructors. \nAdditionally, some 70 senior diplomats and renowned experts, professors, and around 20 foreign experts and teachers have also been engaged for their relevant specialties, according to a brochure introducing the college. \nThe annual budget of NT$18 million the government earmarks for the Foreign Service Institute is dwarfed by the money the South Korean government gives yearly to its Institute of Foreign Affairs and National Security, which amounts to NT$270 million. \n"Taiwan cannot compare with China in terms of its territory and population, but we still have to compete with China in the international arena," said Benjamin Lo (羅致遠), director general of the Foreign Service Institute. \nThe institute, he added, simply cannot match the magnitude of China's Foreign Affairs College, which is affiliated with the Ministry of Foreign Affairs of the People's Republic of China. \nEven compared with its counterpart in South Korea, the Foreign Service Institute's budget and personnel still look poor. \n"We really need more budget and staff," Lo said. \nAs outlined in Chen's 2000 foreign policy white paper, the aim of establishing the Foreign Affairs Institute is to "combine the government's limited resources with the people's infinite energy" to develop the country's multi-dimensional diplomacy. \nIn January 2001, MOFA began to undertake preparatory work towards the establishment of the Foreign Affairs Institute. This included convening a meeting for the Foreign Affairs Institute Organizing Committee. \nIt joined with other relevant government agencies in organizing a delegation to visit comparable institutes of diplomacy in the US, France, Germany, Japan and South Korea. \nBased on the findings of the delegation, the committee decided the Foreign Affairs Institute should imitate the structure of South Korea's Institute of Foreign Affairs and National Security. \n"The stand-off between North Korea and South Korea is somewhat similar to that between China and Taiwan. The sensitive cross-strait relations have made our diplomatic work increasingly complicated," the committee reported. \nLo, who has been in the Foreign Service for 41 years and is the former representative to the Philippines, said he could not recall a single diplomatic occasion where China did not attempt to pressure Taiwan during his four-decade career. \n"I can write a whole book recording instances of China's oppression of Taiwan," he said. \nHowever, Lo admitted it is difficult to teach diplomats how to respond to China's pressure in the institute's training programs. \nHow well Taiwanese diplomats can cope with China's maneuvers in many countries depends partly on their understanding of these countries' foreign policies, said Lo. \n"It is good if they can learn from their jobs or their superiors' experiences," he added. \nLo is now considering opening a course on cross-strait affairs that would involve case studies. \nNew foreign service recruits have to spend three months in the Foreign Service Institute before formally starting work. \n"Apart from training programs, the future Foreign Affairs Institute will also have sections responsible for policy research and international exchanges," Lo said. \nCourses for new recruits cover a wide spectrum, including international relations, regional affairs, language lessons and crisis management. The trainees also have to develop some artistic expertise. The institute provides lessons on art, music, architecture, dancing and even golf.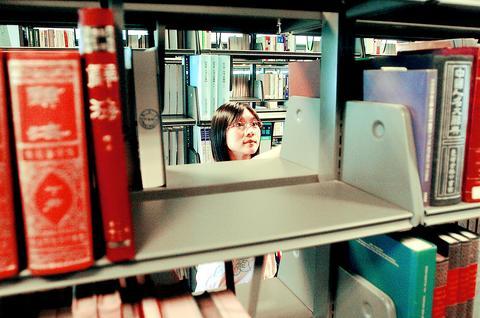 The Library of Foreign Service Institute of Ministry of Foreign Affairs.
PHOTO: SEAN CHAO, TAIPEI TIMES
Comments will be moderated. Keep comments relevant to the article. Remarks containing abusive and obscene language, personal attacks of any kind or promotion will be removed and the user banned. Final decision will be at the discretion of the Taipei Times.