Lin Fang-mei: first a feminist and now a diplomat
NEW AT IT The woman who just left her job at the National Youth Commission is seen by some as not quite qualified for the diplomatic position she'll be taking up
At the end of last month, Lin Fang-mei (林芳玫), former chairwoman of the National Youth Commission, distributed an article she had written, Enjoying and Learning from Departure, to the media after she had met with Premier Yu Shyi-kyun, who was then busy appointing new officials.
"Civil servants in 21st-century democratic societies are a nomadic group," Lin said.
"Before I heard the results of the presidential election, I told myself that I had to leave my post after the inauguration, no matter what the outcome of the election was."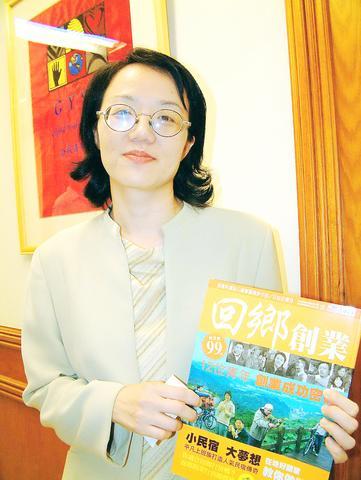 In this file photo, Lin Fang-mei, former chairwoman of the National Youth Commission, holds up a booklet published by the commission that features 12 successful young entrepreneurs.
PHOTO: HSU MIN-JUNG, TAIPEI TIMES
Saying that she wanted to "bow out gracefully," Lin resigned from the commission on Thursday, two weeks after her meeting with Yu.
On Friday, the Cabinet announced that Lin would now head the Coordination Council for North American Affairs.
The council is an agency under the Ministry of Foreign Affairs that was established after the US severed diplomatic ties with Taiwan in 1979.
The US administration began to avoid direct contact with Taiwan's government after it recognized Beijing as the legitimate government of China.
The council once served as an intermediary between the countries and handled official documents from the US.
The significance of the agency faded as Taiwan-US ties improved and US officials broke diplomatic barriers by paying visits to the ministry.
Lin's leap from the career-counseling commission to the diplomatic council raised some eyebrows.
People First Party Legislator Hsu Yuan-kuo (許淵國) doubted whether Lin, "lacking diplomatic experience," could manage the council.
"The council stands on an equal level with the American Institute in Taiwan," Hsu said.
"Its importance far exceeds that of a government agency like the commission.
"Former heads of the council are all seasoned diplomats," Hsu said.
The lawmaker called the Cabinet's decision to place Lin in the position "worrying."
Cabinet spokesman Lin Chia-lung (林佳龍), however, came to Lin Fang-mei's defense, emphasizing that she has wide experience with NGOs and also has an international perspective.
Born in 1961, Lin Fang-mei earned a degree from National Taiwan University's department of foreign languages and literature and got her Ph.D. in sociology at the University of Pennsylvania in 1992.
From 1992 to 2000, she taught in the department of journalism at National Chengchi University.
She was appointed the chairwoman of the commission in 2000.
Lin Fang-mei is the youngest of an herb merchant's four daughters.
As a child, she disliked it that her grandparents favored their grandsons over their granddaughters.
Her uncle has two sons, while her father has none.
In Lin Fang-mei's generation and in earlier ones, it was common for the names of girls -- especially ones born after other daughters had already been born -- to contain a Chinese character meaning "enough, too much" (滿, 足).
Parents hoped that by giving a daughter a less-than-graceful name, they could stop producing girls and start to have boys.
During an interview for the book We Want Girls to Have Colorful Lives (我們希望女兒活的精采), Lin Fang-mei said she was fortunate because, although she was the youngest daughter, her parents embraced her wholeheartedly.
Her grandparents' unequal treatment of boys and girls contributed to Lin Fang-mei's belief that girls must study hard in order to develop useful skills and make a living.
"Boys can inherit the family fortune; girls cannot," she said.
Before Lin Fang-mei entered government, she was known as an active feminist, holding positions in a number of women's rights groups, including the Peng Wan-ru Foundation.
Her participation in the foundation changed her life.
In 1996, Peng Wan-ru (彭婉如), a director of the Democratic Progressive Party's Women's Affairs Department, disappeared after taking a taxi in Kaohsiung.
She was found dead three days later.
The police said she had been raped and murdered.
Her killer remains at large.
Her husband, Hung Wann-sheng (洪萬生), a professor in the department of mathematics at National Taiwan Normal University, established the foundation in her name.
Three years after Peng's death, Lin Fang-mei and Hung decided to get married.
Their love affair triggered intense interest on the part of the public.
The couple had asked themselves whether their friendship had to result in marriage.
"Must we get married? Isn't it good just to be friends?" Lin Fang-mei asked herself.
She and Hung came to the conclusion they did not want to love each other clandestinely. They tied the knot.
As commission chairwoman, Lin Fang-mei once told young people that failure in one's career is common.
Young people easily get frustrated when their relationships with their bosses or colleagues go wrong, she said.
"Young people have a strong sense of self-esteem and often feel as if they've lost face when they encounter failure," she said.
"If they can learn to take failure as a matter of course, they can learn more from their experiences," Lin Fang-mei said.
Comments will be moderated. Keep comments relevant to the article. Remarks containing abusive and obscene language, personal attacks of any kind or promotion will be removed and the user banned. Final decision will be at the discretion of the Taipei Times.