Al-Qaeda had its sights on Taiwan
Taiwan has been in the sights of Osama bin Laden's al-Qaeda terrorist organization at least four times since August, the National Security Bureau (NSB) revealed yesterday.
"We have been notified of the possible threat through various channels. Loosely-guarded facilities like Taipei's Sungshan airport are likely targets," NSB deputy director Huang Lei (黃磊) said.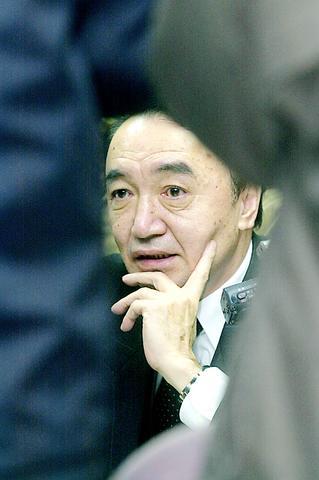 National Security Bureau deputy director Huang Lei confirms that Taiwan has been chosen as a target by terrorists during a meeting of the defense committee at the legislature yesterday.
PHOTO: CHIEN JUNG-FENG, TAIPEI TIMES
Huang made the revelation at a meeting of the legislature's defense committee in response to a question from People First Party (PFP) lawmaker Lin Yu-fang (林郁方) over whether Taiwan has ever been targeted by al-Qaeda.
Lin said he was happy that the NSB had confirmed the rumors about an al-Qaeda threat, but expressed concern about the military's ability to counter terrorist attacks.
Officials said the NSB had been notified of al-Qaeda's plans by countries that have intelligence exchange agreements with Taiwan. Israel is one of these countries, the officials said. The bureau did not comment on the military's ability to handle a possible threat.
Huang said the Sungshan airport was a likely target due to its lax security.
Although rumor has it that Taipei's new landmark, the Taipei 101 skyscraper, has been considered by al-Qaeda as a target for revenge attacks due to Taiwan's support for the US anti-terror campaign, Huang gave no hint whether this was the case.
Taiwan used to have several elite units dedicated to fighting terrorism, but these units have either been deactivated or greatly scaled down as part of the "Chingshih" personnel streamlining project between 1997 and 2000.
The units were small but highly combat-capable, and were attached to the army, military police and navy. Following the Sept. 11 terror attacks in the US more than two years ago, these once-forgotten special services units became useful once again in the eyes of military leaders.
Over the next few years these units will be restored to their original size, or even expanded.
The navy's special services unit is expected to be reinforced by a bomb disposal unit. The bomb disposal unit is an elite force modeled on a unit in the US navy.
Comments will be moderated. Keep comments relevant to the article. Remarks containing abusive and obscene language, personal attacks of any kind or promotion will be removed and the user banned. Final decision will be at the discretion of the Taipei Times.