Foreigners recount life under martial law
LOOKING BACK Some of the non-Taiwanese who played a role in the nation's democracy movement have been invited back to tell of their experiences
Several foreign figures in Taiwan's democracy movement yesterday recalled the dark days of martial law as part of a series of human- rights activities the government is organizing to fill in historical gaps and to tell forgotten stories.
The figures, including well-known human-rights activist Linda Gail Arrigo and Munakata Takayuki, who helped secure the release of then-dissident Peng Ming-min (彭明敏) from prison in the 1960s, came from several countries, including the US, Japan and the Netherlands. Many of them had been blacklisted by the Chinese Nationalist Party (KMT) administration because of their involvement in the democracy movement.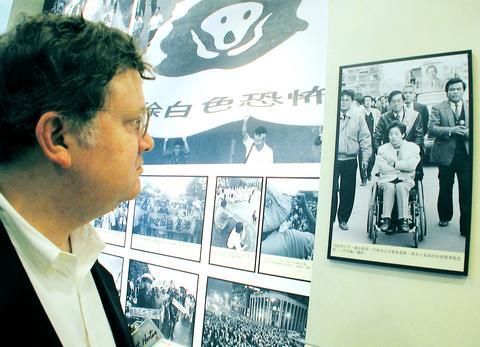 International League for Human Rights president Scott Horton views a photo of then legislator-candidate Chen Shui-bian pushing the wheelchair of his wife Wu Shu-chen. The photo is part of a human rights exhibition on Green Island, where political prisoners were jailed in the past.
PHOTO: CNA
President Chen Shui-bian (陳水扁) told the visitors that Taiwan's democratic movement was a result of long-term efforts, and the help of foreigners in writing letters to secure the release of political prisoners was very important.
"We can forgive historical mistakes, but we cannot forget the truth," Chen said.
Chen said that Taiwan had invited these friends back to tell their stories. Most importantly, he said, their families had also been invited so they could understand what their loved ones had done for Taiwan.
Part of the conference -- titled"A Journey of Remembrance and Appreciation" -- organized by the Taiwan Foundation for Democracy, was devoted to the role played by churches in the nation's democratization, especially the Presbyterian Church.
One participant, American priest James Collignon, first arrived in Taiwan in 1957. During a time when the Roman Catholic Church was on good terms with the KMT administration, he chose to associate with Protestants, including pro-independence Presbyterians.
"I was not a political person, and my problem with the administration was not a political one but rather a moral problem," Collignon said.
"The administration was telling a political lie -- it told people it was going to retake China," he said.
Collignon said that back then the government controlled the media and had ample ways to persuade people to believe their lies. But when persuasion failed, the government resorted to force.
He said he felt sorry that the Catholic Church at that time was cozy with the government and stood by and tolerated everything the KMT did.
An American, Presbyterian minister Donald Wilson, came to Taiwan in 1959. He was first told by his mission committee to study Mandarin. But after a while, the local church committee asked him to start studying Taiwanese.
"Our mission office worker, who was Taiwanese born, told me that when he heard someone speak [Mandarin] his initial reaction was to take two steps backward because for him Mandarin was equal to oppression," Wilson said.
Wilson also knew Peng, the forerunner of the Taiwanese democratic and independence movement. When Peng was imprisoned, he would visit Peng's wife. Later, when Peng was put under house arrest, he continued to visit them.
However, when Wilson and his family returned to the US in 1967, he was informed that he had become persona non grata. He had to wait until 1980 to return to Taiwan, although still under the strict surveillance of security agents.
Japanese Kobayashi Masanari, who was arrested for aiding the democratic movement, told of his experience behind bars.
Masanari was arrested in the 1960s for helping to distribute pro-democracy flyers. He was put in a cell next to Hsieh Tsung-min (謝聰敏), a student of Peng's who had co-authored the 1964 Declaration of Taiwan Self-Salvation.
"At the time Hsieh was tortured. I could also hear the howls of other students who were tortured. When I heard that sound I felt pain as if I had been beaten myself," he said.
After his release, Masanari helped deliver Hsieh's letters to Peng, who by then was in the US. Masanari said that when Peng heard of Hsieh's death sentence, Peng decided to release the letters to The New York Times. Publication of the letters and the resulting pressure from US congressmen deterred the KMT government from carrying out the execution.
Comments will be moderated. Keep comments relevant to the article. Remarks containing abusive and obscene language, personal attacks of any kind or promotion will be removed and the user banned. Final decision will be at the discretion of the Taipei Times.