Taiwan's foreign workers observe Ramadan
RELIGIOUS DUTY Fending off invitations to lunch without offending their colleagues is only one problem faced by many Moslems living in a non-Islamic country
October 27 marked the beginning of Ramadan in Taiwan -- a month of fasting, which is strictly observed by Muslims all over the world. At 4:10am, Rabia Billings, a South African native who has been an English teacher in Hsinchu for four years, wakes up and prepares breakfast before sunrise.
"My breakfast is a very light meal, I usually have a cup of tea or coffee, along with a bowl of cereal," Billings said.
According to Billings, the more one eats in the morning, the hungrier one gets for the rest of the day during the fasting month.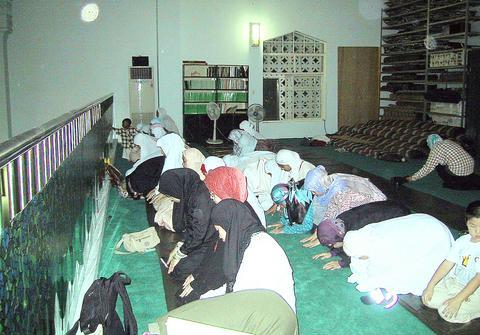 Women pray in an area apart from the men at the Taipei Mosque before breaking the fast.
PHOTO: CODY YIU, TAIPEI TIMES
After breakfast, Billings prayed in the direction of Mecca for about half an hour.
"After my first prayer, I take a nap before going to work," Billings said.
At 8:30am, Billings starts her day at the kindergarten where she work and finishes at 4:30pm. During her working hours, Billings has to pray about three times. According to Islamic teachings, praying five times a day is an essential practice.
"My employer, who is a Taiwanese, is very understanding of my need to pray several times a day, as well as my abstinence from eating and drinking till sunset," Billings said.
Although she is the only Muslim working in the kindergarten, Billings does not feel out of place.
"Most of the teachers here are Taiwanese and they are very open to differences. Sometimes, my co-workers forget that it is the fasting month and ask me to go along to lunch with them. After I have reminded them that I am not supposed to eat during the day, they will quickly apologize," Billings said.
At about 5pm, Billings prayed for the fourth time that day and this prayer also breaks her fast.
"Not having food or drink intake for 12 hours does not affect my work conditions at all. I have been practicing fasting since I was six and my body is well-adjusted to this change in lifestyle," Billings said.
According to Iman Ishag Ma Shiao-chi (馬孝棋), director of the Taipei Mosque, fasting should be practiced by all Muslims except those who have special physical situations.
"For instance, mothers who are nursing, the elderly, the sick and the young are exempted from fasting," Ma said.
Mika, an Indonesian who works as a surgical assistant at a plastic surgery clinic in Taipei, had her menstruation period last week and was exempted from fasting.
"Next year, I will add another week to my fasting month to make up for the missing week," she said.
"During Ramadan, I have some rice or crackers early in the morning, and it is usually enough for me to get through the rest of the day. I never feel lethargic or dizzy during the fasting month," Mika said.
Chen chia-chia (陳佳佳), an Indonesian Chinese who runs Mini Market Indojaya, an Indonesian grocery store that is located next to the Taipei Mosque, said that not all employers permit their Muslim employees to fast during Ramadan.
"An Indonesian worker who takes care of an elderly lady came to our grocery store this morning. She told me that her employer fears that by fasting she might not have enough stamina to take care of the elderly lady, so her employer asked her not to fast," Chen said.
Chen pointed out that the woman will return to Indonesia next year and, like Mika, she will add extra days to her fasting month to make up the missed days this year.
According to Chen, her grocery business has not been affected during Ramadan.
"My customers, who are mostly Indonesian workers, stop by to get their groceries as usual. Although most of them who are Muslims cannot eat during the day, they still buy the same amount of food products every time they shop here," Chen said.
Lukman, an Indonesian laborer at a textile factory in Shulin, works from 8am to 8pm everyday.
"During Ramadan, I don't eat in the morning. Although my job requires long hours and a lot of stamina, I am able to perform my job well throughout the day without eating or drinking," Lukman said.
According to Lukman, all workers in the factory have dinner together at 6pm, but he prefers not to eat with them, but wait till his shift is over at 8pm.
"I prefer to pray after my shift to break the fast and eat by myself. Sometimes, I only eat for the first time at 11pm if I work an extra shift, but a very late meal does not bother me at all," he said.
Novi, an Indonesian student who has been learning Chinese at National Taiwan Normal University for two months, has had to explain Ramadan to her fellow students several times when asked to join them for lunch.
"I understand that asking others to have meals together is a common courtesy in Taiwan. When I am invited to lunch during Ramadan, I will explain politely to my classmates what we Muslims practice. After my explanation, they usually become very accepting and thus do not feel rejected," Novi said.
Since Islam is a little understood religion in Taiwan, many Muslims have been misunderstood by the non-Muslims around them, especially during Ramadan.
"During this month, we have to wake up early and cook before dawn. Therefore, many neighbors who are wakened by the clattering of pots and pans early in the morning might wonder what is going on next door," Ma said.
Ma said that if Muslims are invited to lunch and they decline the invitation, those issuing the invitations may feel that they have been looked down upon.
"Fasting is to cleanse one's soul and spirit, as well as to reflect upon one's deeds and thoughts. As one feels hunger pains, one is able to experience the feeling of starvation that the underprivileged has to go through every day," Ma said.
Ramadan starts on Sept. 1 every year according to the Islamic calendar. The exact start and end of the lunar month depends on when the new moon is first seen.
Comments will be moderated. Keep comments relevant to the article. Remarks containing abusive and obscene language, personal attacks of any kind or promotion will be removed and the user banned. Final decision will be at the discretion of the Taipei Times.