Sleepless India fans have high hopes for World Cup title clash
Thousands of sleepless fans sporting blue India jerseys and waving flags clogged roads outside the world's biggest cricket stadium early yesterday, too excited to sleep as excitement built ahead of the Cricket World Cup final.
Drivers honked at fans blocking roads, shouting slogans and bargaining with roadside hawkers hours before the afternoon finale between the cricket-crazy hosts and the game's traditional powerhouse Australia.
The blockbuster conclusion of cricket's showpiece tournament, with 48 matches over 46 days between 10 teams at 10 venues, wrapped up at the grand 132,000-seat arena named after Indian Prime Minister Narendra Modi in India's western city of Ahmedabad.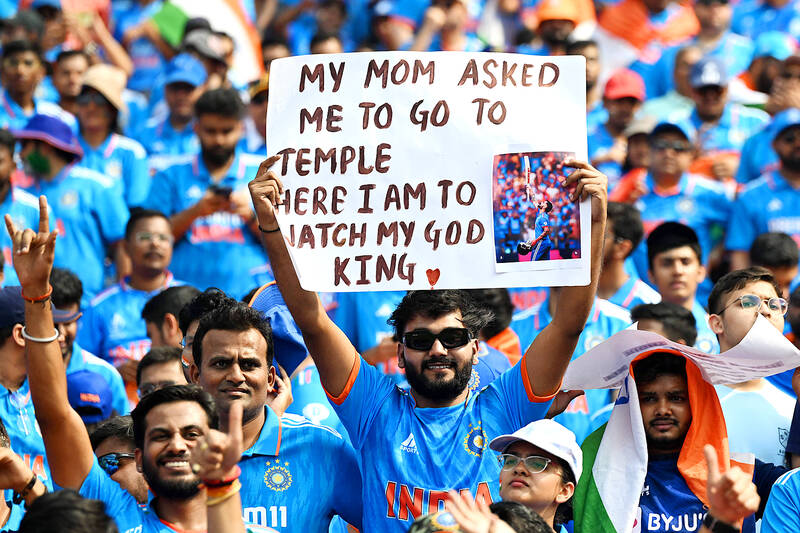 An India supporter holds up a placard before the start of their Cricket World Cup one-day international final against Australia at the Narendra Modi Stadium in Ahmedabad, India, yesterday.
Photo: AFP
With fans attending the game from distant parts of India and across the world, the city was packed, with some hotels charging 10 times regular rates.
Media reports said that many desperate fans had even approached some local religious institutions to stay overnight at their subsidized dormitories for devout pilgrims before the game. Others lit candles, offering prayers for the success of their beloved team.
"This feels like a big Hindu festival ... with families and friends out on the roads in a celebratory mood," 34-year old local resident Suresh Raval said outside the stadium.
Confident that India, who are still unbeaten in the tournament, would trounce Australia, Raval said that he and his friend were "finding it hard to sleep" and felt "really lucky to get two tickets for the game."
While he refused to reveal what he'd paid for the two "priceless tickets," many fans reportedly paid 10 to 20 times the cheapest ticket's listed price to attend the title clash.
"All these expenses — from flights to hotels to the stadium tickets — wouldn't pinch a bit if India performs well and win the title," said Vijay Kumar, a fan from the southern state of Andhra Pradesh.
"It felt so good" to see fans also wearing blue India jerseys crowding his flight to Ahmedabad on Saturday, Kumar said.
"But this atmosphere outside the stadium already feels so much better," he added outside the stadium's main entry gate. "We are still many hours away from the start of the match, but it feels so festive."
Modi was joined at the game by Australian Deputy Prime Minister Richard Marles.
Fans at the packed stadium also witnessed an air force flyby, a light and laser show, and hundreds of dancers performing Bollywood hit songs between the two innings.
"All the song and dance is good, but we are here for the game — and happy as long as India keeps winning," said Sahil Khanna, 48, a fan from New Delhi.
He came to the stadium on Saturday night, saying he couldn't sleep because of the excitement about the game.
"I am glad I am here. It is festival-like, there are thousands of fans here already," he said.
At press time last night, Australia were 93-3 at the 17-over mark, with opener Travis Head scoring 40 and Marnus Labuschagne 10.
Earlier, India were dismissed for 240.
Comments will be moderated. Keep comments relevant to the article. Remarks containing abusive and obscene language, personal attacks of any kind or promotion will be removed and the user banned. Final decision will be at the discretion of the Taipei Times.