Djokovic eyeing record after demolishing Alcaraz
Novak Djokovic on Saturday closed in on a record-breaking seventh ATP Finals title after sweeping past Carlos Alcaraz 6-3, 6-2 in a dominating semi-final display he hailed as his best of the tournament.
World No. 1 Djokovic was to face home favorite Jannik Sinner in yesterday's final in Turin, as the 36-year-old aims to cap an age-defying year with yet another major triumph.
"The best match of the tournament for me, without a doubt. It came at right time really, after spending a lot of hours on the court in the first three matches," Djokovic said. "Tonight, from the very beginning, I felt the ball well. I approached the match with the right attitude, the right mentality."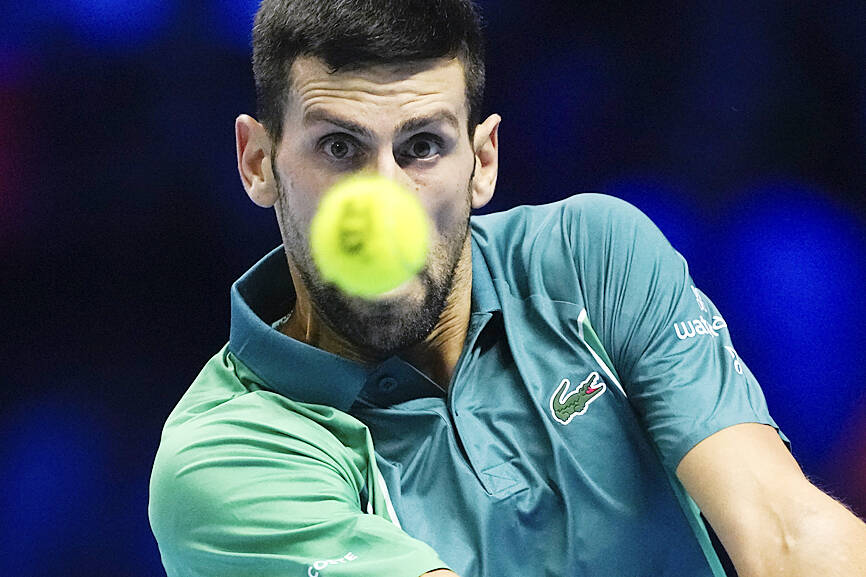 Serbia's Novak Djokovic returns to Spain's Carlos Alcaraz during their ATP Finals men's singles match at the Pala Alpitour in Turin, Italy, on Saturday.
Photo: AP
The Serb came into the Finals at the end of a year which has brought three Grand Slams, taking his total to an all-time best of 24, and a 40th Masters 1000 title.
Now only Sinner stands between Djokovic and victory, which would take him past his old foe and retired great Roger Federer for season-ending tournament titles.
The final promised to be a tough proposition for Djokovic as he lost to Sinner in the group stage and would have to deal with a partisan Italian crowd that, unusually for him, would not be on his side.
"He's been playing fantastic tennis, arguably the best tennis of his life. On this stage, against top 10 players," Djokovic said. "We played a very tight match the other night, the atmosphere was electric. I don't expect anything less than what we had in the group stage matchup."
Djokovic now has the better of his five matches with Wimbledon champion Alcaraz, who at 20 is already a two-time Grand Slam winner and was bidding to become the youngest finalist since Pete Sampras won the title back in 1991.
However, Saturday's match did not live up to the previous four dramatic clashes, as Djokovic put on a show of force that put pretender Alcaraz firmly in his place.
"I feel like I am not on his level on indoor courts," Alcaraz said. "He has more experience than me playing in these tournaments, in these courts, but he's unbelievable."
Sinner said he has the recipe for glory after his convincing 6-3, 6-7 (4/7), 6-1 win over Daniil Medvedev made him the first Italian to ever reach the final.
The Italian has risen to fourth in the world ranking, and backed by passionate home support, the 22-year-old has a chance to cap the best season of his young career with what would be his biggest title to date.
"It's like the first time you cook pasta with tomato sauce, maybe it's not that good. You realize that it needs more salt so the next time you add it. Then you might start using fresh tomatoes, and then add in basil," Sinner said.
"You learn things as you go along, until you get the dish right. That's what I'm doing, but you have to be careful, you can't just keep adding new things, because if you put in too many ingredients the dish won't be good any more. There's always a balance to be struck," he said.
Comments will be moderated. Keep comments relevant to the article. Remarks containing abusive and obscene language, personal attacks of any kind or promotion will be removed and the user banned. Final decision will be at the discretion of the Taipei Times.