S Korea must remain grounded: coach
EARLY LOSSES: Some sports have already started at the Asian Games in Hangzhou ahead of the opening ceremony on Saturday, including volleyball, with a Taiwan loss
South Korea's bid for a third straight men's gold medal in soccer at the Asian Games got off to the perfect start with a 9-0 thrashing of Kuwait on Tuesday, but coach Hwang Sun-hong is giving his players little time to enjoy it.
With a more testing group match against Thailand today, Hwang is wary of complacency creeping in after his side ran riot against Kuwait in Jinhua, China, southwest of host city Hangzhou.
"We'll pretend this match never happened," Hwang said after the Kuwait game, Yonhap news agency reported. "We have even more difficult matches coming up later, and we have a long and challenging path ahead of us."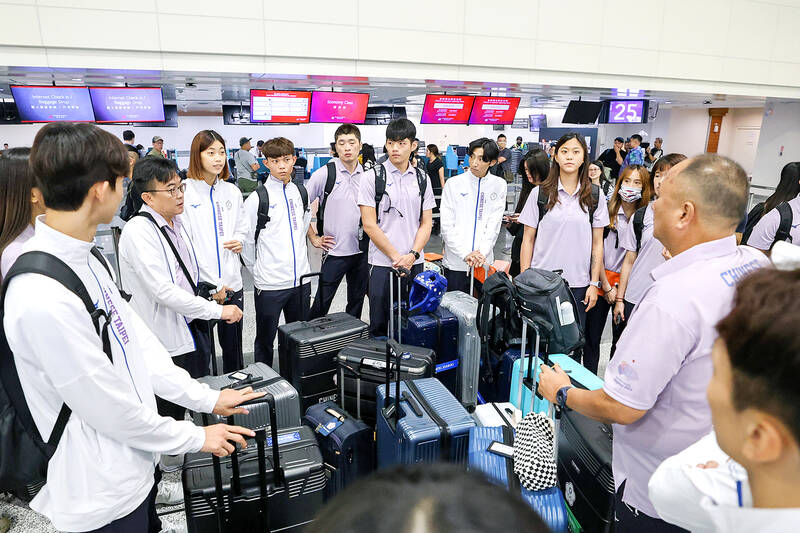 A contingent of Taiwan athletes wait at Taiwan Taoyuan International Airport yesterday as they prepare to depart for the Asian Games in Hangzhou, China.
Photo: CNA
South Korea, who are looking to become the first country to win three consecutive men's soccer titles at the Games, are unlikely to get it quite so easy for the remainder of the tournament with the likes of Japan, Saudi Arabia, Iran and hosts China gunning for gold.
Hwang's side could also face North Korea in the last 16 depending on the final group placings.
"We should take some confidence from this match and forget about everything else," Hwang said. "We have to work even harder the rest of the way. It's nice to win big, but it could come back to haunt us later."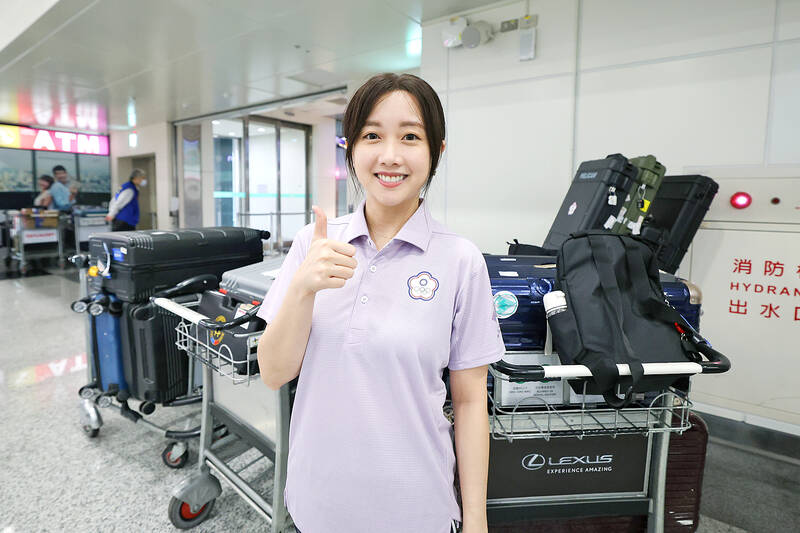 Shooter Wu Chia-ying, who was fifth in the 25m pistol event at the Tokyo Olympics, gestures at Taiwan Taoyuan International Airport yesterday as a contingent of Taiwan athletes prepared to depart for the Asian Games in Hangzhou, China.
Photo: CNA
South Korea's other Group E rivals, Thailand and Bahrain, drew 1-1 on Tuesday.
Taiwan's men's team lost to North Korea in Pool F, with forwards Ri Jo-guk and Kim Kuk-jin scoring at Zhejiang Normal University's East Stadium in Jinhua.
In the other Group F game at the same venue, Indonesia beat Kyrgyzstan 2-0.
Taiwan are to play Indonesia today and Kyrgyzstan on Sunday.
In Group A at the Xiaoshan Sports Center Stadium in Hangzhou, Myanmar beat Bangladesh 1-0, while China defeated India 5-1 at the Huanglong Sports Center Stadium.
In Group B at the Linping Sports Center Stadium in the host city, Vietnam defeated Mongolia 4-2, while Saudi Arabia and Iran played out a goalless draw.
There was one game yesterday, with Japan beating Qatar 3-1 in Group D at the Xiaoshan venue.
The opening ceremony for the Games is scheduled for Saturday, but some sports began on Tuesday, including volleyball, with Taiwan's men's team losing their opening encounter against Pakistan at the Linping Sports Center Gymnasium.
Pakistan won their Pool D game 3-0 (25-18, 25-20, 25-19) in 1 hour, 22 minutes. Mongolia, who lost to Pakistan on Tuesday, are the other team in the group. Taiwan face them today at the Deqing Sports Centre Gymnasium.
The Games are to take place at more than 50 venues, most of them in Hangzhou.
The centerpiece is a flower-shaped stadium with a capacity of 60,000, which is to stage the opening and closing ceremonies.
Inspired by the lotuses that bloom on the city's West Lake each summer, the Hangzhou Olympic Sports Center was completed in 2018 and has since been used mainly as a soccer stadium.
A lookalike venue nearby, dubbed the "Small Lotus," is to host the tennis finals, while a butterfly-shaped structure combines the aquatics venue and indoor sports halls.
The Asian Games Village will be home to nearly 20,000 athletes, technical officials and journalists in a mini-city within a city.
It is spread over 113 hectares and has shops, gyms, a clinic and two new metro stations.
It is dominated by high-rise apartment blocks that are to be turned over to residential use after the Games.
Additional reporting by AFP
Comments will be moderated. Keep comments relevant to the article. Remarks containing abusive and obscene language, personal attacks of any kind or promotion will be removed and the user banned. Final decision will be at the discretion of the Taipei Times.