Spain threatens players refusing call-up
'NOTHING HAS CHANGED': Jenni Hermoso said that the striking players had been 'caught by surprise' by the call-ups, saying it was a strategy to intimidate them
Striking Spanish internationals called up to the women's team on Monday reiterated their desire not to form part of the squad in a new blow for the shaken the Royal Spanish Football Federation (RFEF).
However, they were told by the government early yesterday that those who did not attend the team's camps when called up would have to be punished.
Spanish National Sports Council president Victor Francos said he would have to apply the country's sports law.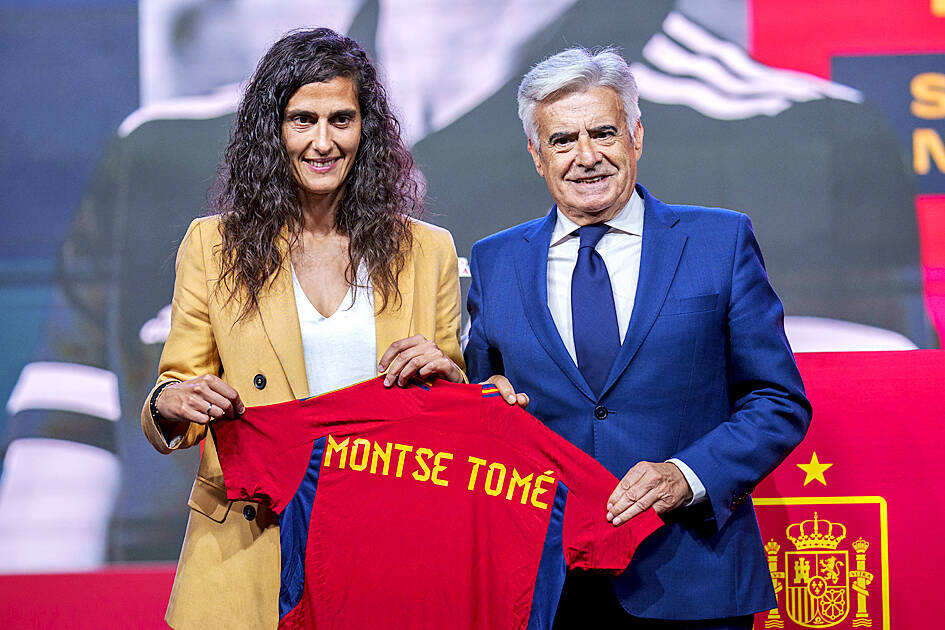 New Spain national women's soccer team coach Montse Tome, left, and Royal Spanish Football Federation (RFEF) interim president Pedro Rocha hold a jersey during Tome's official presentation at the RFEF headquarters in Las Rozas, Spain, on Monday.
Photo: AP
"If they don't turn up, the government would have to apply the law, which is a pity for me, but the law is the law," Francos told radio station Cadena Ser.
Spain's sports law from last year states that athletes must attend national team call-ups when summoned, and not doing so would be a "very serious" infraction.
The potential fines range between 3,000 euros and 30,000 euros (US$3,212 to US$32,121), while they could also lose their licenses to play altogether, for up to five years.
New coach Montse Tome called up 15 of the Women's World Cup winners for UEFA Women's Nations League matches, most of whom had said they did not want to play for their country until wider changes had been made at the federation.
Former federation president Luis Rubiales resigned three weeks after he kissed midfielder Jenni Hermoso following Spain's triumph in Sydney on Aug. 20, after receiving an unprecedented worldwide backlash.
More than 80 Spain players went on strike after the incident, and despite Rubiales' resignation and controversial coach Jorge Vilda being sacked, 39 players maintained their stance in a statement late on Monday, demanding more structural change.
Tome did not select Hermoso, 33, in the squad, saying it was to protect her.
"Protect me from what? And from whom?" Hermoso wrote on X, formerly known as Twitter.
Hermoso said the players had been "caught by surprise" by the call-ups, and were forced to react to "another unfortunate situation caused by the people who continue to make decision within the RFEF."
"The players are certain that this is yet another strategy of division and manipulation to intimidate and threaten us with legal repercussion and economic sanctions," the 33-year-old striker said. "It is yet more irrefutable proof that shows that even today, nothing has changed."
Tome said she left Hermoso out of the squad for her own good.
"We are with Jenni on everything, and with all the players," she said. "The best way to protect her is like this, I have worked five years with her."
The players called up by Tome who were in the 39 all published a statement on social media, including two-time Ballon d'Or winner Alexia Putellas.
"[We made] clear ... our firm will not to be summoned for justified reasons. These statements are still fully valid," the Spain players said in their statement.
The players said they would study the potential legal actions they would be exposed to because of the RFEF selecting them.
Spanish media reports say players could lose their licenses to play for multiple years if they do not obey the call-up.
They also said in the statement that they believe the squad not being named soon enough according to FIFA regulations meant the federation "would not be able to demand" that players are called up.
"We regret that once more our federation has put us in a position in which we never wanted to be in," the players added.
Mapi Leon, Patri Guijarro and Amaiur Sarriegi were also named in the squad, despite being part of a protest that began before the FIFA Women's World Cup, which they did not play in, and forming part of the 39 players still striking.
"Everything keeps getting worse in the RFEF," former Real Madrid goalkeeper Iker Casillas wrote on social media.
Additional reporting by Reuters
Comments will be moderated. Keep comments relevant to the article. Remarks containing abusive and obscene language, personal attacks of any kind or promotion will be removed and the user banned. Final decision will be at the discretion of the Taipei Times.