Victorious Arteta eyeing in-game 'keeper rotation
Arsenal boss Mikel Arteta on Sunday said that he could substitute his goalkeeper in the middle of a match if the situation demands a tactical change.
Arteta gave David Raya his debut in a 1-0 win against Everton after dropping England goalkeeper Aaron Ramsdale.
The Spaniard, signed on loan from Brentford, was rarely tested by woeful Everton before Leandro Trossard's second-half strike sealed Arsenal's first win at Goodison Park in six years.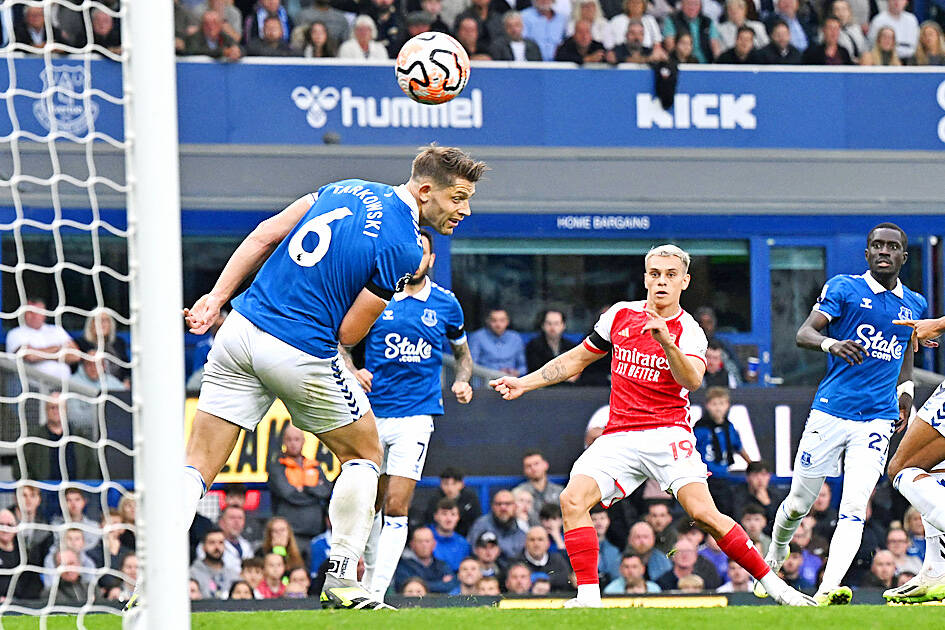 Arsenal's Leandro Trossard, second right, scores against Everton in their Premier League match at Goodison Park in Liverpool, England, on Sunday.
Photo: AFP
Defending his decision to start with Raya, Arteta said: "The same rationale about why Fabio [Vieira] played here, or Eddie [Nketiah] or Gabriel Jesus."
"I haven't had a single question on why Gabriel Jesus didn't start. He has won more trophies than anybody else, including me, in that dressing room," he said.
Arteta, whose side have made an unbeaten start to the English Premier League season, claimed he would even be prepared to utilize two goalkeepers in one match if he felt it would help secure a victory.
"I cannot have two players in each position and not play them. David has tremendous qualities, like Aaron has, and we have to use them," Arteta said. "I am a really young manager and I have only been in the job for three-and-a-half years, and I have few regrets in what we have done."
"One of them is that on two occasions I felt after 60 minutes and 85 minutes in two games in this period, to change the 'keeper in that moment and I didn't do it," he said. "I didn't have the courage to do it, but I am able to take a winger, or a striker, and put a central defender back and go to a back five to hold that result. We drew those games and I was so unhappy. Someone is going to do it. Why not? Tell me why not. You have all the qualities in another goalkeeper and you want to do something to change the momentum, do it."
Earlier, Mauricio Pochettino said that he would not condemn the Chelsea fans who booed his team after a drab 0-0 draw against AFC Bournemouth.
The Blues have made their second-worst start to a Premier League campaign following a lackluster performance at the Vitality Stadium.
With just one win from five league games, Chelsea are closer to the relegation zone than the top four.
It has been a wretched start to Pochettino's reign and for the second successive game his players were booed off by angry supporters.
Chelsea defender Ben Chilwell appeared to endure extra abuse when he went toward the Chelsea supporters.
Despite a spending spree of more than £1 billion (US$1.2 billion) since Todd Boehly's consortium purchased Chelsea from Roman Abramovich last year, the west London club are in a bigger mess than ever.
Despite an injury crisis that forced Pochettino to name three outfield players aged 19 or under on the bench as well as two goalkeepers, the Argentine said he could not complain about the fans' jeers.
"What can we do? For me, I have nothing to say. The fans can do whatever they want," he said. "We know what we need to do, we are strong in our belief. We have 12 injured and today we had three or four young guys and two 'keepers on the bench. I'm going to cry? I'm going to complain? To who? I need to accept this, the challenge and keep being positive."
Asked whether he was sympathetic to the reaction of the fans, Pochettino said: "What I can tell the fans is there are circumstances that we cannot change."
"We have too many players injured. We're a team that would be strong if we are together. Manchester City, Arsenal, when they have all the squad fit, they can compete for everything," he said. "Why is it different for us? It's because of what? We don't have all the squad available from the beginning of the season. These are the circumstances we need to accept and be positive, patient."
Comments will be moderated. Keep comments relevant to the article. Remarks containing abusive and obscene language, personal attacks of any kind or promotion will be removed and the user banned. Final decision will be at the discretion of the Taipei Times.