Taiwan defenders flounder in Singapore
LESSONS TO LEARN: Ange Samuel, who was only playing his second game for the Blue Wings, scored the first goal of the match, but everything went downhill from there
Taiwan scored first on Tuesday, but slumped to a 3-1 defeat against Singapore in their international friendly at Bishan Stadium in the city-state.
Having chosen "Blue Wings" as their new nickname, Taiwan's national team first hosted the Philippines in Kaohsiung on Friday last week during the current international break, drawing 1-1. They then traveled to Singapore to compete in their fourth international friendly under the guidance of British manager Gary White, who has returned for a second stint.
Thirty minutes in, Taiwan winger Fong Shao-chi hit a long cross that forward Ange Samuel headed into the net from the goal area.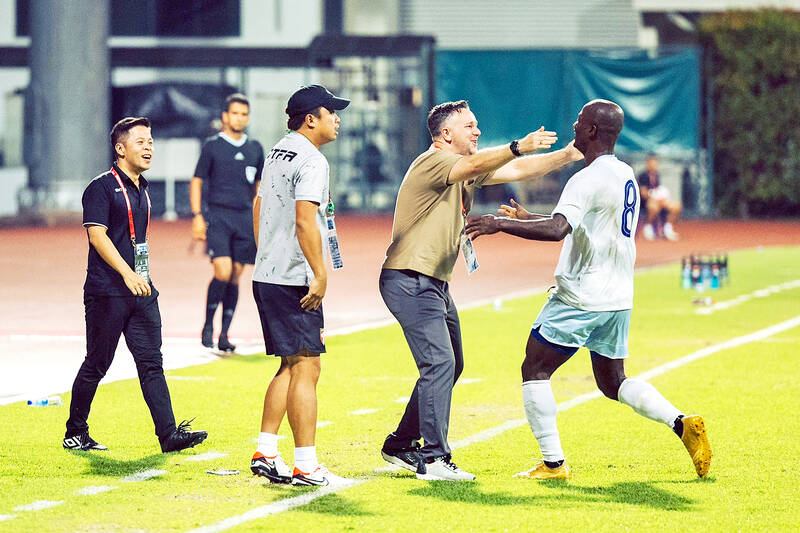 Taiwan's Ange Samuel, right, celebrates with team manager Gary White, second right, after scoring their first goal during an international friendly against Singapore at Bishan Stadium in Singapore on Tuesday.
Photo courtesty of the Chinese Taipei Football Association
Samuel ran to the sidelines to celebrate his first goal for Taiwan with White.
The Ivory Coast striker's wife is Taiwanese, and gave birth to a baby boy in June. Samuel recently become a naturalized Taiwanese after playing for pro teams in Taiwan for five years, first with Tatung FC, then with three-peat champions Tainan TSG. He was voted the Taiwan Football Premier League's Most Valuable Player last season.
Just before halftime, Taiwan defender Chen Ting-yang fouled attacker Iqbal Hussain at edge of the goal area, and Singapore were awarded a penalty. Forward Song Ui-young smashed the ball into the top of the net, and leveled the score 1-1.
The hosts took the lead in the 64th minute, when Taiwan's defenders floundered and Singapore centerback Lionel Tan found himself alone up front, volleying in a pass past Taiwan goalkeeper Pan Wen-chieh.
Ten minutes before fulltime, the hosts took advantage of further defensive lapses by Taiwan. Singapore substitute Shawal Anuar ran past Taiwan's static defenders, and slotted the ball home to cement Singapore's 3-1 victory.
"Our defenders must learn from this defeat, and make adjustment for the next match for the first round of World Cup qualifiers in Asia. We are aiming to win, and to share the victory with home fans," White said after the match.
In the friendly at Kaohsiung National Stadium on Friday last week, the hosts had to play catchup after a first-half goal by the Philippines' Patrick Reichelt.
Taiwan scored the equalizer deep into injury time, with defender Chen Wei-chuan receiveing a long pass and setting the ball up for winger Pai Shao-yu to score.
That match was the first Taiwan had played with Samuel and Miguel Sandberg, a Swedish player whose mother is Taiwanese, and plays for Oskarshamns AIK.
The CTFA announced at the start of the match Taiwan's new nickname, the Blue Wings, as well as the new team chant "Aka La Lima."
However, most supporters were not familiar with the new chant, which is in the Amis language, and throughout the match were still heard singing "Formosa, Ole Ole, Formosa, Ole Ole."
The international friendlies were in preparation for next month's first round of World Cup qualifiers in Asia. Taiwan are to face Timor Leste, on Oct. 12 and 17, and both matches are likely to take place in Kaohsiung, as Timor Leste's national stadium is under construction
Comments will be moderated. Keep comments relevant to the article. Remarks containing abusive and obscene language, personal attacks of any kind or promotion will be removed and the user banned. Final decision will be at the discretion of the Taipei Times.