Spanish soccer head resigns over World Cup kiss
Royal Spanish Football Federation president Luis Rubiales has resigned following fierce criticism for kissing Jenni Hermoso on the lips at the FIFA Women's World Cup victory ceremony.
The already suspended Rubiales sent his resignation to the federation's interim president, he said in an open letter.
"I'm going to [resign], yes, because I cannot continue my work," the 46-year-old told television show Piers Morgan Uncensored.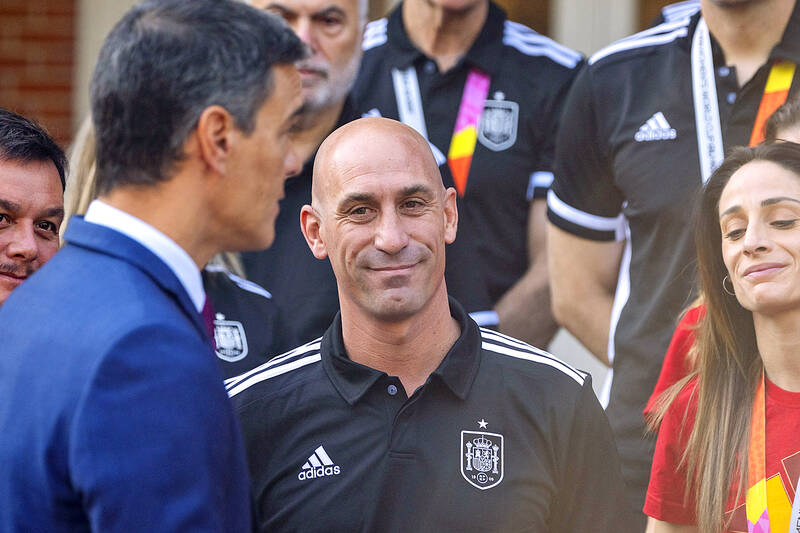 Royal Spanish Football Federation president Luis Rubiales, center, stands with Spain players and staff as they are met by Spanish Prime Minister Pedro Sanchez, left, at Moncloa Palace in Madrid on Aug. 22, after winning the FIFA Women's World Cup.
Photo: AP
"[Family and friends] say to me: 'Luis, you need to focus on your dignity and continue your life. If not you are going to damage people you love and the sport you love,'" he said.
Rubiales sparked a worldwide backlash after forcibly kissing midfielder Hermoso during the medal ceremony following Spain's World Cup triumph in Sydney on Aug. 20.
After he refused to resign, FIFA provisionally suspended him for 90 days, while Spanish public prosecutors filed a lawsuit against him for alleged sexual assault and coercion.
Hermoso, 33, on Tuesday last week filed a complaint at the Spanish National Court, formally accusing Rubiales of sexual assault.
In an open letter published by Rubiales on Sunday night, he said that he had informed the federation he was also stepping down as a vice president of UEFA.
"After the swift suspension carried out by FIFA, plus the rest of the procedures opened against me, it is evident that I will not be able to return to my position," Rubiales said in the letter.
"Insisting on waiting and clinging to it is not going to contribute to anything positive, neither for the federation nor for Spanish football," he added.
Rubiales, who insists the kiss was consensual, said he did not want Spanish soccer to be hurt by "such a disproportionate campaign" against him.
"I have faith in the truth and I will do everything in my power so that it prevails," he wrote.
As the pressure ramped up in recent weeks on him to quit, Rubiales' mother Angeles Bejar went on a hunger strike in protest, locking herself in a church.
Some Spanish politicians hailed Rubiales' downfall.
"We are with you, Jenni, and with all women," Spanish Deputy Prime Minister Yolanda Diaz wrote on X, formerly Twitter.
Spanish Minister of Equality Irene Montero wrote "It's Over" on X, a slogan used by Hermoso and her teammates in protest against Rubiales.
Comments will be moderated. Keep comments relevant to the article. Remarks containing abusive and obscene language, personal attacks of any kind or promotion will be removed and the user banned. Final decision will be at the discretion of the Taipei Times.