Kenya's Faith Kipyegon wins historic hat-trick
Kenya's Faith Kipyegon on Tuesday won a historic third world 1,500m gold and although Qatari high jumper Mutaz Essa Barshim missed out on a fourth crown, he became the first man to win five medals in the event.
Kipyegon produced an imperious front-running performance to add to her 2017 and 2022 titles, her face creasing in joy as realization of her feat struck home.
Sifan Hassan never landed a punch and once again, as at the Tokyo Olympics, had to make do with bronze.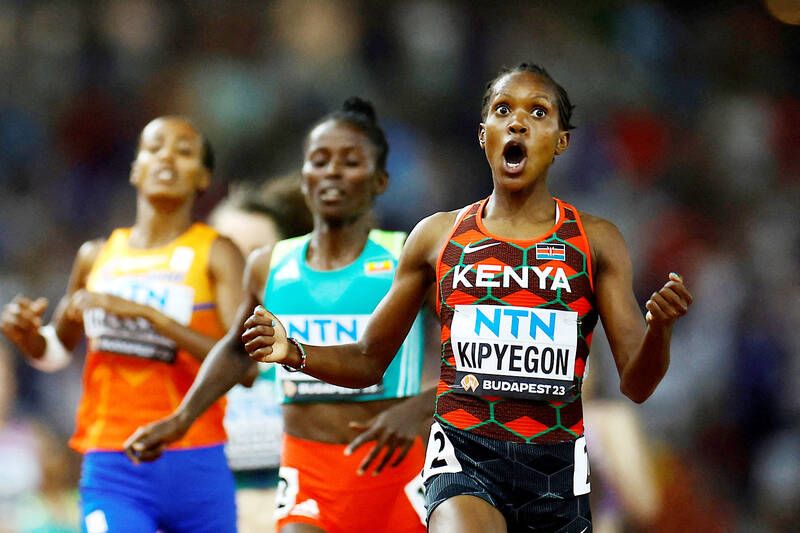 Kenya's Faith Kipyegon, right, crosses the finish line to win the women's 1,500m final ahead of second-placed Diribe Welteji of Ethiopia, center, and third-placed Sifan Hassan of the Netherlands at the World Athletics Championships in Budapest on Tuesday.
Photo: Reuters
For Kipyegon, 29, it crowned an annus mirabilis having already broken three world records.
"I told myself: 'You are the strongest and just keep going,'" Kipyegon said. "I was chasing history today and I was chasing this title. I have done it."
Barshim tried to rouse the crowd at the National Athletics Centre as he went for his third and final attempt at 2.36m as the women's 1,500m final reached its final stages.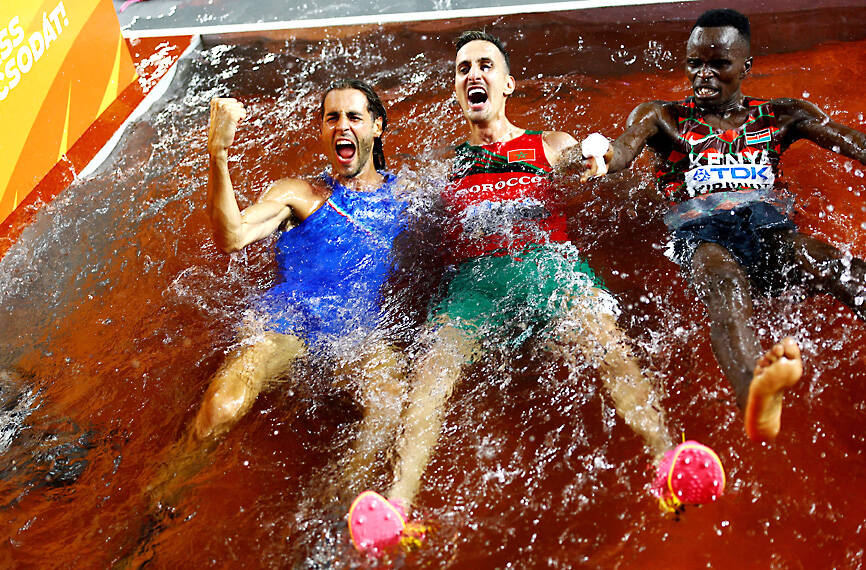 From left, men's high jump gold medalist Gianmarco Tamberi of Italy, and Morocco's Soufiane El Bakkali and Kenya's Abraham Kibiwot, the gold and bronze medalists respectively of the men's 3,000m steeplechase, celebrate in the steeplechase water hazard after their finals at the World Athletics Championships in Budapest on Tuesday.
Photo: Reuters
Just as the women's race was a bit flat due to Kipyegon's sublime brilliance, Barshim's challenge for a fourth successive world crown ended as a damp squib, with the Qatari bowing out at 2.33m.
He took bronze while victory instead went to the man with whom he shared Olympic gold in Tokyo, Italy's Gianmarco Tamberi.
"I consider this bronze as history," Barshim said. "In any competition, our ambition is gold and victory, but this is sport. With this bronze, I became the only athlete in the history of the high jump to win five medals in the world championships and I am very proud."
Tamberi cleared a world-leading 2.36m for gold. He missed at one attempt at 2.40m and then called it a night, his victory secured.
"I feel like a human being who beats superheroes," he said.
The 31-year-old Tamberi, wearing one green sock and one red, and his face shaved on only one side, leapt into the water hazard of the steeplechase in wild celebration with Soufiane El Bakkali of Morocco, who had just raced to gold in the men's 3,000m steeplechase.
"It's crazy, it's an indescribable feeling," Tamberi said. "I have been rewarded for all the sacrifices made."
"I managed to stay focused, expressing my feelings. My secret is being myself on the platform. It worked," he added.
Another Olympic champion, American Valarie Allman, looked downcast as her less celebrated teammate Laulauga Tausaga improved her personal best in discus by more than 4m to win with 69.49m.
Allman improved from her bronze last year to silver but the look on her face suggested it was little consolation.
"I don't know if I have a fairy godmother or something, or my ancestors had some say in it, but I was able to do something tonight that I didn't think was possible yet," the 25-year-old Tausaga said.
Additional reporting by Reuters
Comments will be moderated. Keep comments relevant to the article. Remarks containing abusive and obscene language, personal attacks of any kind or promotion will be removed and the user banned. Final decision will be at the discretion of the Taipei Times.