Toyota debuts hydrogen-fueled Corolla in Japan
In a sprawling circuit near Mount Fuji, a humble Corolla running on liquid hydrogen has made its racing debut, part of a move to bring the technology into the racing world and to demonstrate Toyota's resolve to develop green vehicles.
Toyota chairman Akio Toyoda, resplendent in a fire-resistant racing uniform, was all smiles as he prepared to buzz around the circuit in the hydrogen-fueled Corolla.
"This is a world first for a liquid-hydrogen car to race," said Toyoda, a former Toyota chief executive officer, grandson of the automaker's founder and a licensed race driver himself. "We hope it will offer another option in the fight against global warming. To bring everyone smiles, I want to go one lap, even one second, more."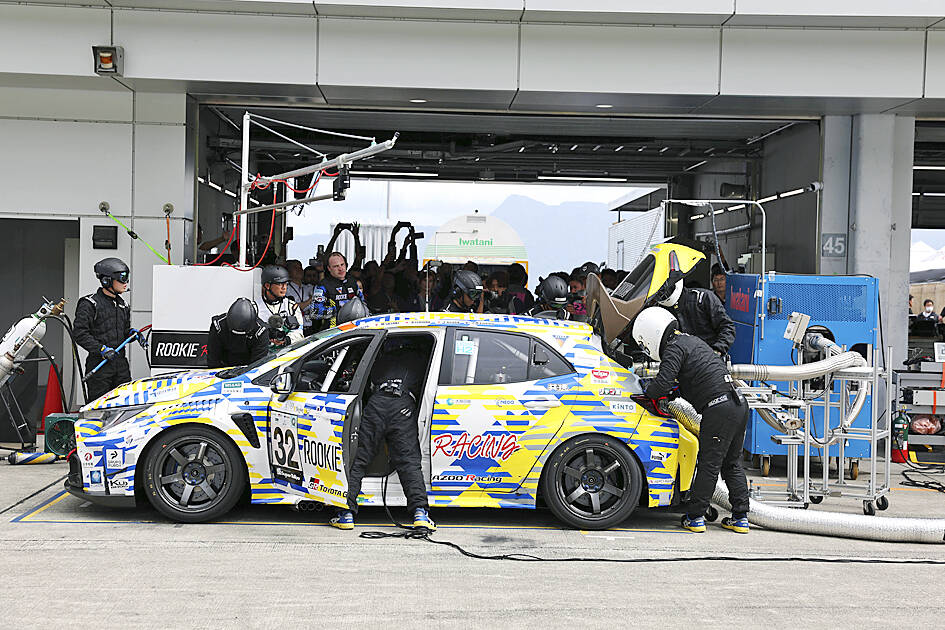 The Toyota pit crew work on a liquid hydrogen-powered Corolla during the Super Taikyu 24-hour race at Fuji International Speedway in Oyama, Japan, on Saturday last week.
Photo: AP
The hydrogen Corolla race car will not be turning up at a dealer any time soon.
The Super Taikyu 24-hour race at Fuji Speedway from Friday to Sunday was just a test for the technology, Toyota officials said.
Unlike electric vehicles, it has a combustion engine, but it burns liquid hydrogen instead of gasoline.
Japanese automaker Toyota Motor Corp, which sells about 10 million vehicles a year, has fallen behind in the global shift to battery-powered electric vehicles, but it has been banking on hydrogen as a potentially carbon-neutral solution for years.
Auto racing has been moving to leave its growling gas-guzzlers behind.
Toyota rival Honda Motor Co recently said that it is returning to Formula One racing, saying new regulations are an opportunity for research on new technologies.
The discussion on green-energy solutions has just begun, said John Heywood, a professor emeritus and automotive engine expert at the Massachusetts Institute of Technology, adding that electric vehicles also have drawbacks, such as the need for critical materials often obtained in environmentally or ethically damaging circumstances.
"There is nothing 'ungreen' about the internal-combustion engine. It's the fuel that it uses that matters," Heywood said.
Green hydrogen is created when sources of renewable energy power an electric current that runs through water, separating its hydrogen and oxygen molecules through electrolysis. The process does not produce carbon dioxide, but less than 0.1 percent of global hydrogen production is created in this way, International Energy Agency data show.
Proponents of hydrogen say that even fuel made using natural gas can be ecologically sound when carbon emissions are trapped.
Sato acknowledged the challenge.
"What we need to do first is to create an environment for using hydrogen. For hydrogen use to become widespread, that environment must be solid, and it's important the cycle of that system is working in all steps, including transporting it and making it," he told reporters on the sidelines of the race.
Of the dozens of cars taking part in the Fuji Speedway 24-hour race, Toyota's No. 32 Corolla was destined to lose.
Refueling and checks in the pit so crucial to racing took several minutes, an eternity in a race where contestants are fighting for seconds.
Still, the debut of hydrogen in racing might be one small step forward, said Tomoya Takahashi, president of Toyota's Gazoo Racing Co.
"This is about building for the future. Electric cars are not the only answer, and the internal-combustion engine holds potential," he said.
Comments will be moderated. Keep comments relevant to the article. Remarks containing abusive and obscene language, personal attacks of any kind or promotion will be removed and the user banned. Final decision will be at the discretion of the Taipei Times.