Ugandan seeks MLB dream
The baseball pitch is shared with grazing cows, but the rustic conditions are no distraction for Ugandan MLB hopeful Dennis Kasumba.
The 18-year-old is to play in a top-flight amateur baseball league in the US this summer, the chance of a lifetime for an orphan raised in a slum who dreams of going pro.
"I am very, very happy. I can't explain my feelings, I feel blessed," said Kasumba, who comes from Gayaza, a town about 12km from the capital, Kampala, where he was raised in grinding poverty.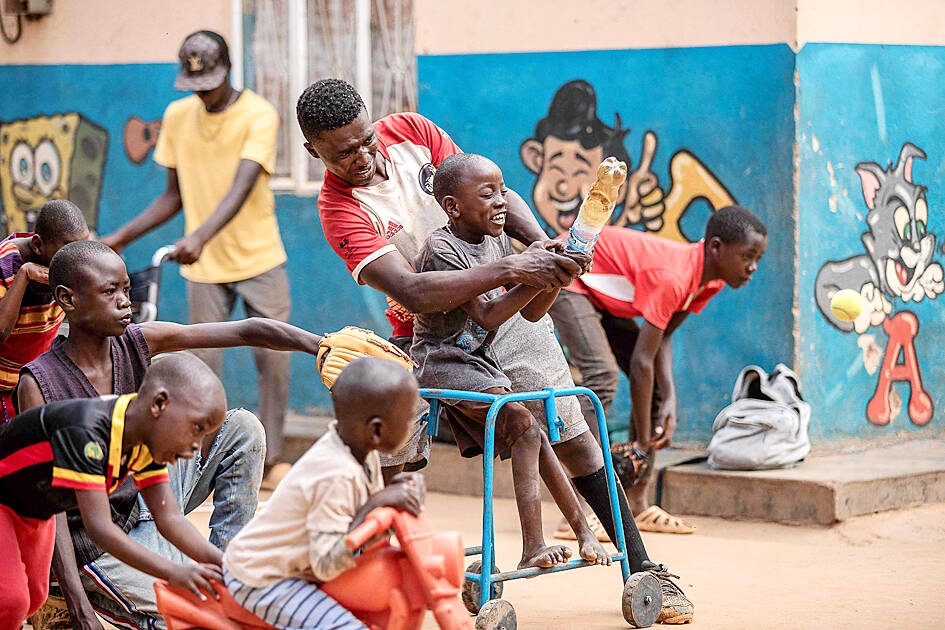 Ugandan baseball player Dennis Kasumba, center, trains with children at the Saint Lilian Jubilee Home for disabled and disadvantaged children in Gayaza, Uganda, on Monday last week.
Photo: AFP
Spotted online after videos his exploits went viral, Kasumba received an invitation to the MLB Draft League, which started yesterday in the US.
"Today I'm starting my Journey," Kasumba wrote on Twitter on Sunday alongside a video of family, friends and supporters waving him off at the airport.
Determined to impress the scouts, and do his coach and teammates proud, Kasumba has been fine-tuning his pitch and swing ahead of the MLB fixture, where prospective stars are put through their paces.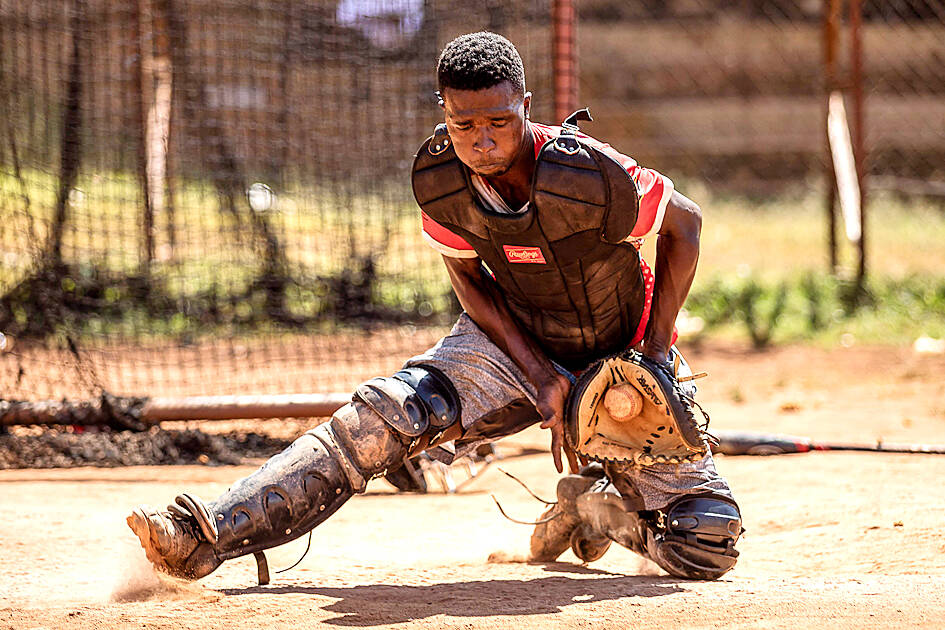 Ugandan baseball player Dennis Kasumba trains in Gayaza, Uganda, on Monday last week.
Photo: AFP
Ahead of his departure, Kasumba trained day and night at Gayaza, running drills with a worn catcher's mitt and bat held together with tape at the local diamond.
Off the field, he keeps fit any way he can, using everything and anything at his disposal.
Puffing away in the equatorial sun, Kasumba runs through squats using barbells made of concrete and discarded car tires, with water-filled plastic bottles taped to his legs for resistance.
Friends and relatives have filmed his sessions and posted them on social media, and Kasumba has attracted thousands of followers inspired by his grit and cheer.
Raised in Gayaza by his grandmother, Kasumba never knew his parents.
His mother abandoned him as an infant along with two siblings after their father, a soldier, died fighting anti-government rebels.
By the age of eight, he had dropped out of school to work for his meals, slaughtering animals in an abattoir until meeting volunteer coach John Bosco Sempa, who invited him to the local baseball pitch.
As his natural talent and determination became clear, Sempa encouraged his protege to promote his skills on social media, where the rising star found another source of motivation and support.
"It started like a joke, but now I am going to US for MLB," Kasumba told reporters.
It has not all been smooth sailing.
Kasumba was twice rejected for a visa to travel to the US before his application was at last granted last month.
"I am so excited," he said.
The quest to become a pro is a tall order in a country that has never produced a MLB player, and where interest in baseball is dwarfed by that for soccer and athletics.
"We want Kasumba to play in the highest league in the world, that's our hope," Sempa said. "If he plays [his] best, just as his heart says, he can get a chance."
His journey represents a bigger win for the wider community, where Kasumba has become a local celebrity and an inspiration.
Many of the other kids scrambling about the dirt diamond in Gayaza are also orphans raised in desperate poverty, Sempa said.
"As a coach I'd love all our players to be successful. Kasumba's news is not only for himself but for our country," he said.
Comments will be moderated. Keep comments relevant to the article. Remarks containing abusive and obscene language, personal attacks of any kind or promotion will be removed and the user banned. Final decision will be at the discretion of the Taipei Times.