Tkachuk sends Panthers through
Matthew Tkachuk delivered for Florida, again, and Sergei Bobrovsky denied Carolina, again, as the Panthers won 4-3 on Wednesday to sweep the Hurricanes and enter the Stanley Cup Finals for the first time since 1996.
The wait is over: After 27 years, the Panthers — an ice hockey punchline no more — are again going to play for the game's grandest prize after sweeping the Eastern Conference Finals.
Tkachuk got his second goal of the game with 4.9 seconds left to earn his team a spot against either the Vegas Golden Knights or the Dallas Stars for the Stanley Cup starting next week.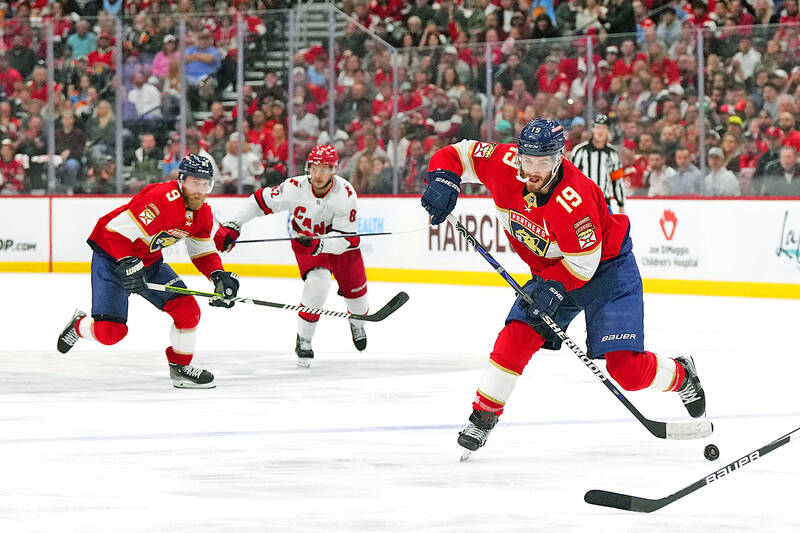 The Florida Panthers' Matthew Tkachuk, right, controls the puck during Game 4 of their NHL Eastern Conference Finals series against the Carolina Hurricanes at FLA Live Arena in Sunrise, Florida, on Wednesday.
Photo: Jasen Vinlove-USA TODAY
Bobrovsky stopped 36 shots to cap his stellar series — four games, four one-goal wins, three of them basically in sudden death, a 0.966 save percentage after stopping 174 of the 180 shots he faced. The first two wins were in overtime, and this one might as well have been.
The Panthers scored 10 goals in the series and Bobrovsky ensured that those were all they needed. They were the No. 8 seeds, the last team in, the longest of long shots — which is consistent with their history, after not winning a single playoff series in 26 years, a drought that ended last season.
Tkachuk arrived last summer saying that he wanted to bring Florida a Cup.
"It's amazing," Bobrovsky said. "We showed the resilience ... and we're lucky to have Chucky on our side. He knows how to score big goals."
NHL senior vice president Brian Jennings was tasked with presenting the Prince of Wales Trophy. After some photographs, Aleksander Barkov — the captain who had two assists, one of them on the game-winner — grabbed it, and skated it away.
Some teams touch it. Some do not. A few of the Panthers did, but Barkov did not pass it around.
"It's hard to explain right now. Everything just happened so quick," Barkov said. "It means a lot. It definitely does... It hasn't been easy and nobody said it's going to be easy."
"We earned that thing, and definitely didn't do it the easy way," Tkachuk said. "We earned it."
Ryan Lomberg and Anthony Duclair had the other goals for Florida, who swept a series for the first time in franchise history.
Comments will be moderated. Keep comments relevant to the article. Remarks containing abusive and obscene language, personal attacks of any kind or promotion will be removed and the user banned. Final decision will be at the discretion of the Taipei Times.