Vegas beat Stars, extend lead to 3-0
The Vegas Golden Knights on Tuesday kept their composure and got the best payback after an ugly hit early against their captain.
They have a 3-0 series lead in the NHL Western Conference Finals and are just one more win away from making it to another Stanley Cup Final.
Ivan Barbashev scored a power-play goal after Dallas Stars captain Jamie Benn was ejected because of a hit on Mark Stone less than two minutes into the game.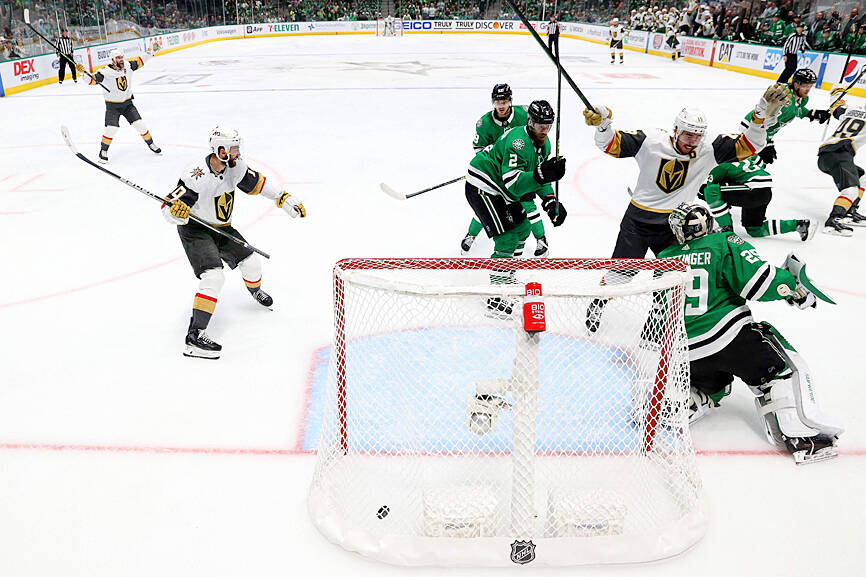 Vegas Golden Knights players celebrate as Ivan Barbashev, far right, skates off after scoring against the Dallas Stars' Jake Oettinger, front right, in Game Three of the NHL Western Conference Finals at the American Airlines Center in Dallas, Texas, on Tuesday.
Photo: AFP
That was the second of three goals the Golden Knights had in the first seven-and-a-half minutes, leading to an early exit for goalie Jake Oettinger as they won 4-0 in Game 3.
"You keep your composure," said Alex Pietrangelo, who added a goal midway through the second period.
After the two captains collided near the blue line and Stone fell to the ice, Benn lunged forward with both hands on his stick and made contact near Stone's neck as he was sliding over the center line.
"We're upset when we see that, he's our captain," coach Bruce Cassidy said. "But at the end of the day, they make a call that gives us a chance to make them pay for the penalty, and we did with one goal anyway, so we've doubled our lead... Do it the right way. That's been our mindset all along."
While Oettinger had the shortest start of his career, Vegas goalie Adin Hill stopped 34 shots in his first career post-season shutout. Hill also became the second Knights goaltender with a five-game winning streak this post-season — Laurent Brossoit won five in a row before an injury.
After four consecutive comeback victories in these playoffs, including two overtime wins at home to start the best-of-seven series, the Golden Knights were in control all of the way in this one.
Game 4 is tonight, when Vegas would have the opportunity to advance to its second Stanley Cup Final in the franchise's six seasons.
The Golden Knights were Western Conference champions during their inaugural 2017-2018 season, then lost the Cup Final in five games after winning the opener against the Washington Capitals.
Vegas missed the playoffs for the only time last season, before coach Pete DeBoer was fired and became the Stars coach.
Johnathan Marchessault scored only 71 seconds into the game, which was only 42 seconds before Benn was assessed a game misconduct after a five-minute major for cross-checking.
"Let's put it this way, he made a mistake. He feels really badly about it. I don't think anyone in the building feels worse than he does about it," DeBoer said.
Stars center Max Domi got a game misconduct with 21 seconds left in the second period. After his cross-check against Nicolas Hague, Domi started throwing punches.
"I think you guys know exactly what was being discussed," Hague said when asked about what led to that incident. "There's no reason for me to get involved in anything. It is what it is, and we got a big win."
Fans in the arena reacted to the ensuing penalty by throwing water bottles, food and other items on the ice. With extended time needed to clean up the playing surface, officials sent both teams to their locker rooms early for the second intermission with the Knights up 4-0.
Those final 21 seconds were played after the intermission before the clock was reset to 20 minutes for the third period.
"It was a little weird," Hill said. "I've never seen so much stuff on the ice, that's for sure."
Comments will be moderated. Keep comments relevant to the article. Remarks containing abusive and obscene language, personal attacks of any kind or promotion will be removed and the user banned. Final decision will be at the discretion of the Taipei Times.