Jokic leads Nuggets to first NBA Finals
CRYPTIC COMMENTS: James told a post-game news conference that 'going forward with basketball, I've got a lot to think about,' while ESPN reported that he was retiring
Nikola Jokic on Monday outdueled LeBron James as the Denver Nuggets completed a 4-0 Western Conference championship sweep of the Los Angeles Lakers to reach the NBA Finals for the first time in franchise history.
Two-time NBA Most Valuable Player Jokic bagged a 30-point triple-double as the Nuggets overturned a 15-point halftime deficit for a 113-111 victory that sent the Lakers crashing out and left James reportedly contemplating a shock retirement from basketball.
James had looked to be single-handedly keeping the Lakers' season alive after scoring 31 points in a magnificent first-half display that left the 17-time NBA champions leading 73-58 at halftime.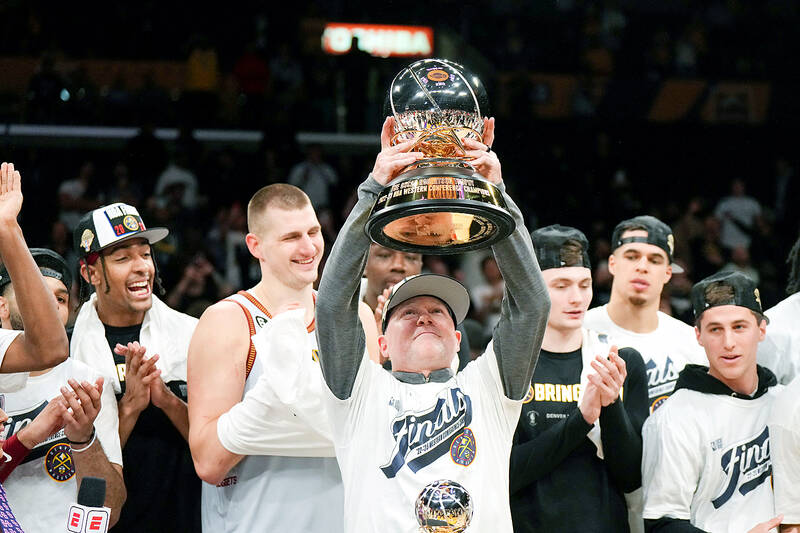 Denver Nuggets head coach Michael Malone holds up the trophy after beating the Los Angeles Lakers to win the NBA Western Conference Finals at Crypto.com Arena in Los Angeles, California, on Monday.
Photo: Kirby Lee-USA TODAY
However, Jokic led a resurgent Nuggets offense in the third quarter, scoring 13 points as the Western Conference top seeds outscored the Lakers 36-16 to turn the contest on its head.
A dramatic fourth-quarter finale saw Jokic put Denver 113-111 ahead with a typically barnstorming driving layup through heavy traffic with 51.7 seconds remaining.
With four seconds left, James had one last chance to tie it up and force overtime, but his attempted driving floater was blocked by Denver's Aaron Gordon to leave the Nuggets celebrating a famous win.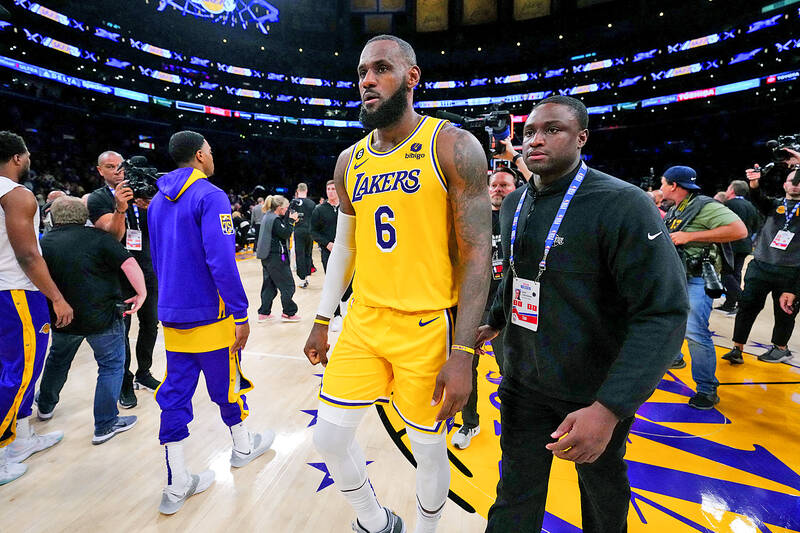 The Los Angeles Lakers' LeBron James walks off the court after losing Game 4 of the NBA Western Conference Finals to the Denver Nuggets at Crypto.com Arena in Los Angeles, California, on Monday.
Photo: Kirby Lee-USA TODAY
A dejected James left the court immediately following the loss as his latest bid for a fifth NBA title ended in disappointment.
James later spoke cryptically about his future in a post-game news conference, while an ESPN report said the 38-year-old was contemplating "walking away" from the sport after the defeat brought the curtain down on his 20th season in the league.
Asked for his reflections on the past season, in which he became the league's all-time leading points scorer and took a rejuvenated Lakers to the brink of the NBA Finals, James said the campaign had been "challenging."
"I don't know. I think it was okay. I don't like to say it's a successful year because I don't play for anything besides winning championships at this point in my career," said James, who delivered a vintage 40-point performance in the Lakers' loss.
"I don't get a kick out of making a Conference [finals] appearance. I've done it, a lot, and it's not fun to me to not be able to be a part of getting to the Finals," he said. "But we'll see. We'll see. We'll see what happens going forward. I don't know. I've got a lot to think about to be honest."
"Just for me personally, going forward with the game of basketball, I've got a lot to think about," he added.
Chris Haynes, a reporter for TNT, wrote on Twitter citing league sources that James' retirement was "under consideration."
Denver — one of 11 teams in the league who have never won the NBA championship — are to face either the Miami Heat or the Boston Celtics in the finals. Miami were leading Boston 3-0 before Game 4 yesterday.
"We don't give up," Jokic told ESPN. "I've been saying this for five years — when we were bad or when we were good — we don't give up. And that's what happened today."
"They jumped on us the first half, they were better, more aggressive, scoring easily and didn't miss, basically," he said. "But in the second half we turned the page and everybody stepped up. It was a collective effort, it's not just one guy."
Comments will be moderated. Keep comments relevant to the article. Remarks containing abusive and obscene language, personal attacks of any kind or promotion will be removed and the user banned. Final decision will be at the discretion of the Taipei Times.