Taiwan's Chou wins Wisconsin pool tournament
Taiwanese pool player Chou Chieh-yu on Sunday won the Wisconsin Women's Open, shutting out Britain's Allison Fisher in the final.
Chou, 36, took home a prize of US$17,000 after beating Fisher, 55, in the three-set final of the 64-player 10-ball tournament.
Chou found herself on the ropes after losing the first set 2-4, but rallied, winning the next two sets 4-2, 4-1 to take the title.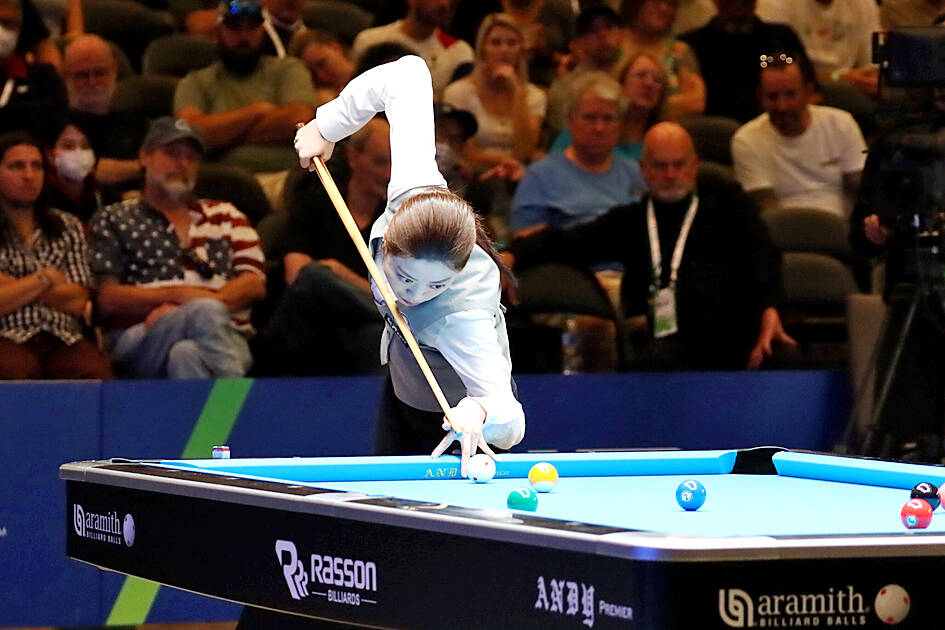 Taiwan's Chou Chieh-yu eyes a shot during her women's 9-ball final against Britain's Kelly Fisher at the World Games in Birmingham, Alabama, on July 16 last year.
Photo courtesy of the Sports Administration
In a post-game interview, Chou, who is also the reigning women's WPA World 10-Ball Championship title holder, said the Wisconsin victory was beyond her expectations.
It was her second consecutive win against the British pool titan this year.
The two squared off in January in the final of the WPA Women's World 9-Ball Championship in Atlantic City, New Jersey. Chou dominated 9-0 and took the title, making her the first female competitor to hold both the 9-ball and 10-ball world titles since Britain's Kelly Fisher in 2012.
At the Wisconsin Women's Open, two other Taiwanese, Wei Tzu-chien and Wang Wan-ling, made it to the quarter-finals, but were knocked out by Bulgaria's Kristina Zlateva and Russia's Kristina Tkach respectively.
Tkach competed in the tournament as an Authorized Neutral Athlete.
Comments will be moderated. Keep comments relevant to the article. Remarks containing abusive and obscene language, personal attacks of any kind or promotion will be removed and the user banned. Final decision will be at the discretion of the Taipei Times.