Nuggets stifle NBA-leading Milwaukee
'SHOT AFTER SHOT': New Orleans' Trey Murphy III made a career-high 10 three-pointers in 12 attempts to add to the team's 21 threes in their victory over the Clippers
Nikola Jokic and the Denver Nuggets on Saturday made a statement, downing Giannis Antetokounmpo and the Milwaukee Bucks 129-106 in a battle of NBA conference leaders.
In a game touted as a potential NBA Finals preview, two-time and reigning NBA Most Valuable Player (MVP) Jokic scored 31 points, handed out 11 assists and pulled down six rebounds, and the Nuggets held East leaders Milwaukee to 40 second-half points with the kind of dominant defensive display they have been accused of lacking this season.
Jamal Murray, who made five three-pointers and scored 26 points for Denver, said it all started on the defensive end — and not just in a third quarter in which the Nuggets outscored the Bucks 34-19.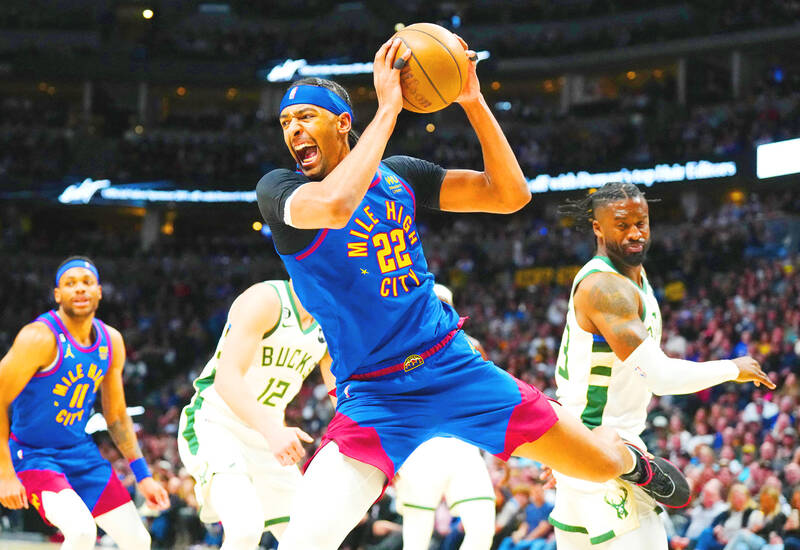 The Denver Nuggets' Zeke Nnaji grabs a rebound in their NBA game against the Milwaukee Bucks at Ball Arena in Denver, Colorado, on Saturday.
Photo: Ron Chenoy-USA TODAY
"I thought we played great defense all game," Murray said. "We had a good start, even though they went on a run I thought we were consistent all game with our defense and we found transition points."
Antetokounmpo, who won MVP honors for two straight years before Jokic, scored 31 points, but just seven in the second half.
He was a force at the rim before the interval, finishing with five dunks, although the dunk that reverberated through Ball Arena was 36-year-old Nuggets veteran Jeff Green's slam over Antetokounmpo to open the fourth quarter.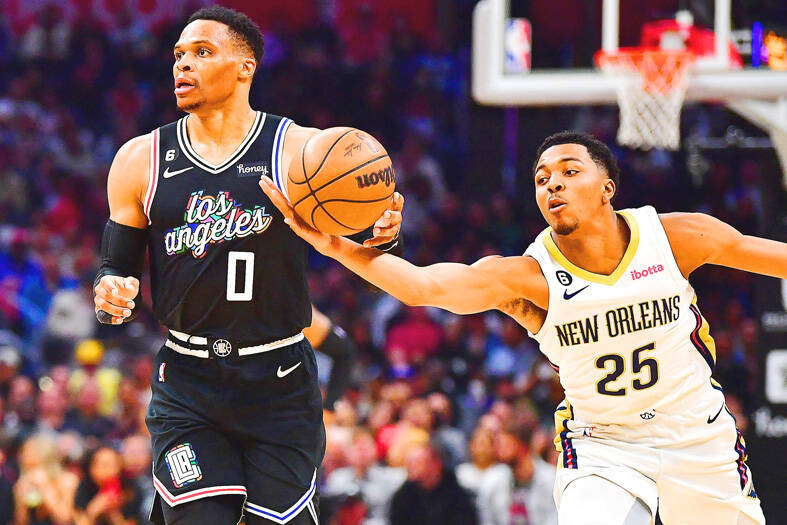 The New Orleans Pelicans' Trey Murphy III, right, steals the ball from the Los Angeles Clippers' Russell Westbrook during their NBA game at Crypto.com Arena in Los Angeles on Saturday.
Photo: Gary A. Vasquez-USA TODAY
In Los Angeles, Trey Murphy III scored 32 points, Brandon Ingram had 32 points and 13 assists, and the New Orleans Pelicans never trailed in a 131-110 win over the Los Angeles Clippers.
New Orleans tied a franchise record with 21 three-pointers and shot 61.8 percent from behind the arc. Murphy was a major reason for that success, making a career-high 10 three-pointers in 12 attempts.
"I just see his confidence going up and up," Ingram said. "He's the best shooter on the team"
C.J. McCollum had 21 points, eight rebounds and eight assists for the Pelicans, who have won four in a row.
"Our execution was off the charts," New Orleans coach Willie Green said.
Bones Hyland scored 18 points and Kawhi Leonard added 12 points and six rebounds for the Clippers, who have lost three of four.
"I thought they really came out to attack us tonight, and they did that," Clippers coach Tyronn Lue said. "On the offensive end, 20 turnovers with 28 points [off turnovers] is too many, especially for a fast team like this."
At risk of falling out of the play-in tournament with a loss, the energized Pelicans started out hot, scoring the first eight points, and never let up.
New Orleans made seven of its first eight three-point shots and nine of 11 in the opening quarter to build an 11-point edge.
Murphy was nearly indefensible from deep, making his first five threes to help the Pelicans open a 19-point lead, their largest of the half, early in the second quarter.
"Trey shot the cover off the ball," Green said, unable to stifle a laugh. "And it was good to see him make shot after shot after shot. He's capable, our team is capable, and that's the standard in which we want to play."
Ingram realized early on that Murphy was locked in, en route to becoming the second-youngest player in NBA history to make 10 threes at 22 years and 280 days old. Anthony Edwards did it at 20 in his second season with the Minnesota Timberwolves.
"I felt like he was going to shoot no matter who was in front of him, so I just wanted to keep feeding him the ball," Ingram said of Murphy. "It just makes our team tougher to stop when he's a threat on the floor."
Elsewhere, the Brooklyn Nets outscored the Miami Heath 129-100, the Phoenix Suns snapped three-game skid with a 129-105 victory over the Philadelphia 76ers, the Sacramento Kings beat the Utah Jazz 121-113 and the Atlanta Hawks maintained their hold on eighth place in the East with a 143-130 victory over the Indiana Pacers.
Additional reporting by AP
Comments will be moderated. Keep comments relevant to the article. Remarks containing abusive and obscene language, personal attacks of any kind or promotion will be removed and the user banned. Final decision will be at the discretion of the Taipei Times.