LA Lakers break losing streak
FOUL MOOD: Suns coach Monty Williams said that there had been a pattern of unfair officiating against his team after the Lakers shot 46 free throws to 20
Anthony Davis on Wednesday had 27 points and nine rebounds in the Lakers' 122-111 victory over the Phoenix Suns, who were furious with the game's large free-throw disparity favoring Los Angeles.
Suns coach Monty Williams gave just one answer before leaving his post-game news conference, criticizing the game officials and describing what he called a pattern of unfair officiating against his team in recent games.
The Lakers shot 46 free throws to the Suns' 20, outscoring Phoenix by 21 points at the line.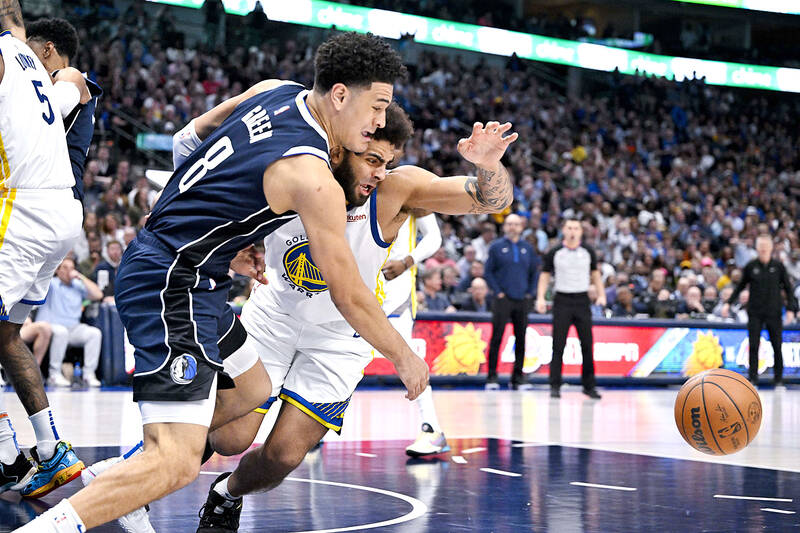 The Dallas Mavericks' Josh Green, left, and Anthony Lamb of the Golden State Warriors chase the ball during their NBA game at the American Airlines Center in Dallas, Texas, on Wednesday.
Photo: Jerome Miron-USA TODAY
"Where do you see a game with 46 free throws for one team?" Williams said. "That's just not right. I don't care how you slice it. It is happening to us too much. Other teams are reaching, other teams are hitting and we're not getting the same call, and I'm tired of it. It's old."
"Forty-six to 20 free throws with Devin Booker on our team. He gets 12. I mean, our bench had no free throws. It's just ... I'm over it," he said. "Been talking about the same thing for a while. Doesn't matter what team it is."
Booker scored 25 of his 33 points in the second half for the Suns, who have been called for 31 personal fouls in each of their past two games.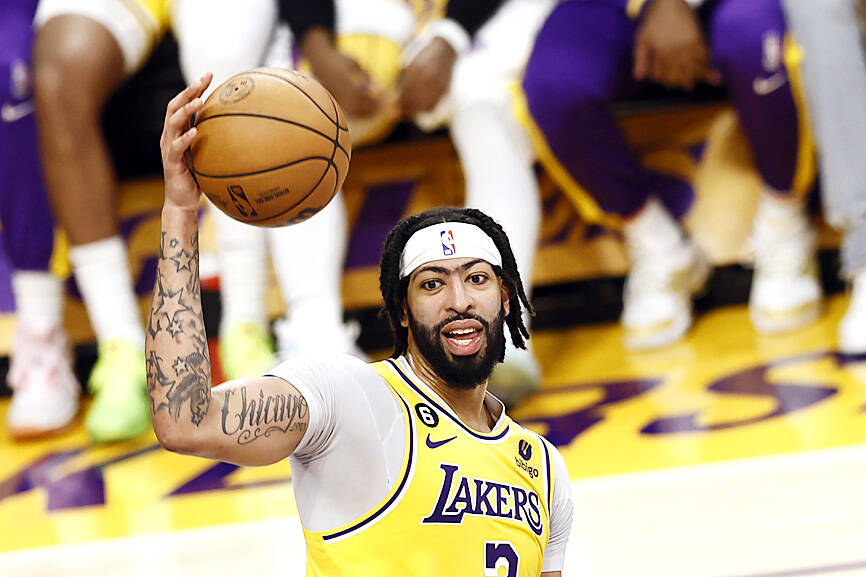 The Los Angeles Lakers' Anthony Davis reacts during their NBA game against the Phoenix Suns at Crypto.com Arena in Los Angeles on Wednesday.
Photo: EPA-EFE
Chris Paul said that the box score was "a little weird-looking."
"We've been seeing some crazy stuff in different situations," Paul said. "I watch a lot of basketball, and ... we've got a guy [Booker] who goes [to the rim] night in and night out, and you don't necessarily see the same [calls]. It's crazy. Crazy how some of [the officials], too, you can't even talk to them or approach them ... because that [communication] is horrible."
D'Angelo Russell scored 26 points for Los Angeles. Austin Reaves had 25 points and a career-high 11 assists after moving into the starting lineup for the Lakers, who improved to 7-5 in LeBron James' latest injury absence with an impressive second half.
The Los Angeles Lakers' Anthony Davis dunks during their NBA game against the Phoenix Suns at Crypto.com Arena in Los Angeles on Wednesday.
Photo: EPA-EFE
Reaves shot 13 free throws one game after making a career-high 18 against the Orlando Magic.
Reaves "was huge for us, and he's been huge for us all year," Lakers coach Darvin Ham said. "He's in a great space right now, feeling his game and locked into what we're trying to accomplish."
Paul had 18 points for the Suns, who have lost five of six. Phoenix had not lost to the Lakers in six games since May 2021.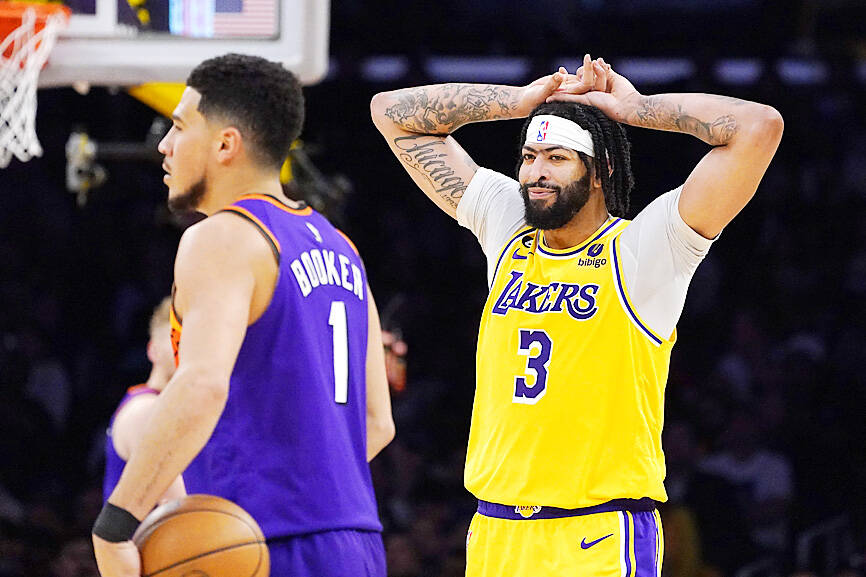 Los Angeles Lakers forward Anthony Davis reacts after being called for a foul during their NBA game against the Phoenix Suns at Crypto.com Arena in Los Angeles on Wednesday.
Photo: AP
The Lakers shot 27 free throws in the first half to the Suns' 10, but Phoenix rallied back to trail by just one point with 7 minutes, 29 seconds to play.
Davis, Russell and Reaves then scored every point in a 16-6 Lakers run to put it away.
"After the game is controlled in the first half and we're down 20 to 30 free throws, it's kind of easier for them to give us some after that," Booker said. "Like Chris said, I watch these games every night, so I kind of understand what's going on. I understand the agendas that are being pushed, and trying to just get that out of my head and go out there and compete."
In Dallas, Texas, Mavericks owner Mark Cuban said he planned to protest a two-point loss to Golden State after a confusing sequence led to an uncontested basket for the Warriors.
Kevon Looney had an easy dunk on an inbounds play with the Mavericks lined up on their offensive end after a timeout late in the third quarter of Golden State's 127-125 victory.
The Mavericks thought they had the ball after official Andy Nagy pointed in Golden State's direction for possession, but then quickly pointed to the Dallas bench to indicate a timeout.
Looney protested when Nagy pointed toward the Dallas bench, but Nagy appeared to explain that he was signaling the timeout.
The public address announcer also indicated that Dallas were awarded possession.
After the break, the Mavericks lined up on their offensive end, giving Looney the easy dunk with no defenders around as the Warriors took a 90-87 lead with 1 minute, 56 minutes left in the third.
Cuban said he planned to protest after posting on Twitter that he thought the sequence was the "Worst officiating non call mistake possibly in the history of the NBA."
Elsewhere on Wednesday, it was:
‧ Bucks 130, Spurs 94
‧ Bulls 91, 76ers 116
‧ Grizzlies 130, Rockets 125
‧ Heat 127, Knicks 120
‧ Jazz 115, Trail Blazers 127
‧ Raptors 114, Pacers 118
‧ T'wolves 125, Hawks 124
‧ Wizards 104, Nuggets 118
Comments will be moderated. Keep comments relevant to the article. Remarks containing abusive and obscene language, personal attacks of any kind or promotion will be removed and the user banned. Final decision will be at the discretion of the Taipei Times.