Scott 'Razor' Robertson, a break-dancing surfer, might be the All Blacks' savior
Scott Robertson is the New Zealand rugby coach who break-dances after winning titles, surfs to relax and was yesterday confirmed as the next boss of the All Blacks.
Officials in Wellington said the 48-year-old would replace Ian Foster, who is to step down as New Zealand head coach after the Rugby World Cup, which ends in October.
As All Blacks player No. 974, the loose forward laced up in 23 Tests for New Zealand from 1998 to 2002.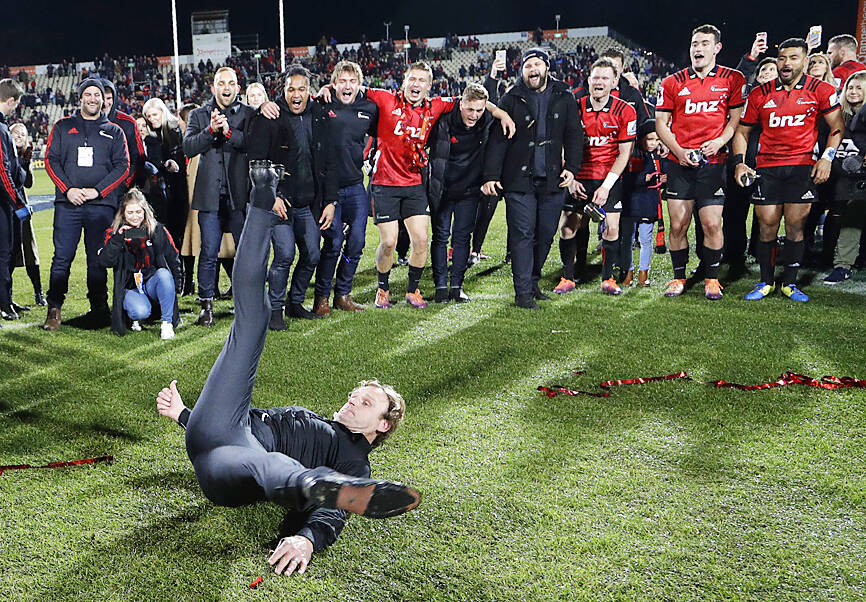 Crusaders coach Scott Robertson performs a break-dance as celebrates his team's Super Rugby final win over the Jaguares in Christchurch, New Zealand, on July 6, 2019. Robertson has been appointed as the next All Blacks coach.
Photo: AP
He earned the nickname "Razor" on the pitch for scything down opponents with his tackles, and his record as a coach is just as sharp.
After hanging up his boots, Robertson learned his trade by helping junior club Sumner, based near his home in the seaside suburbs of Christchurch, win promotion in the regional Canterbury leagues.
Robertson recently said that he loved cutting his coaching teeth by helping the amateur team of tradesmen and builders improve and enjoy their rugby.
He polished his skills as an assistant coach at his former provincial team Canterbury, eventually filling the role of head coach.
In June 2016, Robertson made the step up to Super Rugby when he was put in charge of the Crusaders with instant success. He has written himself into the franchise's folklore by leading them to six straight Super Rugby titles since his debut season in 2017.
Each victorious Super Rugby final has seen Robertson bust out his break-dancing moves on the pitch to get the party started.
With a thick mop of blond hair, Robertson likes to ride the waves near his home. It is not unusual to see him skateboarding to the beach with a surfboard tucked under his arm.
"I'm lucky that I can surf before going to work," he said recently.
Having missed out to Foster in 2019, many in New Zealand rugby feel it is Robertson's time to coach the All Blacks, but his critics point to a lack of experience at the international level.
He helped the Barbarians beat a shadow All Blacks XV in December last year, and was in charge of the New Zealand junior team that won the World Rugby Under 20 Championship title in 2015.
Apart from that, Robertson has never coached a senior national rugby team.
However, former All Blacks forward Matt Todd, who Robertson coached for three years at the Crusaders, backed him to make the step up.
"Obviously international rugby is different, but with his work ethic, desire to improve and forward thinking, it would be great to see him go into the All Blacks," Todd said via telephone from Japan.
Todd, who plays for Japanese club Toshiba Brave Lupus, said Robertson has his own all-action coaching style.
"It's awesome. He creates an environment that ... gets the best out of you," he said. "Sometimes during a season, things can become mundane, but he's great at keeping each week unique."
"He brings good energy. He's always up and excited at training. It's infectious and flows through the team," he said.
Comments will be moderated. Keep comments relevant to the article. Remarks containing abusive and obscene language, personal attacks of any kind or promotion will be removed and the user banned. Final decision will be at the discretion of the Taipei Times.