Experts praise performance of Taiwan at WBC
When Taiwan lost to Cuba 7-1 at the World Baseball Classic (WBC) on Sunday, it was an opportunity missed.
A win would have sent the team to the quarter-finals in Tokyo. Instead, the loss gave Taiwan a 2-2 record, the same as the other four teams in Pool A, but they finished last because of tiebreakers.
So, was the team's performance a success or a failure?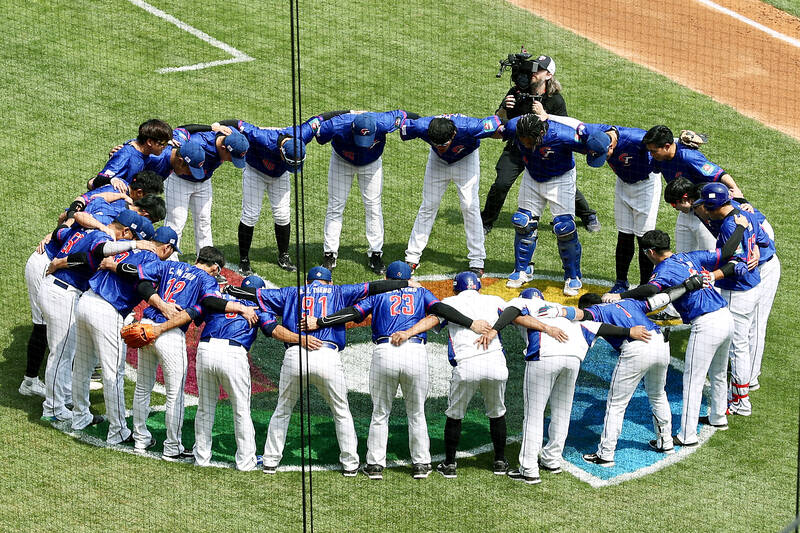 Taiwan's players huddle during their game against Cuba in their World Baseball Classic match at the Taichung Intercontinental Baseball Stadium on Sunday.
Photo: RITCHIE B. TONGO, EPA-EFE
The 2-2 record would suggest somewhere in between, but two baseball experts, National Taiwan Sport University (NTSU) associate professor Kung Jung-tang and veteran commentator Tseng Wen-cheng, gave Taiwan's WBC performance a resounding thumbs-up.
"The team's offensive showing was likely the strongest in the history of [Taiwan] at the WBC," said Kung, who teaches in NTSU's Department of Sports Training Science.
Tseng agreed.
"Though the pitching wasn't as good as expected, the hitting was really good this year. And putting them together, I think we can say the team's overall performance exceeded expectations," he said.
Taiwan had been ranked relatively low by Baseball America entering the WBC, but they scored 26 runs in their four Pool A games, more than any of the other Pool A teams — Panama, Italy, the Netherlands and Cuba.
Their on-base percentage (0.317), slugging percentage (0.504) and on-base plus slugging (0.925) also topped the group, and Taiwan had nine players who finished the tournament hitting .300 or better, led by Lin Li's .467.
The 27-year-old Lin last year was the MVP of Taiwan's CPBL, leading the league in batting average, RBIs and hits.
"Fans have often questioned the team's ability to hit in international competitions, but it proved at the WBC what it can do, even against strong pitchers from other countries," Kung said.
As well as the team performed at the plate, the struggles of Taiwan's pitchers were impossible to ignore. They surrendered 31 runs and 21 walks in 35 innings pitched in the four games, the most in both categories in Pool A.
The starters were even worse, combining to give up 10 runs in only nine innings pitched, the most and fewest in the group respectively.
However, Kung and Tseng felt it was somewhat unfair to judge Taiwan's pitchers on such a small sample of only four games.
"If we had made it to the quarter-finals and the problems continued, then it would have been more realistic to talk about them," Tseng said.
Kung also argued that there were plenty of WBC games this year with teams scoring in the double digits and that high scoring was the norm in the tournament.
However, those caveats ignored the weakness of Taiwan's pitching arsenals. Their four-seam fastballs barely averaged 90mph (145kph), the lowest of any WBC team other than China as of games completed on Monday, Japanese baseball net celebrity aozora wrote on Twitter, citing baseballsavant.
The weakness was particularly noticeable against Cuba, who sent out pitchers who regularly hit the mid-90s.
Tseng said that expecting pitchers to suddenly turn up their velocity was unrealistic, but he felt the team did make adjustments to their pitch patterns and locations after getting blown out by Panama 12-5 in their first game, calling it one of the team's "biggest achievements" in the tournament.
The biggest turnaround was made by Wu Che-yuan. After allowing a run and three hits in two innings in the loss to Panama, Wu fanned four and did not give up a run in 4-1/3 innings in Taiwan's 9-5 win over the Netherlands on Friday last week.
It was unquestionably the best outing of any Taiwan pitcher in the tournament as Wu kept his opponents off balance by mixing up his location and types of pitches thrown.
Recruiting players was also an issue, especially after the MLB, which organizes the WBC, relaxed standards for participation on national teams.
Some teams benefited, fielding MLB players with only tangential relationships to the countries they were representing, but Taiwan did not.
They were one of just three WBC teams with only native-born players on their roster.
"It's not that we didn't want to recruit this kind of player, but the fact is there are only a few MLB players with family members from Taiwan," Kung said.
And even if there were many high-caliber players eligible to play for Taiwan, Tseng said that recruiting them would still have been challenging given that Taiwan was not a highly rated team.
"The bottom line is we are not strong enough to attract these players. If we can't convince them that playing for Taiwan would give them a shot at the title, they're a lot less likely to come," he said.
One example is Corbin Carroll of the Arizona Diamondbacks.
In an interview in September last year, the 21-year-old Taiwanese-American MLB rookie sidestepped questions on his interest in representing Taiwan, the homeland of his mother, saying that "I haven't really thought about that."
What might help is if Yu Chang, Taiwan's MVP at the WBC, plays well this season for the Boston Red Sox, Tseng said.
"If Chang can do well there, his playing for [Taiwan] would be significant, and that might increase foreign players' interest in joining Taiwan's team," he said.
Comments will be moderated. Keep comments relevant to the article. Remarks containing abusive and obscene language, personal attacks of any kind or promotion will be removed and the user banned. Final decision will be at the discretion of the Taipei Times.