BBC reach deal for Gary Lineker to return to soccer broadcasts after row
Gary Lineker is to return as presenter of the flagship BBC soccer show Match of the Day, the broadcaster said yesterday, ending a crisis sparked by his criticism of the UK government's new asylum policy.
The former England soccer player was suspended on Friday after using Twitter last week to compare the language used to launch the new policy to the rhetoric of Nazi-era Germany.
His comments and removal sparked days of frenzied media coverage, that escalated on Friday after fellow presenters, pundits and commentators refused to work over the weekend in support.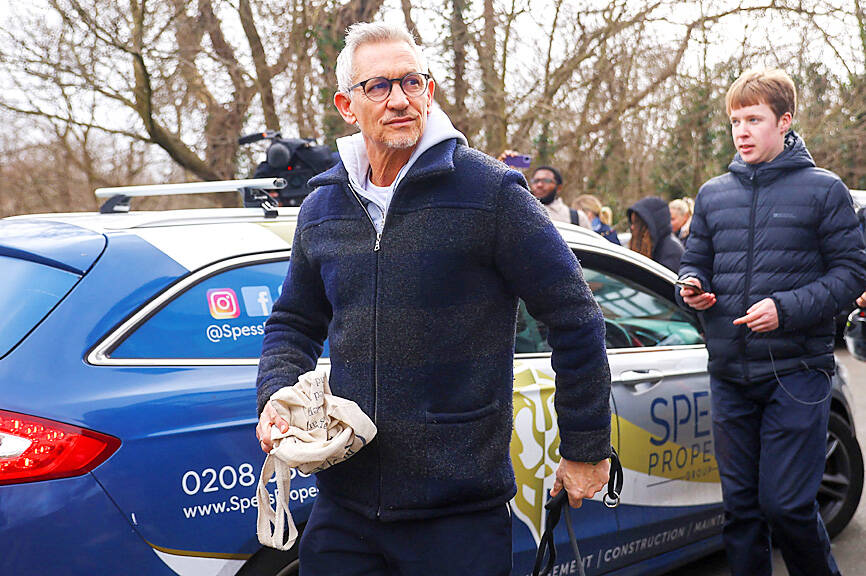 BBC soccer presenter Gary Lineker walks outside his home in London yesterday.
Photo: Reuters
That threw the publicly funded broadcaster's sports coverage into disarray, curtailing its highlights package to just 20 minutes, without commentary or analysis.
Yesterday, the two sides said they had come to an agreement that would see Lineker return to screens and the launch of an internal review into the corporation's social media guidelines.
"Gary is a valued part of the BBC and I know how much the BBC means to Gary, and I look forward to him presenting our coverage this coming weekend," BBC director-general Tim Davie said.
In a joint statement, Lineker, 62, said: "I am glad that we have found a way forward. I support this review and look forward to getting back on air."
He wrote separately that the past few days, during which he has been mobbed outside his London home by reporters, photographers and camera crews, had been "surreal."
In a parting shot he added: "However difficult the last few days have been, it simply doesn't compare to having to flee your home from persecution or war to seek refuge in a land far away."
Davie apologized for the disruption to the service, saying he recognized the "potential confusion caused by the gray areas of the BBC's social media guidance."
"Impartiality is important to the BBC. That is a difficult balancing act to get right where people are subject to different contracts and on-air positions, and with different audience and social media profiles," he said.
The independent review is to look at how the guidance applies to staff and freelancers such as Lineker, he added.
Former Leicester City, Everton, Tottenham Hotspur and Barcelona striker Lineker, who has hosted refugees in his home, has been an at times outspoken figure against government policy, particularly on immigration.
His comments overshadowed the announcement of plans to toughen laws governing asylum seekers, including the removal of those coming to the UK across the English Channel from northern France in small boats.
Critics of Lineker said he should stay out of politics, given his high-profile sports presenting position, and Davie's drive for BBC impartiality.
Lineker has said that as a freelancer not working in news he is not bound by the same social media rules.
Comments will be moderated. Keep comments relevant to the article. Remarks containing abusive and obscene language, personal attacks of any kind or promotion will be removed and the user banned. Final decision will be at the discretion of the Taipei Times.