Savea sorry for throat-slitting gesture
Wellington Hurricanes captain Ardie Savea on Friday apologized for making a throat-slitting gesture toward an opponent during a Super Rugby Pacific match in Melbourne, conceding he needs "to be better."
Savea ran his thumb across his throat during a verbal exchange with Melbourne Rebels halfback Ryan Louwrens after being shown a yellow card in their round two match, won 39-33 by the New Zealand side.
The 29-year-old Savea, regarded as one of the world's premier players, was shown the card for "escalating" the situation, referee James Doleman said, with players from both teams involved in a fracas late in the first half.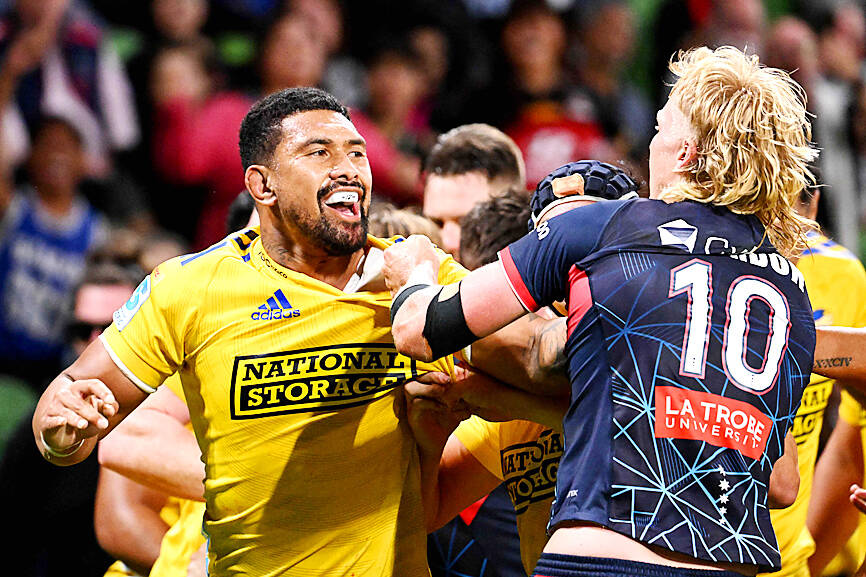 Wellington Hurricanes captain Ardie Savea, left, grapples with Carter Gordon of the Melbourne Rebels during their Super Rugby Pacific game at AAMI Park in Melbourne, Australia, on Friday.
Photo: AFP
Rebels veteran Reece Hodge complained immediately to Doleman that stiffer punishment was needed as Savea's gesture toward Louwrens was "threatening to kill him."
Savea said that he lost control and regretted the action.
"I can understand the fans are furious around the gesture that I made," he told host broadcaster Stan Sports. "Kids are watching us, we're in the heat of the moment. Usually that's out of character for me, so I put my hand up first and I apologize for that."
Savea said that the fiery encounter with Louwrens was "just normal banter in the game," but added that it was not a good look from a player regarded as a role model.
"We're trying to clean up the game. I understand, there's no excuse for me, I've got to be better," he said.
He said he got a dressing-down from his father after the game.
"I got off the field and my old man called me and kind of groaned me off, so that's a lesson learned," he told reporters. "He's a pretty calm dude, it's not often I get a call like that after the game. Mum was in the crowd, too, and she asked if I was all good, because usually I'm not like that."
Savea's action overshadowed his dominant on-field performance at No. 8, having scored the first two Hurricanes' tries and set up the third.
It helped seal his team's second straight win of the season after beating the Queensland Reds 47-13 the previous week, while piling pressure on the Rebels, who have now lost two-from-two.
Savea could face further penalty from the tournament judiciary, a worry for coach Jason Holland with a big clash against the Auckland Blues looming next week.
"Obviously I hope it doesn't go any further," Holland said. "Ards is not happy with that, but we all make errors and we've got to just accept them and get on with it."
In Friday's other match in the Super Round — in which all six games this weekend are played at Melbourne's AAMI Park — the Canterbury Crusaders thrashed the Otago Highlanders 52-15, while yesterday, the Waikato Chiefs beat Moana Pasifika 52-29 and the NSW Waratahs beat the Fijian Drua 46-17.
Additional reporting by staff writer
Comments will be moderated. Keep comments relevant to the article. Remarks containing abusive and obscene language, personal attacks of any kind or promotion will be removed and the user banned. Final decision will be at the discretion of the Taipei Times.