Mick Schumacher shuns 'Drive to Survive'
Mick Schumacher's Formula One struggles last season feature strongly in the latest run of Drive to Survive, but the German said he feels no need to watch the Netflix docu-series.
The 23-year-old, son of Ferrari great and seven-time world champion Michael Schumacher, lost his seat at the Haas team at the end of last year and is now reserve to Lewis Hamilton and George Russell at Mercedes.
"I didn't watch it ... that's a personal choice," Mick Schumacher told reporters when asked about the series at a 75th anniversary event for sportswear maker Puma at the season-opening Bahrain Grand Prix on Sunday. "I just don't necessarily feel the need to watch myself on TV, I guess."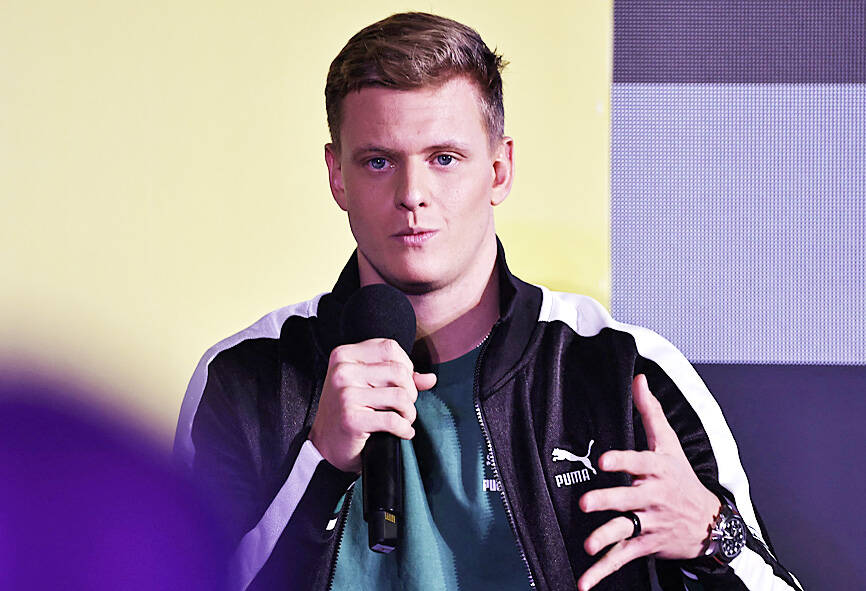 Mercedes reserve driver Mick Schumacher on Wednesday attends a Puma Sports Brand event ahead of the Bahrain Grand Prix in Manama.
Photo: Reuters
The fourth episode of the fifth season casts a spotlight on tensions within Haas as Mick Schumacher suffers a string of costly crashes and remains without points.
Team owner Gene Haas suggests to Haas principal Guenther Steiner, who says the German is too slow, that the driver is "in over his head."
Mick Schumacher muses separately, in a frank scene on a Swiss mountainside, about the difficulties he faces and his determination to succeed.
He told reporters this week that he approached this year as "one door may close, but another one may open."
"Who knows, in 10 years maybe I say: 'Ah, actually it was for the better,'" he added.
"It definitely meant I had to grow up in a different way," the 2020 Formula Two champion said of the experience. "It made me grow up as a person, made me grow up as a racing driver."
"Both years were quite tough, coming from a championship-winning year to basically not having any chances for points in the first [season] and the second one was quite tough in some other ways," he said. "I think that I've grown into a stronger driver hopefully and I'll be better prepared for whatever comes and waits for me in the future."
Mick Schumacher said that his goal was to return, but felt no rush.
"Obviously I live racing and that's why I want to do it, but if it means that this year I'm not going to get to do that then ... I'll take this year out and everything I can with a learning face and a smile," he said.
With the retirement of four-time world champion Sebastian Vettel, the only German driver in F1 is veteran Nico Hulkenberg as Mick Schumacher's replacement at Haas.
Once-dominant Mercedes remain a major force and Audi are coming into the sport in 2026, taking over Swiss-based Sauber. An eventual return of the German Grand Prix has also been mooted.
Mick Schumacher said if any of that helped, then it would be welcome, but what he had shown in junior categories and during his stint at Haas also spoke in his favor.
"I think there were some sparks in there where people actually got to see what I can do if I'm in the right position and the right car and everything," he said. "There's still a lot that I want to show."
Comments will be moderated. Keep comments relevant to the article. Remarks containing abusive and obscene language, personal attacks of any kind or promotion will be removed and the user banned. Final decision will be at the discretion of the Taipei Times.