Chicago win after TO blunder
'NOT HIS FAULT': Pistons coach Dwane Casey refused to blame his rookie player for the loss, instead lamenting their laissez-faire approach defensively in the first quarter
Zach LaVine on Wednesday scored 41 points as the Detroit Pistons called one too many timeouts to help the Chicago Bulls hold on for a 117-115 win.
The Pistons were trailing by two points with 9.7 seconds remaining when rookie Jaden Ivey called a timeout — one more than they had — to trigger a technical foul that gave LaVine a free throw, which he made.
"That was the first," said 33-year-old DeMar DeRozan, who scored 21 points, including two at the line on the extra possession Detroit gave Chicago due to the timeout blunder. "I've never seen that."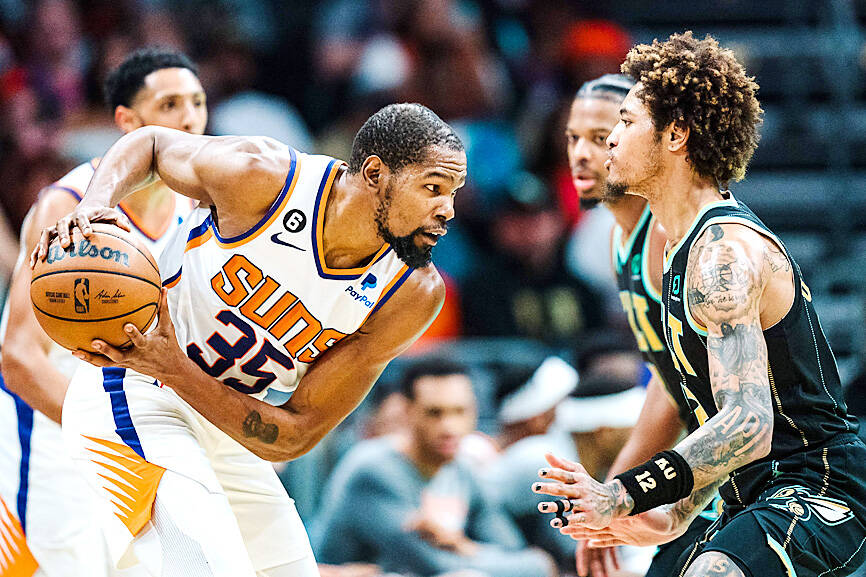 The Phoenix Suns' Kevin Durant, left, holds the ball as Kelly Oubre Jr of the Charlotte Hornets defends during their NBA game at the Spectrum Center in Charlotte, North Carolina, on Wednesday.
Photo: AFP
Pistons coach Dwane Casey said the loss was not Ivey's fault.
"He panicked, but the game wasn't won or loss on that one play," Casey said. "It was lost in the first quarter. With the laissez-faire approach we had defensively, they got whatever they wanted. It's such a mountain to climb when you get behind in this league."
Chicago led Detroit by at least 15 points in each of the first three quarters and by as many as 21 in a game that suddenly got close in the final minutes.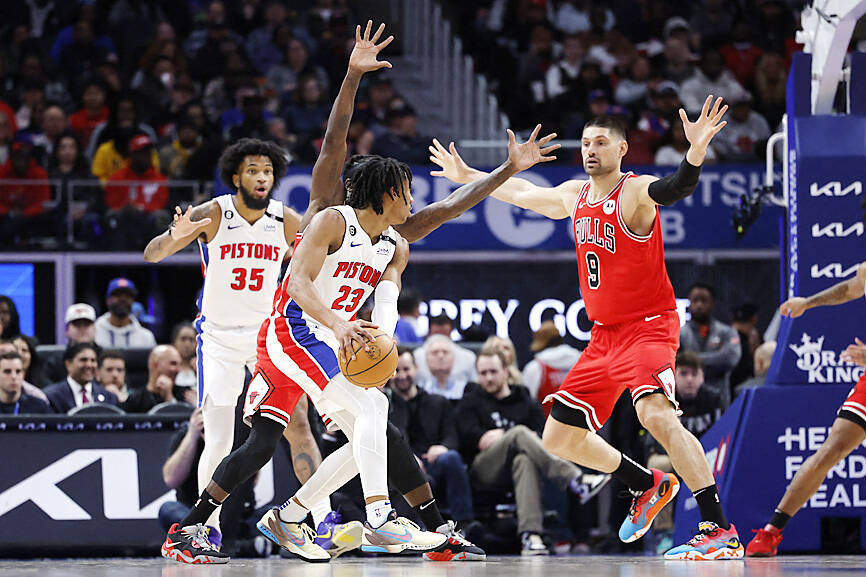 The Detroit Pistons' Jaden Ivey, center, looks for an opening as Nikola Vucevic, right, of the Chicago Bulls defends during their NBA game at Little Caesars Arena in Detroit, Michigan, on Wednesday.
Photo: Rick Osentoski-USA TODAY
The Pistons pulled into a tie three times in the final 3 minutes, 4 seconds, but could not stop LaVine from driving into the lane and drawing a foul with 48.9 seconds left that gave him two free throws that he made to restore a two-point lead.
"Zach had a big play when he drove and drew that foul," Chicago coach Billy Donovan said.
In Charlotte, North Carolina, Kevin Durant scored 23 points on 10-of-15 shooting in his Suns debut, helping Phoenix snap the Hornets' five-game winning streak with a wire-to-wire 105-91 victory.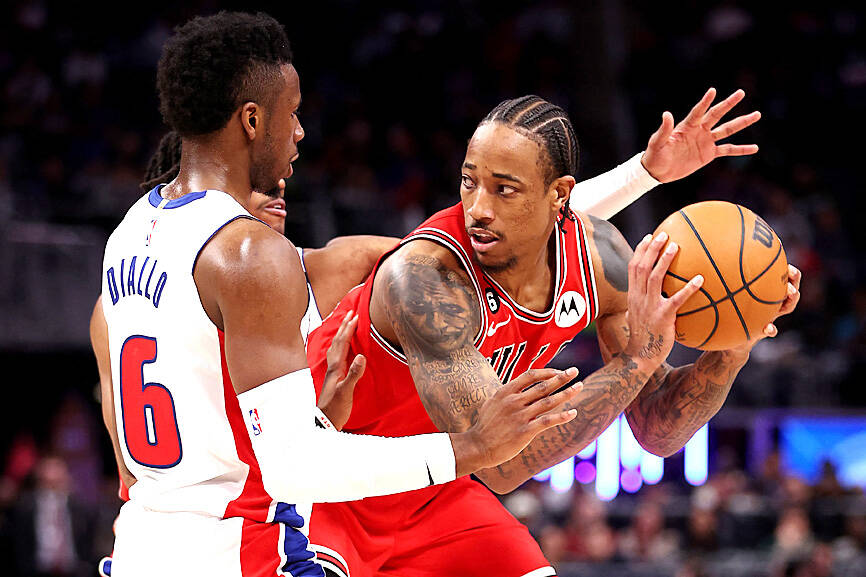 The Chicago Bulls' DeMar DeRozan, right, holds the ball as Hamidou Diallo of the Detroit Pistons defends during their NBA game at Little Caesars Arena in Detroit, Michigan, on Wednesday.
Photo: AFP
Devin Booker scored 37 points, while Deandre Ayton had 16 points and 16 rebounds in the Suns' seventh victory in 10 games. Chris Paul added 11 assists.
Durant, acquired in blockbuster trade with the Brooklyn Nets on Feb. 9, showed no lingering effects from a sprained right knee that kept him out of action for more than seven weeks.
The 34-year-old star fit in rather seamlessly with his new club, also grabbing six rebounds and blocking two shots in 27 minutes.
"I feel like I fit in pretty well," Durant said. "Everybody out there was trying to make me as comfortable as possible. I just have to keep riding it, man."
Durant made two threes, a flurry of mid-range jumpers and showed he still has the burst to get to the hole on a driving left-handed layup for his first basket with the Suns.
He also provided a boost on defense, blocking Hornets rookie center Mark Williams twice in the opening few minutes.
Elsewhere on Wednesday, it was:
‧ Bucks 139, Magic 117
‧ Celtics 117, Cavaliers 113
‧ Heat 96, 76ers 119
‧ Knicks 142, Nets 118
‧ Rockets 99, Grizzlies 113
‧ Thunder 117, Lakers 123
‧ Trail Blazers 110, Pelicans 121
Comments will be moderated. Keep comments relevant to the article. Remarks containing abusive and obscene language, personal attacks of any kind or promotion will be removed and the user banned. Final decision will be at the discretion of the Taipei Times.