Jokic nabs 100th triple-double in win
HUMBLE GIANT: Despite joining a select group of just six players to accomplish such a feat, the two-time Most Valuable Player played down the achievement, calling it 'nice'
When Nikola Jokic was presented with the game ball by Denver Nuggets coach Michael Malone after recording his 100th career triple-double, Malone said the superstar seemed almost embarrassed by the gesture.
"He is a unique person who doesn't want any of the attention or credit," Malone said. "He just wants to go about his business and help this team win its first championship."
Jokic had 14 points, 11 rebounds and 10 assists for his NBA-leading 24th triple-double this season and his 15th in the past 20 games, as the Nuggets beat the Houston Rockets 133-112 on Tuesday night.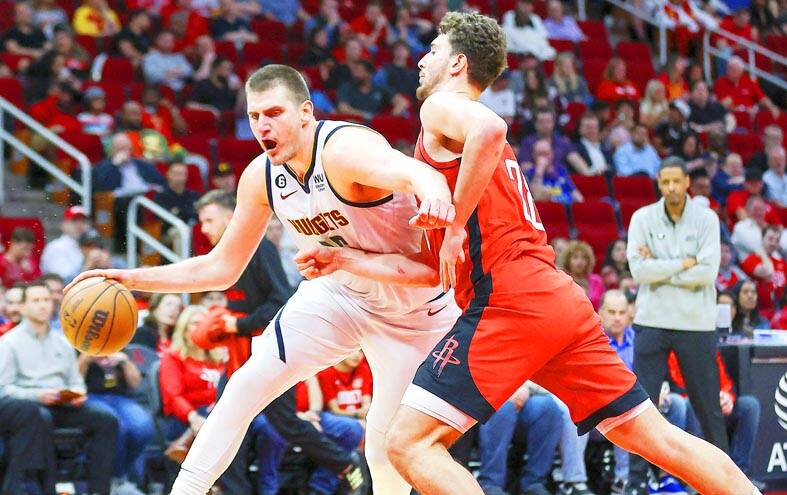 The Denver Nuggets' Nikola Jokic, left, attempts to evade the Houston Rockets' Alperen Sengun during their NBA game in Houston, Texas, on Tuesday.
Photo: Troy Taormina-USA TODAY
The Nuggets have won each game in which he has had a triple-double this season and 28 straight dating back to last season. Jamal Murray added 32 points.
Jokic needed just three quarters to become the sixth player in league history with 100 triple-doubles, with the big man sitting out the entire fourth with the game out of hand.
He seemed not bothered by the accomplishment, calling it "nice," and when pushed to comment on the rarity of what he had just done, he deferred to the team.
"I appreciate how we played," he said. "That's what I appreciate, but all the, let's say achievements, awards, contracts or whatever, it's just — I don't want to say coming naturally — but you don't chase it. It's really nice. I think it's going to be the best when you finish [your] career and just look behind you and see what you did."
He joins Russell Westbrook (198), Oscar Robertson (181), Magic Johnson (138), Jason Kidd (107) and LeBron James (106) as the only players to have accomplished the feat.
There was not any hint of a celebration in the locker room after his big night. He sat alone at his locker with an ice pack on his back as he ate popcorn from a small box, pouring it directly into his mouth.
The only evidence of the two-time Most Valuable Player's milestone was that game ball in his locker that his teammates signed to commemorate the moment.
"I think all of us in Denver — I challenge myself to do this — should never take him for granted, never take his greatness for granted," Malone said. "Because I grew up in this business ... and things can change quickly, so I make sure I appreciate everything he does."
"And for him to be mentioned with all these historical accomplishments just reminds you that we are so blessed to have a guy like Nikola, who is as talented as he is, who accomplishes all these things on the court, but the most important and impressive thing about Nikola is with that he's so humble," he said.
Comments will be moderated. Keep comments relevant to the article. Remarks containing abusive and obscene language, personal attacks of any kind or promotion will be removed and the user banned. Final decision will be at the discretion of the Taipei Times.