Jeremy Lin arrives in Taiwan ahead of Steelers debut
Former NBA sensation Jeremy Lin, recently recruited by the P.League+'s Kaohsiung Steelers, arrived at Taiwan Taoyuan International Airport yesterday.
Lin arrived at the airport at 5:46am on a China Airlines flight from the US before leaving the airport via a VIP terminal.
Lin, whose parents are from Taiwan, is believed to be observing Taiwan's "0+7" self-initiated COVID-19 prevention program for arrivals.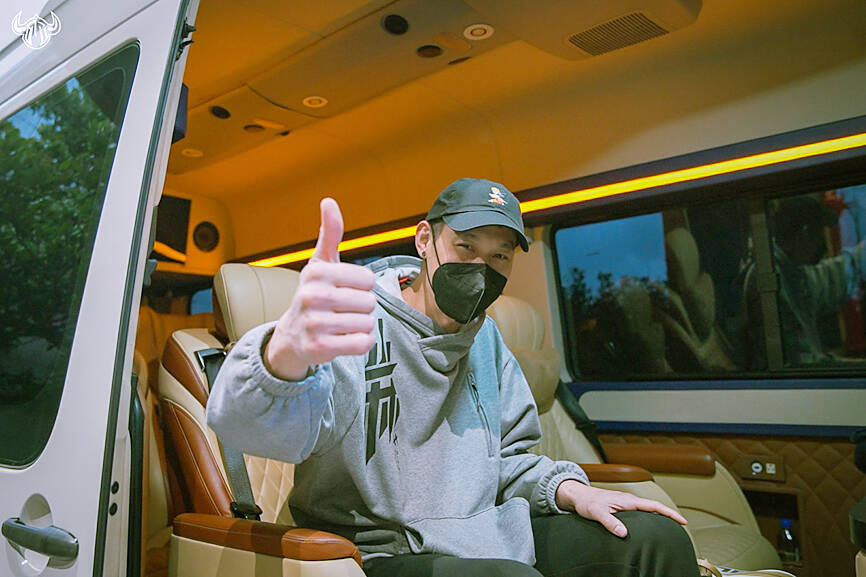 Jeremy Lin, who has signed to play in the P.League+ with the Kaohsiung Steelers, gestures from inside a vehicle after his arrival at Taiwan Taoyuan International Airport yesterday.
Photo: CNA
Lin had said earlier in the week that he would be practicing social distancing from yesterday through Saturday, meaning he would not participate in games or visit the Steelers' home court during that period.
The Steelers said in a statement that Lin would officially report to the club next week and participate in practice.
The club said that it would hold a news conference for Lin on Wednesday.
Regarding when Lin would play his first game for the Steelers, the club said that it would evaluate his physical condition and leave the decision to the coaching staff.
On Jan. 26, Lin shared an Instagram post that featured an image of him wearing a mockup of his new team's jersey bearing his trademark No. 7, with the caption: "KaoHsiung, here I come!"
In a statement on the same day, the Steelers confirmed that the 34-year-old guard had signed with the southern port city club.
Speculation about Lin possibly signing with a Taiwanese team began last year as questions about his performance and playing time in the Chinese Basketball Association (CBA) started to appear.
The total points scored in his second season in the CBA playing for the Beijing Ducks in 2021 and last year dropped to 309 points in 507 minutes over 23 games from his previous performance in 2019-2020 of 871 points in 1,252 minutes over 39 games.
Out of the seven games Lin played for the Guangzhou Loong Lions before leaving the CBA this season, there were two games in which he only played for four minutes each.
Lin gained a huge following in Taiwan more than a decade ago playing for the New York Knicks, being the first American of Taiwanese descent to play in the NBA.
Comments will be moderated. Keep comments relevant to the article. Remarks containing abusive and obscene language, personal attacks of any kind or promotion will be removed and the user banned. Final decision will be at the discretion of the Taipei Times.