Court orders Dani Alves remanded in custody over sexual assault allegation
A Spanish court on Friday ordered Brazil defender Dani Alves to be held in custody without bail after he was arrested in Barcelona on allegations he sexually assaulted a woman.
A Barcelona judge took the step after questioning the 39-year-old regarding "events that allegedly took place at a nightclub," the court said in a statement.
A source close to the dossier said the judge had taken the step — which was requested by public prosecutors — because the court considered there was a risk Alves would try to flee.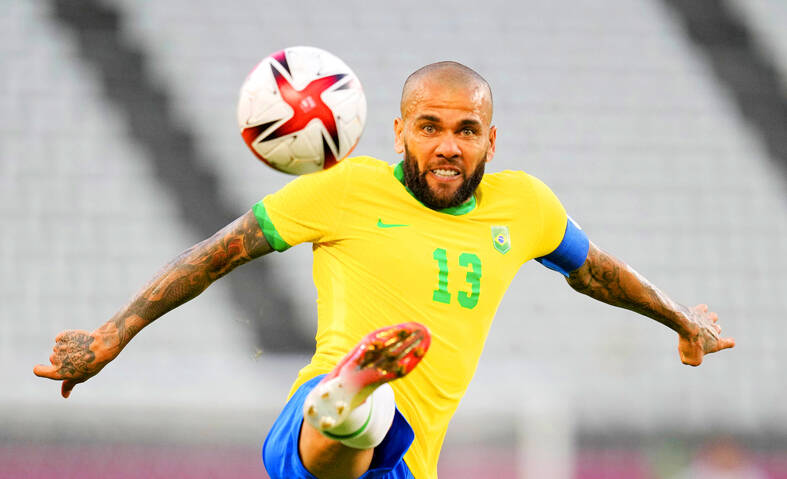 Brazil's Dani Alves controls the ball in the Olympic Games men's soccer semi-final in Kashima, Japan, on Aug. 3, 2021.
Photo: AP
His club, Mexico's Club Universidad Nacional, announced hours later that it had sacked the player because of what it called "just cause."
Alves, one of soccer's most successful players, was taken into custody earlier on Friday after being summoned to a Barcelona police station and was then sent before the judge.
Catalonian police said they received a complaint on Jan. 2 from a woman who accused Alves of sexual assault.
The charge of sexual assault in Spain can mean anything from unsolicited and unwanted sexual groping to rape. While police declined to give details of the case, a source close to the investigation said that Alves is accused of rape.
The woman reiterated her accusation before the judge on Friday, the source added.
The alleged sexual assault took place at a popular Barcelona nightclub overnight from Dec. 30 to Dec. 31 last year, according to Spanish media reports.
Daily newspaper ABC said Alves allegedly put his hands inside the underwear of a woman without her consent while she was dancing with friends and then followed her into a toilet.
She is said to have informed security staff in the club, who activated Barcelona City Council's protocol against assaults and sexual harassment.
A Barcelona court earlier this month said that it had opened a probe "into an alleged crime of sexual assault as a result of a complaint filed by a woman against a footballer."
Alves has confirmed he was at the nightclub at the time, but has denied any wrongdoing, telling Spanish TV channel Antena 3 earlier this month that he has "never seen" the woman before.
"I was there, at that place, with more people having fun. Everybody knows I love to dance. Having a good time, but without invading the space of others," the former Barcelona, Juventus and Paris Saint-Germain player said.
His wife, Spanish model Joana Sanz, told Antena 3 in an interview on Jan. 9 that her husband had gone "out to dinner with friends, to disconnect a bit" on Dec. 30 last year.
"He went out to dance and try to enjoy music as he likes, period. Nothing wrong happened... I know how respectful he is," she added.
Alves was in Barcelona on holiday following his participation at the World Cup with Brazil in Qatar.
In a phenomenally successful career, Alves made 408 appearances for Barcelona, with 391 of those coming in his first spell from 2008 to 2016.
During that initial stint, he won six La Liga titles, three UEFA Champions League crowns and four Copa del Rey trophies.
Alves joined PSG in July 2017 on a free transfer after leaving Juventus and spent two years at the Qatari-owned French giants.
He was signed by Club Universidad Nacional in July last year after leaving Barcelona for a second time.
The club, who are linked to the National Autonomous University of Mexico, on Friday said it had terminated Alves' contract.
"The club reiterates its commitment not to tolerate acts by any member of our institution, whoever they may be, that go against the university spirit and its values," coach Leopoldo Silva told reporters.
Comments will be moderated. Keep comments relevant to the article. Remarks containing abusive and obscene language, personal attacks of any kind or promotion will be removed and the user banned. Final decision will be at the discretion of the Taipei Times.