Tears of joy in Tokyo as Japan advance
'ASIA CAN WIN': Japan manager Hajime Moriyasu said their victories at the tournament so far against top sides show that Asian teams can win on the world stage
Japan erupted in cheers and tears after the national team's 2-1 win over Spain, with crowds in the early hours of yesterday in the nation packing public viewing areas shrieking with joy as they stunned another global soccer power at the FIFA World Cup.
Japan, who had also shocked Germany in their opener in Qatar, finished top of Group E to reach the last 16, a stage where they have faltered three times before.
They are to play 2018 runners-up Croatia for a place in the quarter-finals.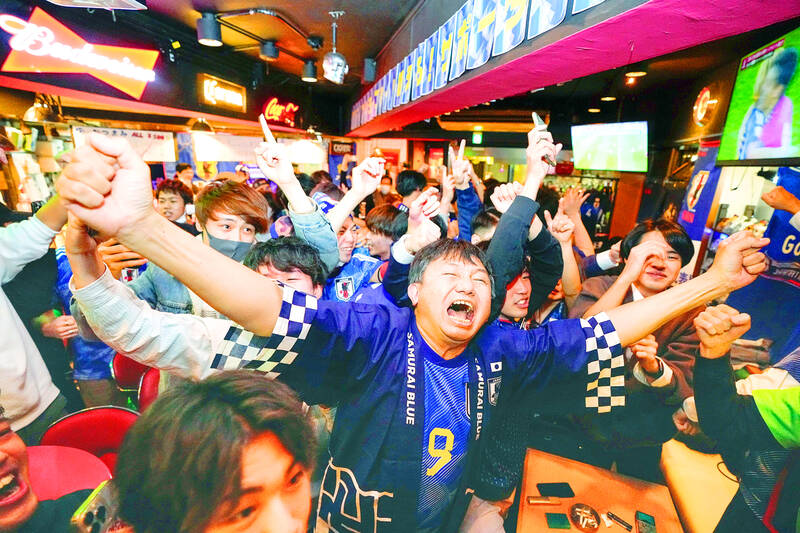 At a bar in Tokyo yesterday, people celebrate Japan's win over Spain at the FIFA World Cup in Qatar.
Photo: AP
"Doha Delights Again!" one newspaper headlined its online edition, evoking memories of what the media called the "Miracle in Doha" after Japan's win over Germany.
Fans chanting "Nippon" poured into Tokyo's iconic Shibuya crossing before sunrise, jumping and shouting: "Fight, fight, fight" as police struggled to control the crowd.
"I never thought Japan would advance first place in the group," said 19-year-old Yusei Sato, wearing Japan's Samurai Blue national team jersey. "Thank you Japan. I love you guys."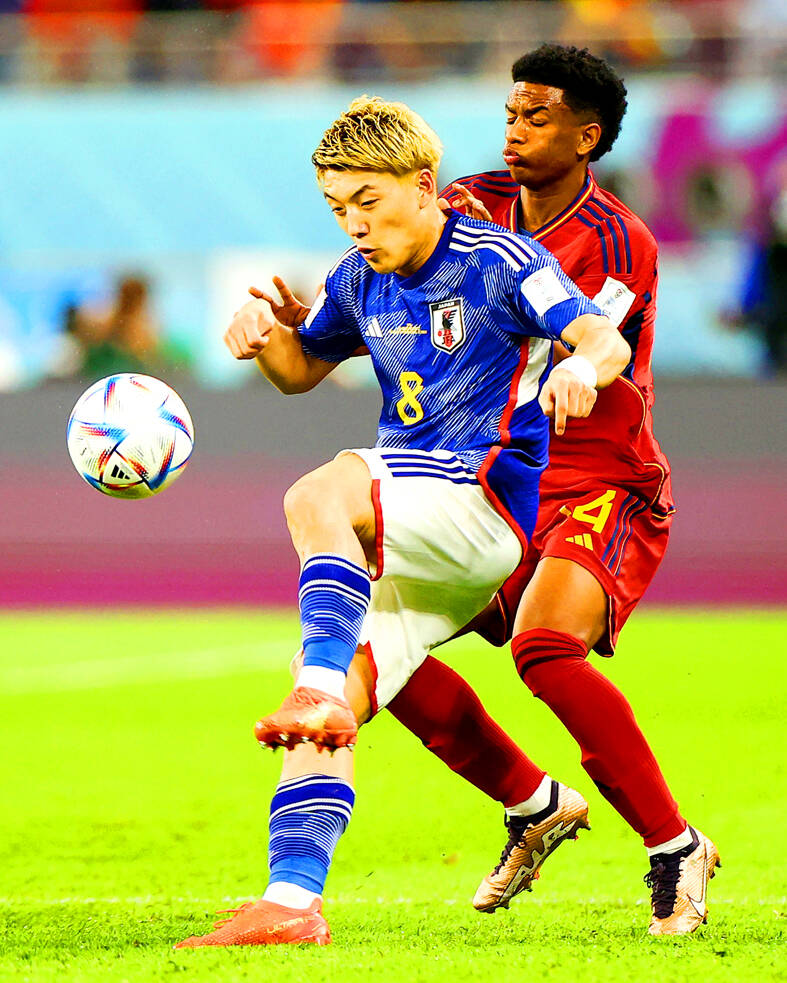 Japan's Ritsu Doan and Alejandro Balde of Spain vie for the ball during their Group E match at the FIFA World Cup at the Khalifa International Stadium in Doha on Thursday.
Photo: Reuters
Takuya Kudo, 23, was in tears as soon as he saw Japan win.
"I'm just so happy," he said. "Honestly, I never thought Japan would do this well. I'm just really thrilled."
Fans lingering in Shibuya pressed high-fives on bleary commuters making their way to work from one of Tokyo's busiest stations.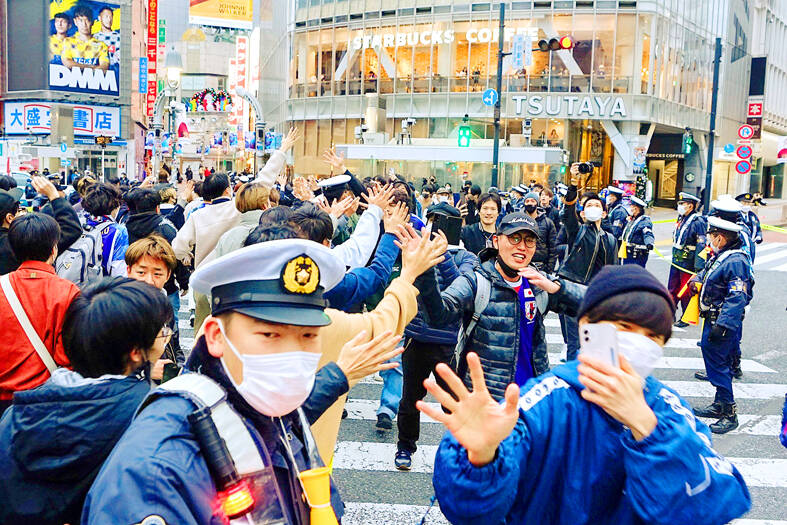 People in Tokyo yesterday celebrate Japan's win over Spain at the FIFA World Cup in Qatar.
Photo: AP
Social media exploded with joy, exulting "Samurai Blue" and "Came from behind to win," with some fans posting manga-style drawings of a cheering player in a team uniform.
Another posted a cartoon of three dragons draped in national flags.
The Japanese dragon was roaring while the Spanish dragon eyed Germany, which looked befuddled.
Spain also advanced despite the loss, knocking Germany out of the tournament, even though they beat Costa Rica 4-2.
Japanese tennis player Naomi Osaka's tribute was a manga-style depiction of the Japan team, while even Tesla CEO Elon Musk tweeted: "Congratulations, Japan!"
The sense of triumph rose even to the nation's normally staid political heights, with Japanese Prime Minister Fumio Kishida telling reporters the win was "historic" and telephoning Japan manager Hajime Moriyasu and Japan Football Association president Kozo Tashima to offer congratulations.
"I told them they gave the Japanese people courage and energy," Kishida wrote on Twitter. "We are looking forward to the last 16. Fight on, Japan!"
Japan scored twice early in the second half to come from behind and make it to the knockout stages for the second straight World Cup.
"For Asia and for Japan, our victories over Spain and Germany [in their opening match], two of the top teams in the world, is something that give us great confidence and we are very pleased," Moriyasu said. "Of course, there are many things we still have to learn, but Asia can win in the world stage, Japan can win in the world stage."
Ao Tanaka scored the winning goal from close range early in the second half. It took about two minutes for video review officials to confirm that the ball had not gone out of bounds before the goal at the Khalifa International Stadium.
Players from both teams looked surprised when it was announced that the goal counted and the Japan players started running toward their bench again to celebrate with their teammates.
"From my angle, I think the ball was clearly half out, but more than that I could not see because of the speed," Tanaka said. "I was concentrating in scoring. There was always a possibility that it was out ... but in the end it was a goal, so that was great."
Alvaro Morata scored for Spain in the 11th minute and the 2010 champions were in control until Japan rallied after halftime.
Ritsu Doan equalized in the 48th minute with a left-footed shot from outside the box and Tanaka added the second three minutes later.
Comments will be moderated. Keep comments relevant to the article. Remarks containing abusive and obscene language, personal attacks of any kind or promotion will be removed and the user banned. Final decision will be at the discretion of the Taipei Times.