Taiwanese Huang wins bronze in first taekwondo worlds
Taiwan's Huang Ying-hsuan on Sunday defeated the world No. 1 on her way to winning a bronze medal in the women's under-46kg division at the World Taekwondo Championships in Guadalajara, Mexico.
Huang, a freshman at National Taiwan Sport University, was making her debut in international competition at the championships, after missing tournaments over the past two years due to the COVID-19 pandemic.
Competing in the lightest weight category for women, she ran the table with three early wins in the rounds of 64, 32 and 16, before upsetting world No. 1 Kang Mi-reu of South Korea in the quarter-finals.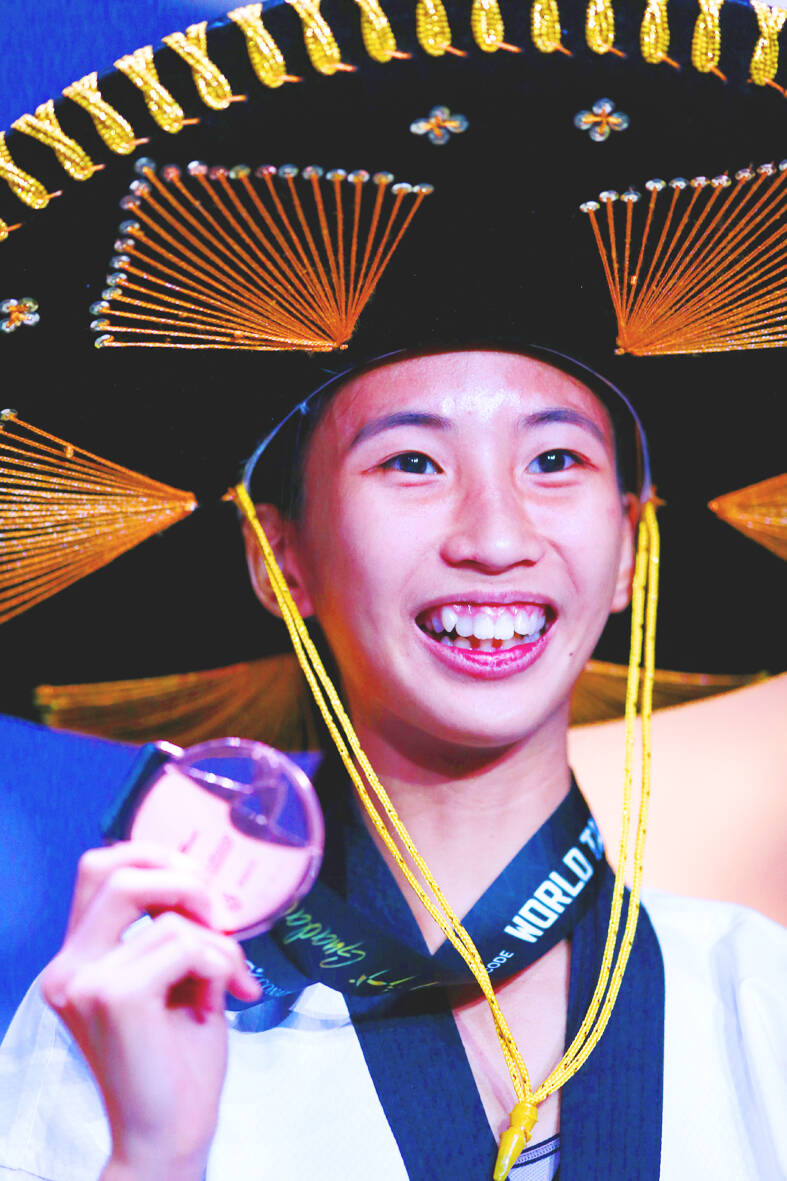 Taiwan's Huang Ying-hsuan holds her bronze medal on the podium during the award ceremony for the women's under-46kg category of the World Taekwondo Championships in Guadalajara, Mexico, on Sunday.
Photo: EPA-EFE
In her semi-final against Turkey's Rukiye Yildirim, Huang fell behind 2-7 in the first round, but rallied with nine unanswered points before Yildirim connected on a head kick to pull out a narrow 13-12 win.
Huang lost the match 0-2 after dropping the second round 5-12, earning one of two bronze medals in the weight class.
Yildirim went on to win silver, while Lena Stojkovic of Croatia won gold.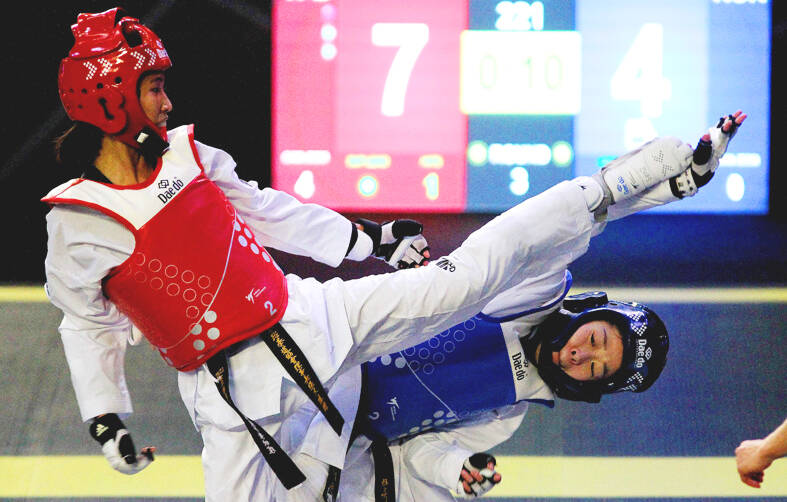 Taiwan's Huang Ying-hsuan, left, fights South Korea's Kang Mi-reu during their women's under-46kg quarter-final bout at the World Taekwondo Championships in Guadalajara, Mexico, on Sunday.
Photo: AFP
After the match, coach Chang Sheng-kuo said that Huang appeared "flustered" in the second round against Yildirim after losing the first in a narrow decision.
He credited Huang for her "fearless" performance in the tournament, saying her top-four finish had "far exceeded" their expectations for her international debut.
In this year's world championships, which ended on Sunday, Taiwan entered competitors in all 16 weight classes — eight men and eight women — winning medals in three.
In addition to Huang's bronze medal, Chen Po-yen won a bronze medal in the men's under-54kg division and Olympic medalist Lo Chia-ling clinched the silver medal in the women's under-57kg category.
In taekwondo, one and five points are awarded for valid punches and kicks to an opponent's torso or head, and deducted for each penalty committed.
While past world championships added up the total score over three two-minute rounds to determine the victor, this year's competition adopted a new best-of-three scoring system in which the first to win two rounds was declared the winner.
Comments will be moderated. Keep comments relevant to the article. Remarks containing abusive and obscene language, personal attacks of any kind or promotion will be removed and the user banned. Final decision will be at the discretion of the Taipei Times.