Howard records first T1 loss in defeat to Taichung
Eight-time NBA All-Star Dwight Howard on Sunday lost his first game with the T1 League's Taoyuan Leopards, in a 94-103 home defeat to the Taichung Suns.
Howard came close to achieving another triple-double in his second game in Taiwan. After grabbing 38 points, 25 rebounds and nine assists against the New Taipei CTBC DEA on Saturday, he tallied 23 points, 10 assists and nine boards against Taichung.
Howard, who turns 37 on Dec. 8, led the Leopards in minutes played, accumulating about 91 of 101 total minutes of play over two games within 26 hours.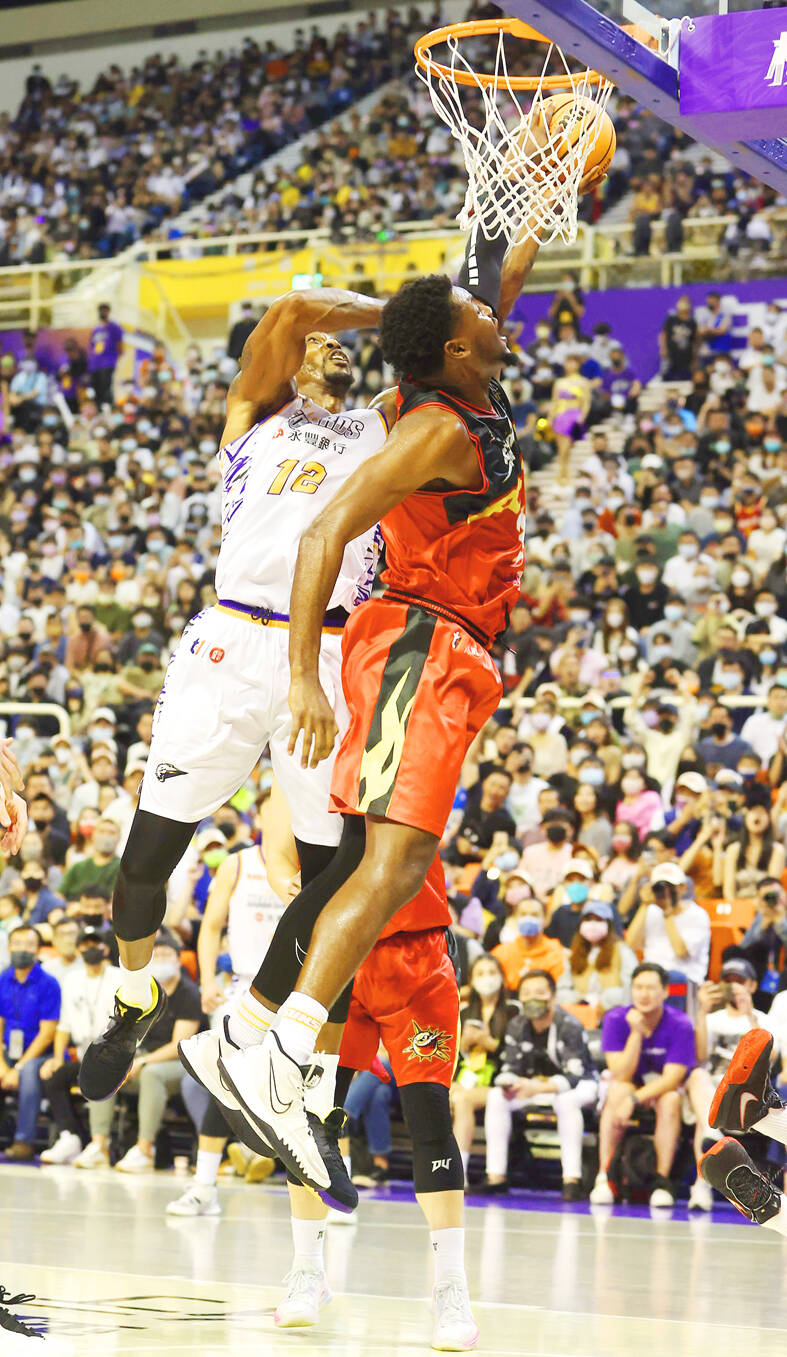 The Taoyuan Leopards' Dwight Howard, left, and the Taichung Suns' Diamond Stone vie for the ball during their T1 League game in Taoyuan on Sunday.
Photo: CNA
"Yes, this is the most minutes I've played in a long time, you know, and my body is still trying to get adjusted to playing big minutes like this," Howard told reporters in a post-game news conference, adding that he felt "fatigued" after a teammate ran into his leg by accident in the first half.
Nevertheless, he said he was excited to play and thanked head coach Bobo Liu for letting him play as much as possible.
"I know that you could see me tiring, but over time as I continue to play, I'll get used to playing these [heavy] minutes again," he said.
Howard, who averaged more than 30 minutes per game in his first 12 NBA seasons, has not averaged more than 20 minutes per game since the 2019-2020 NBA season.
Suns head coach Chris Gavina said his main strategy was to consume as much of Howard's energy as possible.
"For us, I think the minimum adjustment was to make sure we involved him as much as possible on defense, as well as we knew he was gonna work extremely hard on offensive side. He's such a high-level athlete. We need to get him moving," the Filipino coach said after the game.
The Suns' Diamond Stone, who also played in the NBA, made five three-pointers for 26 points, along with 14 rebounds, six assists and three blocks.
Stone, who led the league in scoring last season with the Taiwan Beer Herobears, attributed Sunday's win to his Taiwanese teammates.
"From the imports to the locals, I feel like all around we played together," he said. "Everyone contributed... Tonight our locals dominated their locals, you know, it was a great game."
The defeat left the Leopards tied with the Tainan TSG GhostHawks at the bottom of the league with one win and two losses.
The Leopards next face the Suns in Taichung on Sunday.
Comments will be moderated. Keep comments relevant to the article. Remarks containing abusive and obscene language, personal attacks of any kind or promotion will be removed and the user banned. Final decision will be at the discretion of the Taipei Times.