Hodgson seeks challenge in Taiwan
Australian professional basketball player Matt Hodgson on Tuesday said he believes that coming to Taiwan to join the Taipei-based Taiwan Beer Herobears would provide him with the "different challenge" he is looking for in his basketball career.
The 31-year-old, who has played at the highest level of Australian basketball since his pro debut with the National Basketball League (NBL) team the Adelaide 36ers in 2015, said he wanted to face new challenges while he was still young enough to play well.
"I've been playing in Australia for a long time, for seven to eight years. I've also played overseas, obviously with the Boomers, but I wanted to get a different experience," Hodgson said on the sidelines of a pre-season news conference in Taipei.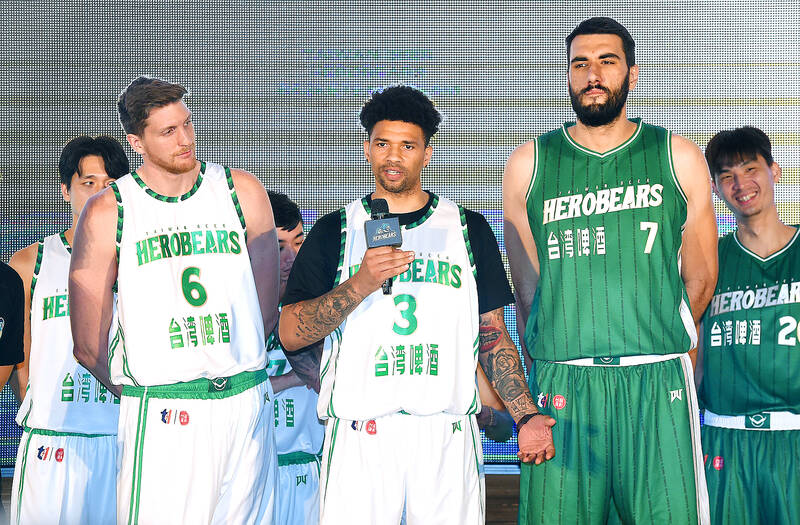 From left, Taiwan Beer Herobears basketball players Matt Hodgson, Stephan Hicks and Milenko Veljkovic take part in a news conference in Taipei on Tuesday ahead of the start of the T1 League's 2022-2023 season on Saturday next week.
Photo: Liao Chen-huei, Taipei Times
Hodgson, who is 2.11m tall, was in the Australian national team, the Boomers, when they won the FIBA Asia Cup in 2017. He played against Taiwan in 2017, when Australia beat them 104-66 in the 2019 FIBA World Cup qualifiers.
He also had a stint with the Brisbane Bullets, and most recently played for the Perth Wildcats in the NBL, posting an average of 6.9 points and 4.6 rebounds over 14.9 minutes per game.
Despite his extensive resume, the Aussie star said the opportunity to immerse himself in new cultures and learn new things would be beneficial after his pro basketball career.
Asked why he chose to come to Taiwan as opposed to other countries, Hodgson said the situation seemed really good and safe, making it possible to bring his wife and baby daughter with him.
"With this being a safe country that is really welcoming to foreigners like myself, I thought that would be a really cool step for us to take," Hodgson said.
The authenticity of the Herobears was another factor Hodgson took into account, as he said the club was helpful in getting his family over to Taiwan.
The actions of the club made him feel he was joining a "tight-knit group" that would work really well together, Hodgson said.
"I'm more interested in that than going somewhere that's all about performance, it feels like with the Taiwan Beer Herobears and the way everyone interacts in the organization that they actually really all care about each other. There's a bit of continuity here and there's a bit of familiarity," he said.
Herobears general manager Ha Hsiao-yuan said that he is very happy Hodgson brought his wife and child to Taiwan.
"I think to be willing to bring his wife and child means he has a good level of trust in the team and also in Taiwan. At least he thinks it is safe and trusts us," Ha said.
The most important thing for an import player is to trust and identify with his team, Ha said.
The T1 League's 2022-2023 season is to start on Saturday next week.
Comments will be moderated. Keep comments relevant to the article. Remarks containing abusive and obscene language, personal attacks of any kind or promotion will be removed and the user banned. Final decision will be at the discretion of the Taipei Times.